In 2019, there were approximately 2.2 million rear-end collisions in the United States, resulting in an estimated 619,000 injuries. (National Highway Traffic Safety Administration) Union City car accident injuries are serious. After the accident, you should seek medical attention and speak to one of our car accident lawyers near Union City at The Weinstein Firm. Injuries can worsen with time even if they are minor. Car accidents can easily cost hundreds, thousands, or tens of thousands of dollars, but you should not have to cover anything that was not your fault.
You've got the right to defend yourself and seek financial recovery. We can help. Our personal injury attorneys in Union City have been helping victims regain the money that they need and deserve for years, and we understand how to win cases. We are aware that insurance companies will do everything in their capacity to decrease the payout in a car incident claim. To get a FREE consultation with our lawyers, contact us today. Call (770)HELP-NOW or complete the form on this page to get started with your free consultation.
About Union City
Union City is located in Fulton County, Georgia. The city was incorporated in 1908 by the Georgia General Assembly. One source says Union City was named for the union of rails at a railroad junction, even as another version claims the name commemorates a "Farmer's Union" which once was based here.
Hartsfield-Jackson Atlanta International Airport is about 8 miles away. Union City is about 12.5 miles from the Hindu Temple of Atlanta, which features ornate carvings of deities. It's also about 6 miles from the site of the Georgia Renaissance Festival. The festival takes place every year in spring and features jousting, an artisan marketplace, and more.
Union City Accident Statistics 2019-2021
What to do after being in an automobile accident?
The moments after an automobile crash are demanding. You're stressed, in pain, and confused about what exactly happened. But in the event that you're able to keep a clear head enough to execute a few specific actions, it can really help your case. Here is what you should do, if capable, following an automobile accident. Be sure you're safe, because your well-being is the number one priority after a car accident. Do not hesitate to seek help if you need immediate medical attention.
Call 911. Also, be sure you are in a safe place. If your vehicle is on fire, is smoking, or smells like gas, steer away from it. Call out for help if you are stuck in the vehicle. Move your car to the side of this street, if you're able to do it safely. Be careful getting out of your vehicle and watch for oncoming traffic. We advise you to follow the steps below if you're well enough to remain at the scene. Call the police authorities and report the crash.
When officers arrive, then tell them what happened and all you can remember about the moments prior to, during, and following the accident. If they ask if you have any injuries just state that you are unsure. In the event that you think the response is no, it is best to wait and see. Injuries can manifest days or weeks after an accident. Officers will produce a police report.
Exchange Information with the driver. You both should share your titles, addresses, and phone numbers. If the other driver starts acting reckless or aggressive move away until the police get to the scene. If you suspect the driver was drinking under the influence of something, let officers know about it.
Picture evidence can be helpful in a car accident case. Take pictures of:
injuries and/or injuries of anybody in your vehicle
damage to your car, the accident scene
the other motorist, if they are behaving strange (video is much better)
and the driver's license plate.
Speak to witnesses if possible. Ask them what exactly they witnessed if anybody saw what happened and get their contact info. Notify the police that a witness is present. Your car accident attorney will likely reach out to this person.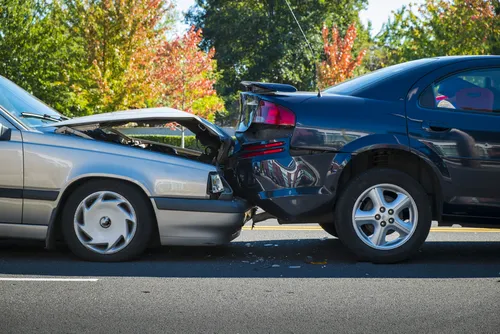 What If the Other Driver's Insurance Company Has Made Me an Offer?
You may be tempted to put on a brave face and state you are ok but be careful. Stating it was your own fault, apologizing, or even saying you feel good may be used against you in the insurance claim. Stick with providing the information rather than saying much else. The other driver's insurance company may reach out to you. They may attempt to offer you some cash up front, hoping you will take it. But DO NOT accept the first offer. It is going to prevent you from negotiating a settlement if you take money. And DO NOT admit or sign anything until you've spoken to one of our attorneys at the Weinstein Firm. They'll understand how to handle the insurer and keep them from taking advantage of you.
What Damages Can I Recover From an Auto Accident?
In Union City and the entire state of Georgia, you are entitled to the financial recovery of your costs if you are not at fault in an accident. Here are the most common accident costs that you might be able to include in your insurance claim: medical expenses, such as hospital and physician bills, tests, and prescription drugs, loss of wages from time you needed to take off work, replacement or repair costs for your vehicle, long-term treatment, for example rehab that is alternative or physical therapy, and pain and suffering damages. You may also qualify for additional financial awards if you have debilitating physical pain because of the crash or were left with a disability. The same holds true if you are not able to return to work due to your injuries. To find out for sure what your options are, set up a consultation as soon as possible.
How Much Can A Car Accident Lawyer Near Union City Cost?
We do not charge you any up front fees. With our car accident lawyers, the first consultation is completely free. From that point, most work on contingency fees. This implies that they do not get paid unless they win you money. If they do not win your case they do not get paid. This arrangement permits you to consult and work with a lawyer and not worry about any upfront expenses. The charge will be a percentage of the amount we win for you, which suggests that the lawyer has your best interests in mind. Employing a vehicle incident lawyer is secure and beneficial to you personally.
You Pay Zero Unless We Win!
Millions recovered for injured victims
Contact A Car Accident Lawyer Near Union City Today
Talk to a car accident lawyer at The Weinstein Firm. We care about the automobile accident victims we represent, and our biggest goal is to get you the money you deserve. To have a free consultation with one of our car accident lawyers, contact us today. We are available 24 hours per day, seven days a week. Complete the Free Case Evaluation form to get a consultation schedule, or call us at (770)HELP-NOW started.