Many Fulton County residents use rideshare services. They are more affordable than taxi services, and they provide more comfort and convenience than public transportation services. However, the benefits end when accidents occur and the passengers find themselves forced to contact an Uber accident lawyer near Roswell.
In theory, rideshare services seem safer than taxi services, and both companies promise thorough driver selection criteria and impressive insurance coverage. However, a car accident lawyer near Roswell knows that things are a little trickier than they seem at first sight.
Obtaining compensation after an Uber or Lyft accident can be challenging even from the best Uber and Lyft accident attorney. The best way to understand why and how is to take a closer look at the rideshare companies' driver and car requirements, as well as insurance policies.
Uber and Lyft Minimum Driver Requirements for Georgia
Uber requirements for Georgia drivers are simple and easy to meet, too easy, an experienced Uber wreck lawyer may say. The minimum age for becoming an Uber driver is 21, and the minimum license experience required is 1 year (3 for drivers younger than 23).
The company has some further selection criteria in place referring to the driver's records, but the fact that a driver has not been convicted of traffic crimes does not mean they are reliable, and no one knows that better than an Uber accident lawyer.
Since the company has no way of verifying how much actual driving experience the applicant has, it is safe to assume that even young and inexperienced drivers can provide rideshare services. No wonder Uber wreck lawyers get so many cases. Unfortunately, the situation is the same with the less popular Lyft services.
According to their requirements, besides the minimum age of 21 and the minimum driver's license possession requirements of 1 year, Lyft drivers should not exceed three traffic rule violations in 3 years, and the violations should not involve DUI within the past 7 years, or any violent or vehicle-related crimes or offenses.
However, as many Lyft accident lawyers know, the fact that a driver does not have previous convictions does not mean they are actually responsible or will not make mistakes behind the wheel.
Uber and Lyft Minimum Rideshare Vehicle Requirements for Georgia
Uber differentiate their rideshare services according to the comfort level the rideshare vehicle provides. In order to meet the minimum requirements, cars have to be no older than 15 years, have four doors, and show no signs of cosmetic or functional damage.
Unfortunately, a personal injury lawyer can tell from experience that just because a car does not show obvious signs of damage, it does not mean it cannot malfunction and cause accidents, especially if it is 15 years old and it has seen its share of wear and tear.
Not even the impressive insurance coverage the two rideshare companies advertise is not that easy to access, and any Uber and Lyft accident attorney who has tried can confirm. But, before explaining why obtaining compensation from the companies' insurer is so challenging, let's take a closer look at the coverage available.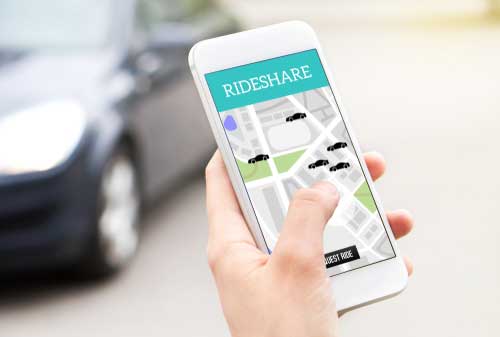 What Insurance Coverage Do Rideshare Services Have?
Since both rideshare companies have somewhat similar coverage and Uber leads the Georgia market, we will only cover their insurance coverage, as presented on the official website. Apparently, the $1 million coverage the company takes pride in is not that easy to access.
On the one hand, the company requires all drivers to carry the minimum liability insurance according to Georgia laws, namely $25,000/person and $50,000/event in personal injury, and $25,000/event in property damage. This suggests, and any experienced Uber accident lawyer can confirm, that the company wants to make sure drivers can answer for any damage or injuries they cause.
This makes sense, considering that Uber drivers are independent contractors, not employees for the actions of which the employer could be held liable. If an Uber wreck lawyer does dare to seek compensation from the rideshare company, their access to the money will depend on when their client's accident occurred.
Uber's insurance coverage differs according to the status of the driver, as follows.
Driver Online With Uber, Before Accepting a Request
In this situation, the company provides liability coverage to third parties on behalf of the driver worth $50,000/person and $100,000/event for personal injury, and $25,000 per event for property damage.
As any Uber accident lawyer may explain, though, this coverage only steps in if the Uber driver is at fault and their coverage is not enough to cover the injuries or damages involved. Therefore, they provide backup or complementary coverage.
Accepted Request and On the Way to Pick Up the Passenger
Until the passenger gets in the car, the company's insurance covers the driver's liability to third parties, any injuries they sustained due to an underinsured or uninsured motorist, and collision and comprehensive coverage if the driver already has such coverage.
Uber's coverage is $1 million for overall bodily injury. The comprehensive and collision coverage is subject to a $1,000 deductible and can cover up to the Uber vehicle's cash value.
During the Ride, With the Passenger or Passengers Onboard
The coverage is similar to the one available to the driver on the way to pick up their passenger. However, accident victims should not attempt to benefit from it without the help of an experienced Uber accident lawyer.
While Offline and Driving for Personal Purposes
In this situation, Uber drivers are on their own, and the only coverage available is the one they have secured from their own insurer. This also means anyone who incurs injuries or damages in an accident for which an offline Uber driver is at fault, should not even attempt to obtain compensation from the rideshare company, no matter how experienced their car accident lawyer is.
It is important to note that, in Georgia, the status of Uber drivers is easy to recognize. According to local regulations, all drivers have to keep an Uber decal on the passenger's side of the front windshield, oriented outwards, to ensure optimum visibility. A photo of the decal can be of great help to any driver, passenger, or Uber wreck lawyer trying to obtain compensation after an Uber accident.
Should anything happen to the drivers themselves, Uber does offer insurance coverage as follows:
Up to $500/week for disability payments or earnings replacements
Up to $1,000,000 for medical expenses
Up to $150,000 as survivor benefits for the whole family
The best solution for anyone injured in an accident involving a rideshare car trying to figure out against whom to file their compensation claim is to consult an Uber and Lyft accident attorney. As the latter will explain, depending on the circumstances of the accident, claimants have several options available.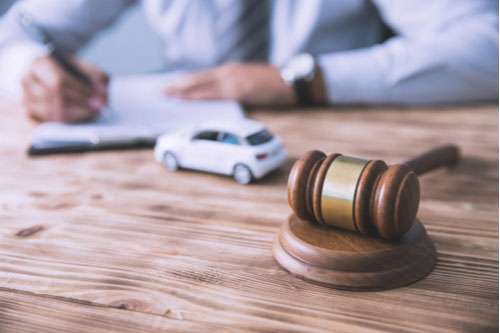 Who Can Be Liable After a Rideshare Accident?
Rideshare accident liability can be tricky. Parties that can be held liable for an accident include the following.
The Rideshare Company (Their Insurer)
Many accident victims and even Uber and Lyft accident lawyers fall for the exorbitant coverage detailed above and decide to seek compensation from the rideshare companies. While this is not necessarily the wrong approach, it is important for everyone to be aware that actually obtaining compensation from them is not easy.
On the one hand, as shown above, rideshare drivers are not employees but independent contractors. They do not drive company cars, but personal ones. This means they are responsible for both their actions and the condition or maintenance status of their cars.
This does not mean no one should seek compensation from the rideshare companies. It only means claimants should ask an Uber wreck lawyer to review their case and recommend the best course of action. In doing so, the attorney will take into account the driver's records, their insurance status, and the accident circumstances.
The Lyft or Uber Driver (Their Insurer)
Although rideshare companies impose that their drivers carry liability insurance according to the minimum state requirements, mentioned above, the coverage does not apply in all situations. As an experienced Uber ad Lyft accident attorney may confirm, some insurance companies stipulate in their policies that they do not cover situations that involve driving for profit.
As a result, those planning to file the compensation claim with the driver's insurer should consult with an Uber accident lawyer first, to make sure the driver's coverage applies to their specific case. If the driver's liability insurance does not cover driving for profit, they should look for other options.
The Other Driver Involved in the Accident (Their Insurer)
Just because someone was a passenger in a rideshare vehicle involved in an accident, it does not mean the rideshare company or the driver is liable for their injuries or losses. Another driver may have rear-ended the rideshare vehicle or gotten in its way at a crossroad.
If that is the case, the rideshare passenger could be better off seeking compensation from the driver at fault. In this situation as well, it is preferable for the claimant to discuss their options with an Uber and Lyft accident attorney and carefully weigh their options before actually filing the claim.
The other driver could be uninsured or underinsured, which would make obtaining the compensation difficult, if not impossible.
The Claimant's Own Insurer
Sometimes, when there are no other options available, the Lyft and Uber accident lawyer may recommend their client to seek compensation from their own insurer. This is only possible when the claimant's insurance policy includes coverage for underinsured and uninsured motorists.
As a general rule, at The Weinstein Firm, our Uber and Lyft accident lawyers recommend our clients to take a moment to analyze all case details, all the applicable insurance coverage, and choose the option that allows them to obtain the highest compensation within the shortest timeframe.
A The Weinstein Firm Uber wreck lawyer will rarely recommend seeking compensation from individuals, as their lack of coverage usually indicates precarious financial situations that would make obtaining the compensation very difficult.
Moreover, going against individuals would involve filing a civil court lawsuit that could take over one year to complete and whose favorable verdict would not actually guarantee compensation. No matter who is at fault for the accident and from whom our clients decide to seek compensation, we always advise them to pay attention to a few important aspects, reviewed in the following lines.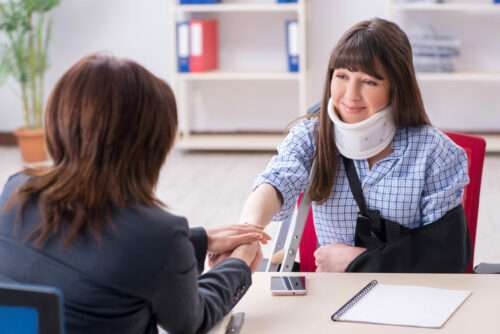 What Should You Do After an Uber Accident?
Here are the steps you should take if you're involved in an Uber or Lyft accident in Roswell, Georgia.
Get Medical Care
After the accident, all drivers and passengers should undergo a medical examination to make sure they are safe and sound, no matter how well they think they are or whether or not they have an Uber and Lyft accident attorney present.
Sometimes, the adrenaline rushing through their veins, the stress, and the emotions of the accident will prevent them from acknowledging pain or other symptoms. Concussions, internal injuries, and other accident consequences may aggravate if they are not diagnosed and treated in time. If they do, the victim who did not seek medical attention could be the only one liable for the complications.
Report the Accident
After making sure everyone is safe, Uber or Lyft passengers should use the dedicated app to report the accident themselves. This way, they will have proof of their presence in the rideshare vehicle and of the fact that they notified the rideshare company. Obtaining a copy of the police accident report is important as well.
Obtain Information at the Scene
No matter how the accident occurred or who was at fault for it, obtaining information should be everyone's priority. The most important details are the names, contact, vehicle, and insurance information.
If not all the necessary information is available, any information is better than nothing. Without some details to start from and identify the party at fault, not even the best Lyft and Uber accident lawyer can obtain compensation for their client.
Gather Evidence and Contact a Lawyer
As any Uber and Lyft accident attorney can confirm, it is impossible to obtain compensation without evidence. Every compensation claim should rely on solid evidence of how the accident occurred and who was at fault for it, and what losses the claimant incurred and may incur later down the lines.
If contacted in time, a Lyft and Uber accident lawyer may be able to help their client obtain the evidence they need to support every type of damage covered in the compensation claim, including treatment and recovery costs, damaged property repair or replacement, lost income and earning capacity, pain and suffering, wrongful death, and more.
Besides assisting their clients with gathering evidence and preparing the compensation claim, The Weinstein Firm Uber and Lyft accident lawyers near Roswell can also negotiate settlements, file an appeal, and even take the case to court, if that is in their client's best interests and the latter agrees.
Contact an Uber Accident Lawyer Near Roswell Now!
If you have sustained injuries or damages in an accident involving a rideshare vehicle, you do not have to handle the claim process by yourself. You will always find a loyal and reliable ally among The Weinstein Firm Uber and Lyft accident lawyers.
Call our personal injury firm near Roswell and request a FREE case evaluation from experienced accident lawyers. You will receive all the information and advice you need, as well as assistance to obtain the compensation you deserve.