In 2019, the injury rate for motor vehicle crashes involving a distracted driver was more than two times higher than for crashes where the driver was not distracted. (NHTSA, 2021) After a car accident in Riverdale, you will need time to recoup from your injuries. However, you might have a lot of things on your mind. You could be frustrated and discouraged, wondering who will cover the medical bills and how long your recovery will take. You might be worried that you won't have the ability to go back to work. You're not alone and you've got rights. A car accident lawyer near Riverdale can help you.
Our lawyers at The Weinstein Firm have one goal: to help injured people. We've been doing it for years, and we have seen the difference that it makes in the lives of accident victims. Let us help you and answer your queries. We'll provide you a free consultation and you won't have to pay us anything if we don't win your money. Call The Weinstein Firm at 770-HELP-NOW today to get your free consultation.
About Riverdale
The city of Riverdale is located in western Clayton County and is part of the Atlanta metropolitan area. It is a suburb just south of Hartsfield–Jackson Atlanta International Airport Riverdale and 12 miles south of downtown Atlanta. As of the 2020 census, there were 15,129 people residing in the city.
Riverdale is home to the Southern Regional Medical Center and the Hindu Temple of Atlanta, where visitors can see stone carvings of deities. Southlake Mall is about 5 miles from Riverdale, and the family-friendly theme park Fun Spot America Atlanta is about 15 minutes away. If you want to get away from it all, visit nearby Reynolds Nature Preserve for a day of hiking and bird watching.
Riverdale Accident Statistics 2019-2021
How does a car accident claim work?
The accident is assigned to the insurance provider to determine who's at fault. An insurance provider wants to ensure that the accident was caused by its driver before it will pay for injuries. Information will be reviewed by the insurance carrier and they decide what it believes it ought to pay you. The insurance company should pay the full value of your injury, including things like car repairs, your medical bills, and cash to make up for the time you needed to miss from work.
You can also be eligible for other kinds of damages, such as pain and suffering. The insurance company may make you an initial offer that you think will cover all your costs but you could develop issues down the road. It is best to think about the offer as a negotiation, not take it immediately. In our years of expertise, we've discovered that insurance companies always make an offer hoping that you'll take it rather than ask for anything more. When an insurer offer is agreed to by you, you will also have to sign paperwork saying that your claim is finished and you can't get more money.
As experienced car accident attorneys around Georgia, The Weinstein Firm have dealt with insurance companies, and we know what will convince their first deal to boost to a more reasonable amount. We do our homework and we show them how much you are legally entitled to. Our approach usually pays off, with all our help, people get an offer which is tens of thousands of dollars greater than the insurer wanted to pay at first.
Can I make a claim?
Someone who lost their life may leave behind bills and expenses. They may have endured pain after the crash. If you are a direct family member, you have losses on your own: you have lost someone's companionship, love, or their contributions. As a result of this, certain family members are permitted to make death claim. A wrongful death claim could be brought on by:
A partner
The deceased person's children, if there is no spouse
If there is no spouse or kids the deceased person's parents
The claim will depend on how old your loved one was, and their future prospects and other aspects.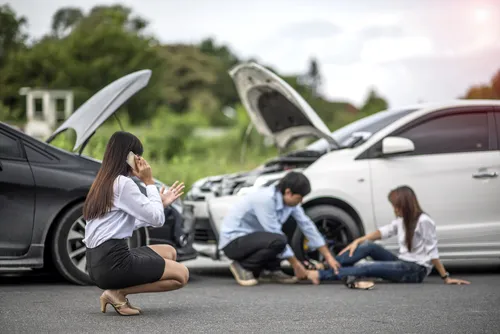 What if another driver was using a phone or texting?
Texting and driving is just one of many distracted driving behaviors. Others include engaging your passengers instead of the road ahead, looking at knobs and displays on the dashboard, rubbernecking to see an accident scene, and also talking on the phone whilst driving. That motorist is legally at fault if an accident happens because a driver was diverted and the price must be paid by their insurance provider.
Distracted driving can be hard to prove if nobody really saw the distracted behavior. However, in the example of texting and mobile phone use, mobile phone records can sometimes show precisely what the driver was doing at the time of the crash. A lawyer will help gather the evidence you need to make a strong claim if you guess deflected driving caused your accident.
What if the other driver was drunk?
You're still able to recover all your expenses plus additional obligations. There are just two ways that drunk driving cases are somewhat different compared to injury cases. If the other driver was under the influence, you might be qualified for damages. Damages punish the motorist for decisions and help discourage people from driving under the influence. They need to be big enough to feel like a punishment, although the number of damages may fluctuate.
The next reason DUI cases are distinct is that they can be significantly more complex than some other kinds of accidents. Proving that a driver was under the influence can be tough, particularly if the driver was not arrested or did not submit to a chemical test. You might have trouble proving fault and getting damages without the help of a personal injury lawyer.
Get the compensation
you deserve $$$
Schedule a free initial consultation. We will provide sound legal advice without judgement. Contact us today at 770-HELP-NOW
Speak to a Car Accident Lawyer Near Riverdale at No Cost
Our lawyers have years of knowledge and we won't ask you to pay us unless we make money for you. Let's meet with you and clarify how we can help. Get in touch with us at  770-HELP-NOW to get your free consultation.