Following a car collision, you could be worried about what will happen next. Nearly half of all car accident injuries result in long-term disabilities. (National Highway Traffic Safety Administration) You may not be sure how bad your injuries are, or how long your pain will last or how long you'll be unable to work. You may wonder how you'll pay your lease, cover your bills. But, you shouldn't have to take on this burden alone. A car accident lawyer near Peachtree City can answer all of these questions and many more for you.
If you've been hurt in a car crash in Peachtree City, GA, you've got rights. You should speak with the car accident lawyers at The Weinstein Firm. Our lawyers have the experience you need. We've been winning money for auto crash victims for many years. And, we won't charge you if we don't succeed. We only get paid when we either earn your settlement or win in court. Let us give you a FREE consultation. Call us at (770)HELP-NOW or complete the form on this page to get your free consultation.
A Little Bit About Peachtree City
Peachtree City is the largest city in Fayette County, Georgia, and is located in Southern Metro Atlanta. As of the 2010 United States Census, it had a population of 34,364. Fayetteville is about 10 miles away, and downtown Atlanta is 31 miles away.
Peachtree City is home to several golf clubs, such as the Flat Creek Country Club. The Line Creek Nature Area is a beautiful 70-acre preserve with walking trails, creekside granite outcroppings, and a fishing dock. You can see WWII-era aircraft at the Commemorative Air Force Airbase Georgia. Popular annual events include the July Fourth Celebration, WWII Heritage Days, and the International Festival & Dragon Boat Races.
Who is Accountable for the Costs of Your Crash?
The easy answer is that the driver that is at fault is the person who is responsible. The insurer for the driver at fault must pay for all of the expenses including injuries and vehicle damage. Accidents are just that — not intentional and are most often caused by negligence. That is that the driver did take sufficient precautions to safeguard others.
This is another way of stating that they weren't as cautious as they should have been, and the accident occurred because of this carelessness. Careless driving might incorporate a wide variety of behaviors, such as driving and texting, speeding, and running red lights and tailgating.
Peachtree City Accident Statistics 2019-2021
What if the At-Fault Driver Doesn't Have Insurance?
If they don't have insurance, then they are personally accountable. You still have the right to regain all the money they owe you whether from an insurance company or individual. The legislation does give you options. These include:
There may be a different insurance policy that will pay for the accident. Sometimes, this might include your policy.
Your attorney can request that the court have the uninsured driver make payments. This may be backed up with a lien on their property if necessary.
Never think that you don't have a right to get compensated for your costs, even (especially) when another driver was uninsured. Driving without insurance was their irresponsible choice and the burden of the costs fall on them, not you.
Can My Car Accident Lawyer Get Insurance to Pay for My Medical Bills?
Yes. All injuries associated with the accident are covered. This includes a variety of costs such as:
Ambulance costs and emergency room fees
Surgeries, stitches and types of procedures
MRIs and lab evaluations
Appointments with doctors and specialists
Medication Care for example treatment
Even if you weren't severely injured, you always need to receive a medical opinion after an accident. This is because your body releases hormones immediately that mask or subdue pain. Later you may begin to feel stiffness, pain or dizziness and these may be signs of a serious injury. So, it's critical that you find a doctor quickly after any crash. The more time you wait to find treatment, the longer it takes you to heal. Also, seeing a doctor immediately makes your insurance claim more powerful.
You Pay Zero Unless We Win!
Millions recovered for injured victims
What Costs Does My Automobile Accident Claim Pay?
Medical costs are not the only thing covered. Your car accident attorney near Peachtree City can also recover money for:
Time missed from work
Inability to return to work
Car repairs, body work, etc..
Any other costs brought on by the accident
Additionally, you can receive money for general damages. These are more difficult to quantify. General damages include things like suffering and pain, a permanent disability, chronic pain, or discoloration. These are things that cash can't fix, but cash helps offset the effect they have on your life. In many cases, these damages may cause insurance reimbursement to double or triple. That is why many car accident claims are six figures or more, especially with the help of an attorney at The Weinstein Firm.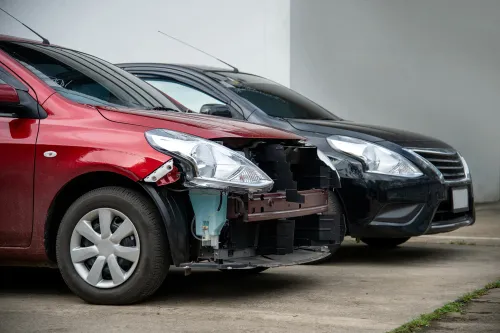 How Can a Lawyer Help Me?
You ought to be aware that although most accidents are covered by insurance, insurance providers don't want to pay claims out. Insurance companies know that if they pay as little to you as they possibly can, they make more profits. The majority of the time it isn't nearly as much as your claim is worth. You'll sacrifice your lawful right to get anything else if you take their offer.
An attorney puts an experienced professional on your team. Accident attorneys know of the insurance companies' tricks, and they're able to level the playing field between you and the company. A car accident attorney knows how to build a solid case and use it to negotiate the insurance company to pay you a reasonable amount. Putting a personal injury lawyer near Peachtree City in your team can place you thousands of dollars ahead of where you'd be on your own.
Call a Car Accident Lawyer Near Peachtree City for FREE
Our law firm has built its reputation on helping accident victims get what they deserve. We never charge a fee unless we win money for you. Let us give you a FREE consultation to discuss your injury and show you how we can help – with no obligation. Call us at (770)HELP-NOW or fill out the form on this page to acquire your free consultation.