If you've been hurt in Norcross, GA in any type of injury, you could have a right to some sizable recovery. This cash can help with medical bills, lost work time and other costs related to your injury. Almost any type of harm can qualify but, insurance companies aren't eager to offer sufficient amounts. That's why you need the help of experienced personal injury lawyers near Norcross.
Don't allow yourself to be left holding the bill for an injury that wasn't your fault. You need to talk to a personal injury firm near Norcross right away. The Weinstein Firm can assist you with your case in the city of Norcross. We've been helping injury victims for years, and we've built up a reputation as one of the best law firms in the state. When you contact us, we will provide you with an in-person consultation of your case, in which we help you understand your choices and can answer your questions. Let us show you what we can do for you. Telephone The Weinstein Firm at 770-HELP-NOW and receive your free consultation today.
The Two Things to Do Following Any Injury in Norcross
When you are coping with an injury, taking on any kind of activity can be challenging. You might be living with pain, anxiety, frustration, and anxiety about bills. Oftentimes while the people we work with wonder if they will ever recover from their injuries, they already understand that it has changed their life. But you don't have to confront your injury alone. You can choose simple measures to protect your personal rights and watch out for your future.
To receive compensation for your injury, there are just two things you need to do:
Speak to an Attorney
The laws and insurance rules about injuries are complex, and there is no substitute for a legal opinion. Insurance companies work to pay the least amount possible or even nothing. They may use tactics to pressure you to accept. Always speak with a personal injury lawyer near Norcross, GA.
Don't Sign Anything.
There are two ways insurance companies will try to get a small payment to be accepted by you. They may offer you the money quickly, before you understand the complete extent of your injuries or how much they cost. Or, they could delay your claim for months, waiting until you face financial pressure to offer you a lowball amount. In any event, their offer will include paperwork saying you waive your right to future cash. Don't fall for it. Unless your personal injury attorney near Norcross tells you to, never sign anything.
How do I Know How Strong My Case is?
It's tough to understand until you've got a legal opinion. The rule is to not blame yourself. It's normal to presume you could have done something differently, or your injury was a freak accident that no one could have averted. However, this isn't the way it is viewed by the law. Under the legislation, the key to each personal injury claim is negligence Negligence is simply a term that means someone was careless, and that their carelessness led to the crash. Examples of negligence include:
A rental manager doest fix a loose railing in the stairwell
A driver changes lanes without checking his spot
Someone spills milk in a convenience store, and no one in the store comes to clean it up
All of these are situations occurred from a small carelessness that put someone else in danger. They all failed to take measures to protect the individuals around them. Nobody in these cases meant to hurt anybody. But, as a result, and under the law the injured has a right to being compensated.
Get the compensation
you deserve $$$
Schedule a free initial consultation. We will provide sound legal advice without judgement. Contact us today at 770-HELP-NOW
The most common types of accidents that we see in personal injury claims include:
Car accidents and other automobile accidents
A car hitting a cyclist or a pedestrian
Tripping, slipping or falling
Being hurt by a criminal
Nursing home abuse
Faulty products
Harmed by a prescription medication
A prescription was filled incorrectly
Medical malpractice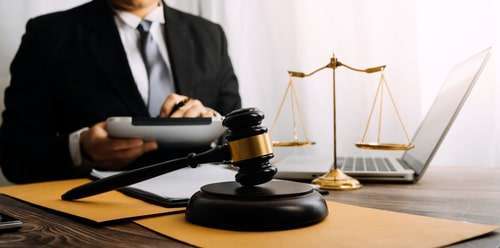 Must I go to Court to Get my Personal Injury Claim?
Not usually, but it can happen. The insurance provider will fight us every step along the way offering unfairly low amounts of cash. If this happens we will give you our best recommendation on whether your case should be taken by us into the Norcross local courts. The choice is yours to make. If you decide to go ahead, we will handle the process for you.
In most cases, however, we can force the insurance company to the bargaining table. Unless there is a sure-win for the company, insurers don't want to go to court. That's why we begin your case study gathering evidence and establishing exactly what happened including how much in total it will eventually cost you and who's at fault. Then we use this evidence against the insurance company to force them into negotiations. That is what it takes to get insurance providers to increase their initial low-ball offer.
How Much Does a Personal Injury Attorney Near Norcross Cost?
At The Weinstein Firm, we don't believe you should have any financial barrier to getting good legal representation. That's why we don't charge up-front fees or exorbitant rates. Rather, we get paid based on our results. Our guarantee is simple: Your consultations are always FREE. You pay nothing out of pocket. Unless we win a financial recovery for you, you pay nothing. We believe this system is best since it makes sure we are working in your very best interest, and it protects you.
How Long do I have to Submit an Accident Case?
The deadlines are short. Norcross follows deadlines set by federal and state law. At times you may have up to two years to begin your own claim or, at other times just a couple weeks. If you miss the deadline, then you may lose your chance to get any recovery. This is why is important to speak to a lawyer.
Speak to a Personal Injury Lawyer near Norcross for Free
Here at The Weinstein Firm, we specialize in representing only those injured and we do battle on their behalf against large insurance companies more interested in protecting their profits than fair compensation. We will provide you a free consultation and help you make an educated choice. Call us at 770-HELP-NOW or complete our form and receive your free consultation today.