When hiring an Atlanta accident lawyer, you should choose an attorney with the knowledge and experience to handle your car accident claim. That means hiring a lawyer who focuses on personal injury cases and understands how to help clients get the compensation that they deserve.
Here, we'll explain why it's in your best interest to retain an Atlanta accident lawyer who specializes in personal injury law.
Very Few Lawyers in Atlanta Specialize in More Than One Type of Law
If you have ever gone online to search for an Atlanta accident attorney, you probably got hundreds, if not thousands of results. The same thing will happen if you do a search for a criminal lawyer.
This is because, for the most part, lawyers spend their entire careers focusing on one type of law. Some people are criminal lawyers while others prefer to practice family law. It all depends on what they were interested in when they started practicing law.
Of course, there are some lawyers who end up practicing whatever type of law they could find a job in. It's just like any other profession. Some law firms may have attorneys who focus on personal injury law and lawyers that handle family law cases.
After Passing the Bar, Most Attorneys Choose to Practice One Type of Law
When accident attorneys in Atlanta passed the bar exam, they selected the branch of law they wanted to practice. People who enjoy dealing with people like to work in personal injury law.
Our Atlanta accident lawyers get to deal with clients, insurance adjusters, and other lawyers. They also get to work with the police, investigators, and everybody else who helps pull a civil case together.
Only Atlanta Accident Lawyers Know to Handle Your Case Properly
An attorney that only handles a handful of personal injury cases compared to many divorce cases isn't the best choice to represent you after an accident. Before hiring a lawyer, you should always ask about their experience and the types of cases they handle.
At the Weinstein Firm, we exclusively handle personal injury cases. Our Atlanta accident lawyers at our firm are so good because they've been doing it their entire careers. Our associates have spent years, even decades, dealing with the big insurance companies.
It's also important that our lawyers know the ins and outs of the civil court system. We are familiar with how lawsuits are filed. We know how to file insurance claim appeals.
Our accident attorneys in Atlanta understand what it takes to get our clients the money they deserve.
Dealing With the Insurance Companies Requires Certain Skills
If you want to settle your claim and walk away with as much money as possible, you want an expert. Insurance adjusters have certain tactics they use to settle cases for as little money as possible.
From the moment the insurance adjuster receives your claim, they have a plan for how they'll get out of paying it. If they were to pay every claim that came across their desks, they would go bankrupt in no time.
Our Atlanta accident lawyers know how the insurance adjusters operate and they won't be taken advantage of. They'll also make sure you don't accept a settlement that doesn't cover your out-of-pocket expenses.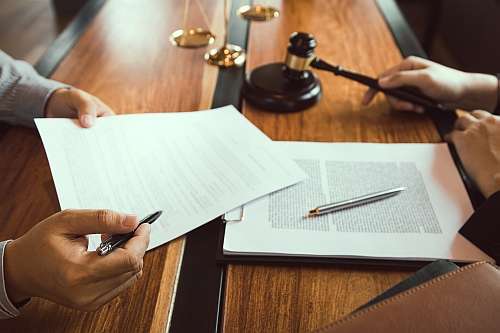 Not All Attorneys Know How to Appeal Insurance Claims
Imagine a lawyer who doesn't have much experience in accident cases going into settlement negotiations with an insurance adjuster. They simply aren't prepared to handle your claim.
You want someone in that room who knows what your case is worth. You want to make sure they're confident enough to fight for your money, even when it isn't a guarantee that you'll win if you go to trial.
The only way to make sure this happens is to hire a seasoned accident attorney in Atlanta.
Your Accident Attorney in Atlanta Knows How to Prove Negligence
An accident attorney needs to know how to prove negligence. Proving the defendant was at fault can often be complicated. You need a lawyer with experience and a proven track record on your side.
Our team at the Weinstein Firm has handled countless cases and won millions of dollars for clients.
The Insurance Adjuster Won't Try to Take Advantage of Your Atlanta Accident Lawyer
Possibly the most important reason why you want an experienced accident lawyer in Atlanta is that they won't be taken advantage of. If the insurance adjuster sees that you've hired an inexperienced lawyer, they will absolutely try to take advantage of them.
This won't happen if you hire a seasoned Atlanta accident lawyer. The insurance company will realize from the start that your lawyer won't accept a low settlement.
Contact Our Office So You Can Schedule Your Free, Initial Consultation
If you have been hurt in a car accident, you only get one chance to pursue damages. You want to have the best attorney by your side. It's important to find an Atlanta accident lawyer who specializes in personal injury law and has experience and a track record of success.
This is exactly why you can count on The Weinstein Firm. We are a team of top-rated Georgia personal injury lawyers with years of experience under our belt. Our Atlanta injury lawyers have won millions of dollars in compensation for our clients.
We offer all new clients a free, initial consultation. You can come into the office and sit down with an experienced accident attorney in Atlanta. They'll answer any questions you may have. They can also give you an idea of what your case is worth.
Call today so you can schedule a date and time to come into the office. If need be, we can always conduct your consultation by video call or phone.