The injury rate per 100 million vehicle miles traveled was 103 in 2019. (National Highway Traffic Safety Administration) An auto accident can leave you facing much more than just medical bills. You might end up not able to work, coping with disability or pain, or even suffering from a life-changing injury. Call our expert car accident lawyers today!
With this alone, you should not need to cover it. It wasn't your fault and in the event that you were injured in a car crash in Norcross, GA, the law is on your side. You need to speak to a car accident attorney near Norcross. Let our attorneys help you. We've got years of experience and we charge nothing unless we win money to you. Let us give you a FREE consultation. Get in touch with us at 770-HELP-NOW or fill out the form to the best now to acquire your free consultation.
About Norcross
Norcross is a city in Gwinnett County, Georgia. It is included within the Atlanta-Sandy Springs-Marietta metropolitan statistical area. As of the 2010 census the population was 9,116, and the estimated population was 16,563 in 2018. The city was named after former Atlanta mayor and railroad official James Norcross.
Norcross is bordered by Peachtree Corners. Downtown Atlanta is 20 miles to the southwest via I-85. Malibu Norcross offers fun family-friendly activities like go-karts, mini-golf, and a game room. You can enjoy summer concerts from May through September in Trasher Park in downtown Norcross. The concerts are free, and local restaurants are happy to serve up the perfect picnic.
I have an Insurance Policy, What Should I do?
An attorney can help you build a case to get everything you deserve to you and assess the insurance company. Most of the time, insurance companies provide far less than your claim is truly worth. This is known by the insurance carrier, but before you know what your injuries will really cost you and they are hoping to settle your claim. You will give up your right to recover anything later on if you choose the insurance money now.
A car crash law firm in Atlanta can deliver you to physicians who can estimate the cost of your care and understand your accidents. An attorney can build a strong case showing that the injury was not your own fault. An attorney can go to the insurance carrier and show them exactly what your claim is worth. In many cases, having a personal injury lawyer on your side means that you can recover a lot more than the insurance carrier offered.
Norcross Accident Statistics 2019-2021
Will the Other Insurance Pay for the Accident?
Yes, if the other driver was at fault. You should be aware that even though there may be an insurance policy for your accident, the insurance carrier will not want to pay you what your claim is worth. You should speak with a car accident attorney to protect your rights.
What if the Other Driver is not Insured?
Every automobile owner in Georgia is needed to purchase at least a minimum amount of car insurance. This means that in car accident cases, there's automobile insurance available to pay for injuries and vehicle damage. Regrettably, there are individuals who drive without insurance. You still have a right to claim when this occurs. By studying other insurance policies that may pay the claim (possibly including your own insurance), by pursuing payment from the other driver directly (possibly on a payment plan on time), or by placing a lien on the other driver's property, you can get paid in the future.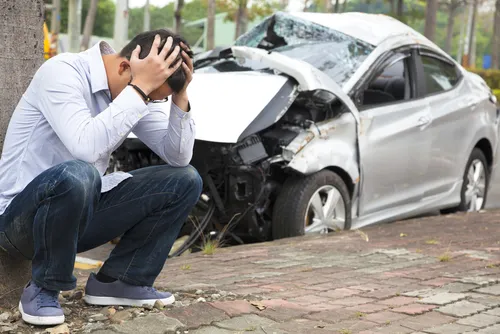 How Severe do my Injuries have to be to be Covered by my Claim?
The general rule is that if the crash caused your injury, you need to be able to recoup money for it. A number of car accident injuries include broken bones, burns, and soft tissue injuries, whiplash and throat injuries, head injuries, severed limbs and other physical injuries that are severe. Some of these injuries may be evident right away, but whiplash typically does not have signs until sometime after the collision. We advise that you ALWAYS see a doctor as soon as possible after any crash. Seeing a doctor can help you recover and make an insurance claim.
Which Driver is to Blame in a Norcross Car Accident?
Georgia is an at-fault state when it comes to car accident claims. This usually means that the driver who is legally responsible is responsible for paying for injuries that occur and of the vehicle damage. Determining fault is a big issue in any auto accident claim since the party at-fault bears the responsibility.
The majority of the time a party is at fault because they were negligent This doesn't mean that the driver caused the injury on function. It means that the driver could have avoided the accident by being more careful.
Negligent behavior includes disobeying traffic laws like running red lights and speeding, driving under the influence of alcohol or drugs, distracted driving, following too closely, and other negligent driving behaviors.
You Pay Zero Unless We Win!
Millions recovered for injured victims
Is There a Limit to How Much Money I Could Recover?
No. Georgia law allows you to recover ALL your costs and damages from whoever was to blame. The amount you will recover will depend on your situation and you've suffered injuries. In a normal case, an auto accident victim may be able to recover money for each such as medical bills, automobile repairs, physical therapy, and any lost work time.
If your accident was serious, you may be entitled to more. You may receive damages for your postoperative losses such as acute pain or long-term disability.
If you lost a loved one you might be eligible for wrongful death compensation. This money can never undo the loss suffered in an accident, but it might aid you financially while you get therapy and work. In many cases, these kinds of damages may triple or quadruple how much cash you recover.
Talk to a Car Accident Lawyer Near Norcross for free.
Our lawyers have spent their careers helping car accident victims recover cash. We won't charge you money unless we get money for you. Let us help you decide on the upcoming steps and give you a free consultation. Call us at 770-HELP-NOW or complete the form to the right to acquire your free consultation today.