Speeding is one of the leading causes of car accidents in Georgia and across the United States. Speeding is also more likely to result in serious injuries and fatalities. This is because high speeds result in a greater impact. The greater the impact in a collision, the more serious the injuries are likely to be.
If you have been injured in a car accident caused by a speeding driver in Milledgeville, you may have a claim for compensation to recover any losses that you may have incurred with one of our Milledgeville speeding accident lawyers. These losses may include medical expenses, loss of income, damage to property, or pain and suffering.
Contact the car accident lawyers at The Weinstein Firm today to find out if you have a case to legally claim for your losses.
How Does Speeding Increase The Chances Of Causing An Accident?
There are many reasons why driving fast is unsafe and dangerous. The primary reason is that it results in less time to react. In other words, you have less time to stop your vehicle or swerve in the event that you see an obstacle in the road, a car that is slowing down, a pedestrian, road works, a stopped vehicle, and so on. It also takes more time for a speeding car to slow down or stop which means that you won't have enough time to react to avoid causing an accident.
Another common way in which speeding increases the likelihood of causing an accident is loss of control of the vehicle. Driving fast increases the risk of losing control. Road and weather conditions are other risk factors that can result in the loss of control of a vehicle. Driving fast increases these risk factors.
How Can I Prove That The Other Motorist Was Speeding When They Hit Me?
Proving that another driver was speeding when they collided with you is actually simpler than you may think in this day and age. There are a number of different ways in which you can provide evidence that a driver was speeding:
Onboard Electronic Recordings
Most newer cars are equipped with an electronic recording device that records every operation of the vehicle including the speed before and at the time of impact. The data can be recovered from the device diagnostically and a lawyer can assist you in obtaining this data from the other driver.
GPS and Tracking Data
GPS and tracking devices can be used to determine the speed that a driver was traveling over a distance. While this may not provide evidence that the driver was speeding at the exact moment of impact, it can show that the driver was speeding.
CCTV and Traffic Cameras
These cameras are used to send a live feed to monitors but also record video data that is stored for a specified period of time. Footage from these cameras can be used to determine whether the driver was speeding before or at the time of the accident.
Eyewitnesses
Eyewitnesses can be bystanders, other drivers, or even passengers in the car that caused the accident. These witnesses can testify that the driver was driving above the speed limit or erratically when the accident occurred.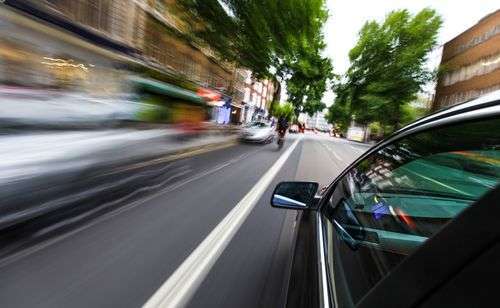 How Long Do I Have To Make A Speeding Car Accident Claim In Georgia?
Car accidents that are caused by a speeding driver are covered under personal injury law. In the state of Georgia, there is a statute of limitations on personal injury cases for a period of 24 months. This means that you have exactly 2 years from the date of the accident to file your claim for compensation. If this time period expires, you will no longer be able to file your claim.
Why Do I Need A Lawyer?
A personal injury claim resulting from a speeding car accident is a civil case. It is therefore not a legal requirement to have a lawyer represent you. However, having a lawyer can assist your case and ensure that your claim is awarded in the amount that you deserve.
A lawyer will provide you with the following services:
Investigate your case to prove that the other driver was speeding and that they are liable to pay compensation.
Determine what damages you can sue for and the amount of your claim.
File your claim for compensation.
Negotiate a settlement with the speeding driver, their lawyers, or insurance representative.
Present your case in court to improve your chances of receiving maximum settlement.
In most cases, it is the insurance company and not the speeding driver that you will need to deal with when claiming compensation. Insurance providers notoriously deny claims without reason or look for any way in which they can reduce your claim. Never be pressured into accepting a settlement from an insurance company until you have a lawyer look at it. Your lawyer will help ensure that you get the best settlement possible and that the insurance isn't short-changing you.
Your lawyer will also aim to reach a settlement rather than taking your case to court. Going to court in Milledgeville is going to take time and cost money. There is also no certainty about the outcome. A settlement is guaranteed and a lawyer will only take your case to the court in the event that a settlement agreement cannot be reached or where the liable party is offering less than you deserve.
How Much Will a Speeding Accident Lawyer Cost?
Weinstein's Milledgeville speeding accident lawyers work on a contingency basis. In other words, our legal fees are contingent or dependent on winning your case. If we lose, we don't get paid. When we win your case, we will charge a small percentage of the settlement or the amount that is awarded in court to cover our fees.
If you suffered minor or severe injuries as a result of an accident caused by a speeding lawyer, you have the right to claim compensation from that driver for any losses that you incurred. These losses may be financial, emotional, or physical damage to your property.
You need to contact The Weinstein Firm to schedule a free consultation to find out if you have a case, how much you can sue for and to start the process of filing your claim for compensation.