Driving laws are designed to protect drivers, passengers, and pedestrians. When a driver ignores those laws and behaves recklessly, they put everyone around them at risk. If you've been in an accident that was caused by another party's reckless behavior, you deserve compensation. At the Weinstein Firm, our Milledgeville reckless driving accident lawyers will work to hold the at-fault party responsible and will work tirelessly to recover compensation for you.
If you have been involved in an auto accident caused by a reckless driver, contact our experienced car accident lawyers in Milledgeville to handle your case. Contact us today to schedule a risk-free consultation and get the maximum compensation for your claim.
What Is Reckless Driving?
According to Georgia law, reckless driving is driving a vehicle in a way that disregards the safety of others. When an individual drives recklessly, they pose a threat to the people and property around them. Examples of reckless driving include ignoring traffic lights and stop signs, making unsafe traffic maneuvers, or tailgating.
Reckless driving is a misdemeanor that is punishable by a fine of up to $1,000 or imprisonment of up to twelve months. Driving recklessly is both a violating of traffic laws and an offense that can lead to severe injuries or death. 33% of all fatal car accidents are caused by reckless driving.
How Can Reckless Driving Increase Chances Of An Accident?
There are many reckless driving habits that can significantly increase the risk of an accident. Distracted driving or driving and texting at the same time can reduce a driver's response time, which can make it more difficult to avoid accidents. Higher speeds make it more likely that a driver will lose control of their vehicle, and it also increases stopping time and distance.
Aggressive driving and road rage can lead to erratic and careless driving, which is why it is a major factor in car accidents. Between 2003 and 2007, aggressive driving played a role in a staggering 56% of fatal accidents. Tailgating, which involves following a vehicle too closely, can make greatly increase the chances of hitting another vehicle after sudden stops.
Failure to follow traffic laws, including ignoring red lights and stop signs or turning without using the appropriate signals, is another type of reckless behavior that puts others at risk. If you've been involved in a car accident that was caused by careless or aggressive driving, the Milledgeville reckless driving accident lawyers at The Weinstein Firm can fight to ensure that you're properly compensated.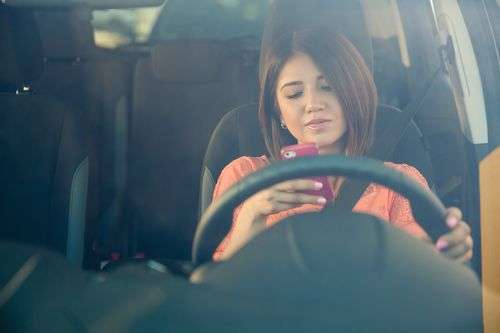 What Damages Can Victims Get From A Car Accident In Milledgeville?
Georgia car accident victims are eligible to collect two types of damages: economic and non-economic damages. Examples of economic damages include income losses, medical damages, property losses, and loss of future earning capacity. Examples of non-economic damages include disfigurement or disability, emotional distress, and pain and suffering.
If the defendant in a car accident case engaged in reckless behavior, they could also be ordered to pay punitive damages. Punitive damages are designed to punish drivers for negligence or malicious behavior. Georgia caps punitive damages at $275,000. 75% of damages go to the state treasury, and the remainder can be awarded to the victim or victims in the case. However, in cases where a driver was under the influence, this cap does not apply.
How Can I Prove The Other Driver Was Behaving Recklessly?
There are many types of evidence that can be used to establish reckless driving. This includes witness testimony, speedometer calibration, or highway camera and dash cams. The experienced driving accident attorneys at The Weinstein Firm can gather evidence on your behalf and build a strong case for you, which will increase your chances of a favorable outcome.
If you've been the victim of a crash that was caused by reckless driving, you deserve to be properly compensated for your losses. A lawyer can establish liability, plan and take legal action, and ensure that the at-fault driver is held accountable. If the liable party tries to avoid payment, your attorney can also take legal action to collect payments.
How Long Do I Have To File A Claim In Milledgeville, Georgia?
The statute of limitations in Georgia states that you have two years from the date of an accident to file a claim for injuries and four years from the date of the accident to file a claim for property damage. If you were under 18 at the time of the accident, the deadlines listed above will not start until after you've turned 18.
In some cases, however, you may have less time to file a claim. If the accident involved a city or county vehicle, your claim must be filed within six months. If it involved a state vehicle, you have one year. It's important to contact an attorney as soon as possible so that a claim can be filed before the statute of limitations runs out.
Why Do I Need A Lawyer?
When you work with an accident attorney at the Weinstein Firm, you'll have a better understanding of the options available to you. Your lawyer will help you to prepare your case and will handle settlement negotiations. Claimants that are represented by legal counsel receive significantly larger settlements and are far less likely to have claims denied.
Beyond that, working with an attorney allows you to focus on your recovery. Accidents that involve reckless driving can be devastating and often lead to serious injuries. Your lawyer can take care of everything for you and provide you with support during a difficult time.
How Much Does A Car Accident Lawyer Cost?
The Weinstein Firm offers free case reviews and does not require any upfront fees. We work on contingency, which means that we won't get paid unless we successfully collect compensation for you. Instead, we'll take a percentage of the settlement you receive.
Car accidents can lead to many costly bills, which means you may be reluctant to spend more money on an attorney. When you work with us, you won't have to pay anything out of pocket. We'll ensure that your rights are protected and that you receive the maximum settlement you're entitled to.
Review Your Claim With Our Milledgeville Reckless Driving Accident Lawyers
If you've been involved in an accident caused by a reckless driver, and you'd like to know more about your options, you can schedule a free consultation with one of our attorneys. We've collected millions on behalf od our clients, and we can do the same for you. Contact The Weinstein Firm today at 770-HELP-NOW so that we can review your claim. We're available 24 hours a day, 7 days a week.