When a driver does not abide by the speed limit and drives aggressively, he endangers himself and the other motorists on the road. The National Safety Council reported that in 2019, excessive speed was a contributing factor in 26 percent of all auto accident fatalities in the U.S. Speeding is deadly.
If you were injured in a car accident in Metter, Georgia that was caused by a speeding driver, talk to us at The Weinstein Firm. Our experienced Metter speeding accident lawyers will fight for you to recover damages from the losses that you endured as a result of the accident.
How Does Speeding Raise the Risk Of Causing An Accident?
Speed limits are set by traffic engineers who use a complex algorithm to calculate the ideal speed at which motorists should drive that will keep the cars moving quickly and safely. When a driver drives faster than the posted speed limit, they reduce their ability to react or stop in time in order to avoid colliding with another car or striking a pedestrian.
A safe speed limit also depends on the current road conditions. If the weather is bad and road visibility is low, drivers cannot see what is in front of them until they are very close to the object. Drivers are required to slow down and to proceed with caution to avoid hitting what is in front of them. If the driver fails to slow down and suddenly sees a car or a pedestrian in front of him, he will not have time to stop, and he will cause an accident.
How Can I Prove That The Other Driver Was Speeding When They Hit Me?
Proving that the other driver was at fault because he was speeding is possible. There are several ways to provide evidence to prove it, and all of these ways should be used together to make your case stronger.
Witnesses
The first way is to find witnesses. The testimonies of these witnesses are vital if they saw that the other driver was driving too fast or too recklessly. It is easy to spot a speeding car that weaves in and out of traffic past other cars on the road. Witnesses can attest to the driving behavior. Our attorneys can get depositions from witnesses that can make your case stronger.
Skid Marks & Debris
Physical evidence will also contribute to the proof. Even if there were no witnesses at the scene, the evidence left behind as a result of the accident can be used by an expert witness, like a traffic forensic expert.
For example, when cars collide, they usually leave skid marks on the road. An expert in traffic forensics can examine the skid marks and determine when the speeding driver braked and how much time passed before the car stopped. The marks can suggest the speed of the car at which it was going before the driver braked. Another example is debris from the road. How far the debris was flung when the car made impact can be used in calculating how fast the car was going.
Damage to Car
Thirdly, the extent of the damage to your car can be used to determine at what speed your car was hit. Our attorneys can obtain collision ratings from car manufacturers which compare the extent of the damage to how fast the car was going when it was hit. So, before the accident scene is cleaned up, lots of photos should be taken at the scene from different angles to document the damage. We can bring in expert witnesses who can analyze these photos to find the evidence that will support your case.
Police Report
The police report can be crucial in proving the guilt of the speeding driver. The officer at the scene can also get information from witnesses. He can provide an unbiased report of the accident. If he writes a citation for the other driver for speeding, that would be proof enough that the driver contributed to the accident.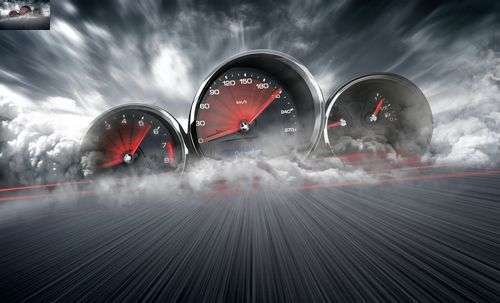 How Long Do I Have To Make A Speeding Car Accident Claim In Georgia?
If you were injured in a car accident that was caused by a speeding driver, the statute of limitation to file a personal injury claim is two years from the date of the accident.
Why Do I Need A Lawyer?
A car accident is a traumatic experience. Not only did you suffer from physical injury and property damage, but there are emotional injuries and future losses for which you are entitled to be compensated. Trying to file the claim yourself, gathering evidence, and dealing with the insurance companies can be a very taxing experience that can delay your healing.
Also, you might not realize all the types of losses for which you are entitled to be compensated. If you hire our law firm to represent you in your claim, we will do everything we can to build a compelling case on your behalf to get every dollar that you deserve.
Our attorneys are highly experienced in car accident cases and have the expertise in dealing with insurance companies and the Georgia court systems. They will work hard for you so you can have better peace of mind that your case is in excellent hands.
How Much Will a Metter Speeding Accident Lawyer Cost?
We will only charge you a fee if we succeed in winning compensation for you. This contingency fee is a percentage of your settlement or the amount awarded by the court.
We can evaluate your case free of charge, and you are under no obligation to sign with us. There is nothing to lose by giving us a call and finding out what your rights are.
Contact Us Today for a Free Case Review
It is regrettable that there will always be reckless drivers who do not obey the speed limit. You should not suffer losses without being compensated for them. If you sustained injuries, we can fight for you for the compensation that you deserve. You do not have to deal with this alone. Let us do the work in recovering damages for you so you can focus your time and energy on getting better and move on from this traumatic experience.
Contact our Metter speeding accident lawyers at The Weinstein Firm today by calling 770-HELP-NOW.