While distracted driving is often associated with texting, many other actions fall under distracted driving from grooming, eating, engaging with passengers, etc. All these activities can lead to serious accidents. Texting, in particular, increases one's probability of being involved in a car accident 23 times. If you've been the victim of a distracted driving accident in Metter, a distracted driving accident lawyer at The Weinstein Firm can help you get the justice and compensation that you deserve. Call us today at 770-HELP-NOW to schedule your free initial consultation.
Distracted driving continues to be one of the biggest challenges on our roads today. Despite various measures being put in place to curb distracted driving, experts say that distracted driving is still a leading cause of traffic fatalities in the country. According to the Department of Transportation in Georgia, distracted driving accidents have increased more than 400% over the past ten years.
Contact our Metter car accident attorneys to schedule your Free Consultation.
What is Distracted Driving?
Under Georgia's state law, distracted driving refers to any activity that could potentially distract you from safely operating a vehicle. This includes anything from texting, talking hand-free on a cell phone, fiddling with the radio, and many more.
Even though Georgia's state law mainly focuses on distracted driving involving cell phone use, there are many other activities that could earn you a distracted driving charge.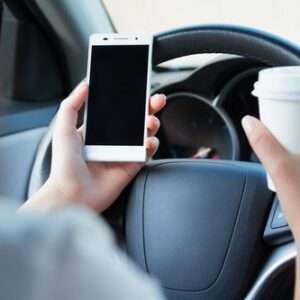 Types of Distracted Driving
According to the Centers for Disease Control and Prevention (CDC), distracted driving activities can be grouped into three main categories.
Visual Distractions
These are distractions that cause you to take your eyes off the road. These include looking at billboards or looking at things on the side of the road.
Manual Distractions
These are distractions that cause you to take your hands off the steering wheel. These can include actions like attending to a toddler, reaching for things in the car, changing the radio, etc.
Cognitive
These are distractions that take your mind off the activity of driving. These can include things like daydreaming, chatting with passengers, etc.
What makes texting so dangerous and why most governments put focus on curbing texting while driving is the fact that texting combines all the above types of distractions.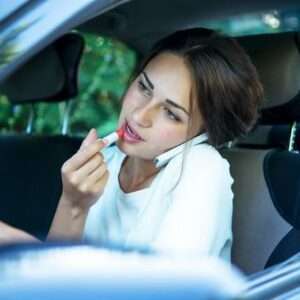 Laws Regarding Distracted Driving in Georgia
Before July 1, 2018, drivers in the state of Georgia, except bus drivers and teen drivers, were permitted to drive while using their cell phones provided that they weren't texting. However, after the passage of Georgia's Hands-Free Law in 2018, no driver is permitted to have their phones at hand or touching any part of their body when talking on the phone while driving.
The use of GPS and navigation systems is still allowed. However, it is illegal to watch or take videos or photographs while driving.
Even though the use of voice-to-text technology is permitted, drivers aren't allowed to read, write, or send text messages, social media content, emails, or other content while driving.
There are exceptions to this law including emergency personnel, drivers reporting emergency situations, and drivers who are fully parked. However, this excludes drivers stopped at a red light.
It is important to note that Georgia's cell phone and text laws are primary enforcement laws, meaning that a police officer can pull you over for texting and driving and issue you a citation without having to prove that you were texting while driving.
What Damages Can Victims Get From A Distracted Driving Accident Claim in Georgia?
Victims of distracted driving accidents have certain rights under Georgia law. It allows the victims to take legal action against the wrongful party and recover various types of damages which include:
Economic Damages
These are damages that have an economic basis including medical expenses, lost wages, out-of-pocket expenses, etc.
Non-Economic Damages
These are the types of damages that can't be precisely measured from an economic aspect. These include pain and suffering, permanent disfigurement, loss of life enjoyment, etc.
Punitive Damages
These types of damages aren't meant to compensate the victim but rather to punish the defendant for grossly negligent, reckless, or malicious acts. If awarded, the state of Georgia has put a cap on the awardable punitive damages at $250,000.
How Long do I Have to File a Claim in Georgia?
Georgia's statute of limitations is a law that stipulates the timeframe within which a victim can file a lawsuit against the at-fault party. If you have been involved in an auto accident caused by distracted driving, you have two years from the date of the accident to file a claim against the at-fault party or their insurance company. If this time period lapses, you will permanently lose your right to file a lawsuit. The duration is even shorter for cases involving government bodies. It is therefore important that you take action as soon as possible. The earlier you get a distracted driving accident lawyer involved, the better it will be for you.
Why do I Need a Distracted Driving Accident Lawyer?
An attorney does a lot to help your case. Dealing with a distracted driving case can be particularly complicated and it requires the expert mind of an experienced Metter distracted driving attorney. Proving that the other driver was distracted at the time of the accident can be difficult to do on your own.
Your attorney will do proper investigations and collect all the necessary evidence to prove that the other party is at fault. We build a solid case for you and show that the other driver was fully responsible for your injuries. We will also handle all the paperwork for you.
Dealing with insurance companies can be a very stressful and frustrating part of the claims process. They won't make it any easier for you. However, an attorney will ensure that they take your case seriously and put forward a favorable settlement, your attorney will handle all negotiations with the insurance company.
If the insurance company doesn't put forward a favorable settlement, we will take your case to trial. We will ensure that all due procedures are followed and we will fight aggressively for your rights before the court.
Hire an Experienced Metter Distracted Driving Accident Lawyer Today!
All drivers have a legal responsibility to concentrate on their driving and drive safely at all times. However, when a driver is distracted, this reduces their reaction time and increases their risk of losing control of their vehicle leading to serious traffic accidents.
If you have been injured as a result of a distracted driver, you don't have to deal with the burden of someone else's wrongful acts on your own. We can help get the financial compensation owed to you. Call The Weinstein Firm today at 770-HELP-NOW to speak to one of our skilled attorneys.