Car accidents can be fatal. They can cripple you and even kill your loved one. Imagine if the accident takes place due to reckless driving. Will you forgive the offender? You probably won't. And you shouldn't. Instead, you should file a complaint and claim compensation for the medical bills you have to pay. This is where The Weinstein Firm can help you.
Filing a reckless driving complaint may be easy, but you need to go through a legal process to claim compensation from the offender. Our experienced McDonough reckless driving accident lawyers will listen to your case and accordingly take action to win the case on your behalf.
Call our car accident attorneys at 770-HELP-NOW to set up an appointment right away so that we can start the court proceedings as soon as possible.
What is Reckless Driving?
Reckless driving means willful disregard for the safety of people and property while driving. It is considered intentional or conscious indifference for the rules of the road, knowing that it can damage public property or even take human lives.
How can reckless driving increase the chances of an accident?
A person doesn't need to get booked for reckless driving only if he injures someone on the road or damages someone else's property. The police can book a person for reckless driving if the driver does the following things because they increase the chances of an accident.
Driving and texting at the same time.
Distracted driving
Speeding
Tailgating
Ignoring red lights
Turning without using turn signals
Road rage and aggressive driving
Driving under the influence of alcohol
What Damages can Victims Get from a Car Accident in Georgia?
At The Weinstein Firm, we try our best to secure the maximum amount of damages possible from the offender to ensure you don't have to pay anything for your treatment. We understand that you may not be mentally prepared to go to court. You don't need to do anything as long as we are here. We will take care of the paperwork and prove in court that the offender is guilty and should pay for his mistakes.
Many people question the type of damages they can get from a reckless driving accident. Here are some of the problems that you may need to face:
• Income losses
• Disfigurement
• Property losses
We know that these losses can put a financial burden on you. And that's why we will fight hard to make the offender pay for all these things. Following are some of the claims that you can make depending on the severity of your injury:
Medical expenses
Why should you pay for the hefty medical bills when a reckless driver is at fault? You may need to pay for immediate expenses like first aid and doctor consultation, but we promise to get the money back from the reckless driver. We will set up the case in such a way that the at-fault driver has to pay for your doctor visits, medicines, surgeries, counseling, physical therapy, medical equipment, and transportation to the nearest medical facility.
Lost work hours
Medical bills aren't the only expense that the offender should bear. If the injury is severe enough, you may not be able to go to work. And that may lead to lost work hours. We will make sure the offender pays you fair compensation for your lost income.
Wrongful death damages
Reckless driving can easily take away the life of your loved one. Although it is impossible to figure out a sum for the loss of companionship, we can help you recover damages for the wrongful death.
Punitive damages
In some cases, Georgia courts award victims punitive damages to make an example of a reckless driver's behavior.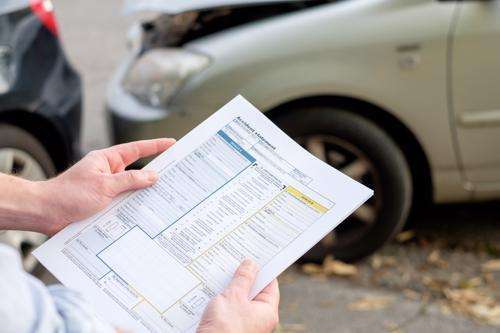 How Can I Prove the Other Driver Was Behaving Recklessly?
It's not your duty to gather pieces of evidence against the reckless driver. The police and your lawyer will team up to find those pieces of evidence that prove his guilt. Our experience in this field allows us to look for the right evidence at the right place. Here are a few ways we can pin down the offender for his crime:
• Speedometer calibration
• Witness testimony
• Dashcam or highway camera
You may find it difficult to access these things unless you have a lawyer representing you in court. One of our lawyers will talk to the police and discuss the case in detail. We will explain everything and request cooperation in finding the above information. We have a good rapport with the police in Newnan.
How Long Do I Have to File a Claim in Georgia?
If you have been involved in a reckless driving car accident, you have 2 years from the date of the accident to file the claim before the statute of limitation expires.
It is best to get in touch with our lawyers as soon as possible.
Why Do I Need a McDonough Reckless Driving Accident Lawyer?
It isn't easy to put together the paperwork and pieces of evidence if you are in the hospital. You need a build a strong case so that the opposition can't get away by paying a small compensation. Let us do what we are best at. Here are the reasons why you will need a lawyer:
1. Case Preparation – Here, we will gather the required evidence for your case and file a claim on your behalf.
2. Settlement Negotiation – If the other driver's insurance company mentions a settlement amount, we can negotiate to make sure it is fair.
3. Trial Preparation And Representation – If your case ends up in court, we are ready to represent you and prepare you accordingly.
How Much Does a Car Accident Lawyer Cost?
We don't charge any fee initially. We work on a contingency fee basis. This means you pay a percentage of the compensation after we have secured compensation for you. No win, no fee.
Contact Us Today for a Free Case Review
If you are a victim of reckless driving and want to file your case right away, don't hesitate to contact us. We are here to make sure that you receive fair compensation after your accident. Call The Weinstein Firm at 770-HELP-NOW today to set up an appointment at your convenience.