In 2020, 46% of all fatal car accidents in Georgia involved a driver who was speeding according to the Georgia Department of Transportation. After a severe car crash in Lithia Springs, GA, you may feel frustrated, in pain, and uncertain what the future holds. Even a minor accident can leave you wondering what to do.  You might be unable to work and support your family. And you might be wondering how you'll pay your medical bills. But there is help. You're able to recover money for your health expenses and more. You need to talk to a car accident lawyer near Lithia Springs at The Weinstein Firm.
Our law firm has one goal: to assist accident victims in getting their lives back together. We never charge you anything unless we can win you money. Let us provide you a totally free consultation. Get in touch with our personal injury firm near Lithia Springs at 770-HELP-NOW or fill out the form to the best of your ability to get your free consultation today.
About Lithia Springs
Lithia Springs is a census-designated, unincorporated area, previously incorporated as a city, in northeastern Douglas County, Georgia. As of the 2020 census, the community had a population of 16,644. The area is named for its historic "lithia" mineral water springs.
Sweetwater Creek, a tributary of the Chattahoochee River, flows through the eastern part of Lithia Springs, and Sweetwater Creek State Park is along its southern edge. The park is home to hiking trails, picnic pavilions, and the ruins of a historic mill destroyed during Sherman's Atlanta Campaign in the Civil War. Visitors to the park can also kayak in the George H. Sparks Reservoir.
Will insurance cover my car accident?
It depends. Unlike some accidents, automobile accidents are usually insured by an insurance plan. In Georgia, car owners must find a specific amount of insurance, and it must cover injury victim injuries in addition to damage. This implies that in the event you're hurt in an auto collision, you can get your costs.
There's a possibility that the driver does not have insurance. You may have the ability to submit a claim under a policy and you might recover money from the other driver if this happens so you get paid in the future. This could involve putting a lien on their property, or getting the cash in payments over time. The most important thing is: you've got a right to your settlement whether or not the driver has insurance.
Types of Car Accident Injuries
Bruising
The most common injury resulting from car accidents is bruising. Bruising can either be minor or an indication of severe underlying trauma, and its appearance may take several days to become fully visible.
Scars and Disfiguration
Car accidents can result in scarring and disfigurement injuries. Scarring is a natural healing process that can lead to permanent changes in the skin's appearance, while disfigurement is a more severe and permanent alteration of the face or body.
Broken Bones
High-impact car accidents can result in broken bones when the impact force surpasses the bone's strength. The treatment approach depends on the break's severity and can involve immobilization with a cast or brace, or surgery. The recovery period may vary based on the injury's extent and the person's overall health.
Facial Injuries
Injuries resulting from car accidents can vary in severity, from minor cuts and bruises to more critical conditions like broken bones or disfigurement requiring surgery. These injuries may cause physical pain and emotional distress.
Neck Injuries
In car accidents, neck injuries are common, particularly in rear-end collisions, and can range from minor strains to severe conditions such as whiplash or spinal cord damage. Treatment approaches vary depending on the injury's extent and may involve rest, physical therapy, or surgery. Neck injuries can result in pain, stiffness, limited mobility, and may require ongoing medical attention.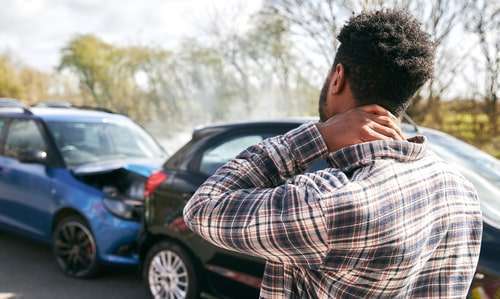 Whiplash
Whiplash is a type of neck injury that occurs due to a sudden and forceful jerking of the head, commonly seen in car accidents. This can cause damage to the neck's soft tissues, such as muscles, ligaments, and nerves, leading to symptoms like neck pain, stiffness, restricted mobility, headaches, dizziness, and fatigue.
Wrist & Hand Injuries
In car accidents, wrist and hand injuries are common, particularly when individuals brace themselves during impact. These injuries can vary in severity from minor cuts and bruises to more serious conditions, such as fractures or dislocations.
Leg & Foot Injuries
Leg and foot injuries can occur in car accidents, ranging from minor cuts and bruises to severe conditions such as fractures or amputations. The treatment approach depends on the injury's severity and can include immobilization with a cast or brace, physical therapy, or surgical intervention.
Brain Injury
Car accidents, especially those involving high-speed collisions or rollovers, can cause brain injuries. These injuries range from mild concussions to severe traumatic brain injury (TBI), resulting in long-term disabilities or even death.
Burns
Car accidents can cause burns, particularly in accidents involving fires or explosions. These injuries can range from minor burns to severe ones that can lead to permanent scarring or disfigurement.
Post Traumatic Stress
The psychological condition known as post-traumatic stress can develop after experiencing or witnessing a traumatic event, including car accidents. The symptoms of post-traumatic stress include flashbacks, nightmares, anxiety, depression, and avoidance of triggers associated with the traumatic event, such as those experienced in car accidents.
Back Injuries
Car accidents can cause back injuries, ranging from minor strains and sprains to severe conditions such as herniated discs or spinal cord damage. Symptoms can include pain, stiffness, and limited mobility, and medical attention such as rest, physical therapy, or surgery may be necessary.
Paralysis
Paralysis is a severe medical condition that can result from car accidents, especially those involving severe impact or spinal cord damage. It refers to the loss of muscle function and sensation in a part of the body, either partially or completely.
Internal Bleeding
Internal bleeding happens when blood vessels inside the body are damaged, causing blood to seep into surrounding tissues or organs. Symptoms may include pain, swelling, dizziness, and weakness.
Pain & distress
Car accidents can cause both physical and emotional pain and distress, regardless of the type or severity of the injury. Physical pain may include cuts, bruises, fractures, and other injuries sustained in the accident, while emotional distress can result from shock, fear, anxiety, depression, and post-traumatic stress.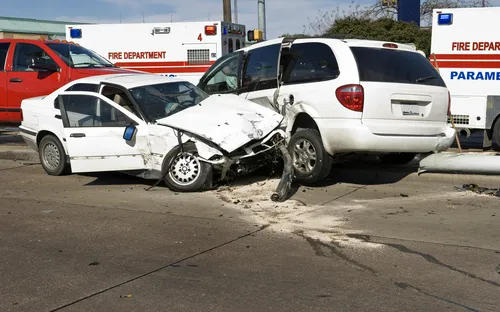 How Is Fault Determined in a Lithia Springs Car Crash?
You might have heard of no-fault states, however, in Georgia, fault decides who will pay for an auto accident. Basically, the driver that caused the accident is at fault and the driver (or the driver's insurance company) should pay for all of the consequences, such as injuries and the damage to the other motorist automobiles. Insurers will treat it as a definitive account of what happened and will look at the police report. But they may also send out adjustors to rebuild what occurred and to look at the damage to the cars.
The insurance providers act as if they get to determine who was at fault but they don't. Remember: you have rights. An injury attorney near Lithia Springs will send an investigator out on their own and will put the evidence together to show what occurred. This may involve interviewing witnesses at the scene. That means if you are being wrongly blamed by the insurers, we may be able to prove that was truly at fault.
How much will my settlement be?
Settlements depend on the seriousness of the injuries, that had been at fault, and how much your treatment and losses cost you. There is no limit to what you are allowed to recover. You get 100% of all your difficult costs, such as things like vehicle repairs, and doctor bills, or lost work time. Moreover, you can be given money for severe losses, such as the way your life has been impacted, including cash for mental anguish, pain, disabilities, or the loss of a loved one.
Whenever these kinds of losses exist in a claim, the costs that are hard to determine will be multiplied by a number between 1 and 5. The end result is how much you're paid. Most of us know that money can't compensate for a tragic personal loss. However, we have seen year after year the settlement money helps our clients move forward and reconstruct their lives.
Do I require a car accident attorney?
A lawyer is an advocate who will always be on your side. The insurance company, sadly, is much more interested in its profits than helping you get better. The majority of the time, the insurance company will create an offer it knows is too low. It expects you'll jump and sign away your legal right to recover the price of your accidents.
An auto accident attorney understands this is how insurance businesses work. An attorney can collect the kind of proof that will convince the insurance company to cover a fair amount. This includes referring you to doctors who can fully assess your condition and tell you precisely what it will take for one to recover as completely as you can. Armed with these facts, a lawyer can often negotiate a much better offer, or your lawyer can take your case to a jury in a car accident lawsuit in Lithia Springs, Georgia.
Get the compensation
you deserve $$$
Schedule a free initial consultation. We will provide sound legal advice without judgement. Contact us today at 770-HELP-NOW
How do I know if I need to file a claim?
It's hard for accident victims to know this by themselves. For starters, the majority of individuals aret trained to employ concepts like fault and negligence to car accidents. For another, it's human nature to be hesitant or to blame someone else for an accident that could have happened to anyone, or to blame yourself. But under the law, someone is to blame and has to pay. The best way to know if you've got a valid claim would be to schedule a free consultation with a good car incident attorney.
Call the Car Accident Lawyers Near Lithia Springs at The Weinstein Firm for a Free Consultation
Our lawyers at The Weinstein Firm near Lithia Springs have been helping car accident victims for decades, and we won't charge you anything unless we win money for you. We will provide a completely free consultation that will assist you in understanding everything to do next with no duty, and whether you have a claim. Call us at 770-HELP-NOW or fill out the form to the best of your ability to acquire your free consultation.