Motorcycle accidents are quite common in Kennesaw, Georgia. The size of a motorcycle is much smaller compared to a car, or a truck and injuries can be quite severe, especially if the motorcyclist was riding without a helmet or padded gear.  If you have been in a motorcycle accident, and have suffered injuries, you need to call a motorcycle accident lawyer in Kennesaw, Georgia as soon as you possibly can.
How Common Are Motorcycle Crashes?
As one of the most vulnerable road users, motorcyclists are exposed to danger every time they ride their bikes, no matter how proficient or experienced they are. This is largely because most motorcycle accidents and incidents are caused by the negligence of the other party. This does not mean that motorcyclists are never to be blamed. It also happens that riders are speeding or are not careful when sharing the road with other vehicles. Accidents can occur if this is the case and can often cause serious injuries.
According to the Hurt Report, 75% of motorcycle accidents in the US involve a passenger vehicle. Unfortunately, as the smaller vehicle in these types of collisions, motorcyclists stand a higher risk of sustaining serious injuries. For this reason, hiring a decent motorcycle accident lawyer is even more important as accidents involving motorcycles can be quite complex.
The most common types of injury caused by motorcycle incidents include:
Bone and joint breaks
Soft tissue damage such as deep cuts and abrasions
Concussions and brain trauma
These injuries can be quite serious as is evident from the following statistics:
There is a 98% chance a motorcyclist will be injured in multiple vehicle accidents.
The chances of being injured in a single-vehicle accident are only slightly lower at 96%.
Hire a Motorcycle Accident Lawyer in Kennesaw, GA
Whenever a motorcycle accident occurs, there's generally chaos and confusion in the initial minutes following the collision. First and foremost are the physical injuries that have to deal with immediately. If you're lucky, these will be minor but if not, seeking medical attention will be your first priority.
There are other factors that may increase your stress levels further. These include the thought of medical expenditures, the inability to go back to work and loss of wages and the emotional suffering from the accident itself. You need additional support at this time to deal with the legal issues that might come up after the accident. That is why consulting a motorcycle wreck lawyer is important during this time.
As you consider what ramifications you may have to deal with further down the line, calling a motorcycle accident attorney to find out what your options are can give you some peace of mind and can allow you to focus on your personal recovery and your family.
Contacting a motorcycle accident is thus quite important. However, in the immediate aftermath, here are some steps a Georgia personal injury lawyer will tell you to follow:
Check for Injuries:
Naturally, if your injuries are extensive and you are unable to move, you should remain as calm and as still as possible and wait for medical help to arrive at the scene. Do not attempt to remove your helmet if you have sustained a head, neck or back injury as this may make it worse. If you are able to move, check to see if anyone else involved requires medical attention and make sure someone has called 911. If not, do so yourself. You might also want to consider contacting a motorcycle wreck lawyer right away if you are able to at that time. If not, your safety and well-being should be your first priority.
Get Off the Road:
For your own safety, you should move to the side of the road as soon as possible after the accident. When there is a crash or collision on the road, there is a risk of further damage or collision since the debris is hazardous to other road users. If they fail to see what has happened or if they are unable to stop, divert or protect themselves in time, there can be further collisions.
That is why you should try to get off the road if you are in a position to do so. Contact 911 so that somebody can be on their way to clear the road and provide medical attention to the victims.
Gather Information:
A motorcycle accident lawyer will recommend you exchange information with other drivers involved in the incident. You need to get names, addresses, telephone numbers, insurance information and license plates for all drivers. This information can prove to be very useful for your motorcycle wreck lawyer. It's a good idea to take plenty of pictures if you are in a position to do so. This will provide you a record of the plate numbers, as well as the make, model and description of other cars/vehicles involved in the accident. You can pass this information to your motorcycle accident lawyer.
Wait for the Police:
Even if you feel you have no major, a motorcycle wreck lawyer will advise that you remain at the scene until the police arrive. This is because the police are required to file a report on the accident, and you'll want to have your side of the story noted. In addition, you need to ensure that the medical staff at the scene of the accident examines you immediately and that any serious injuries that you have incurred are reported to the police.
In many cases, it can take several days and sometimes weeks for symptoms to emerge and so what may initially be a minor bruise or abrasion could become something more serious over time. Your motorcycle accident lawyer will advise you that providing all the relevant details to the police will strengthen your case going forward.
Record your Injuries:
As mentioned above, you may feel completely fine after a motorcycle crash, but you still need to note any injuries you have sustained, no matter how small. A motorcycle accident attorney will advise you to take pictures immediately after the incident if you can and also over the next few days. This will provide evidence of serious injuries if and when they occur. If an injury isn't noted in the police accident report that but later becomes a medical issue, your motorcycle accident lawyer will be able to have it amended if it was mentioned in the initial police report.
Photograph the Damage:
Aside from any personal injuries, a motorcycle accident attorney will want to see pictures of your damaged motorcycle and any other property damage. This information will greatly assist your motorcycle wreck lawyer if you decide to file a claim. Your motorcycle accident lawyer will also be able to guide you through the process of making such a claim.
Provide Information Related to the Accident:
You need to try and piece together the events that caused the accident, as you will be required to make a statement to the police. Make a mental note of the location, road conditions, time of day or night, speed limits, weather conditions, lighting and the direction traveled by each vehicle involved. Again, your smartphone is important as a way of documenting events. This information will prove to be useful for your motorcycle accident lawyer. That is why you should take plenty of pictures including any damaged barriers, skid marks on the road or other related debris.
Talk to Witnesses:
Because of the confusion and chaos following a motorcycle accident, it can be very easy to forget the details of exactly what happened. It's a good idea to talk to anyone who witnessed the incident, and you can use your smartphone to record their comments. You can then pass on this information to your car accident lawyer.
Don't Admit Blame:
Emotions and stress levels run particularly high after a motorcycle accident, and it can be easy to fall into the blame game. Some people may be so shocked by events that they find themselves agreeing with another person's versions of events, even if they aren't entirely sure. A motorcycle accident lawyer will advise you that any admissions made at a crash scene can be damaging to your case. The best way of protecting your rights in the aftermath of a crash is to be very careful what you say. Don't make any admissions of guilt as this can often have serious consequences further down the line. Enlisting the assistance of a motorcycle accident attorney protects you from making any mistakes that might negatively impact your case.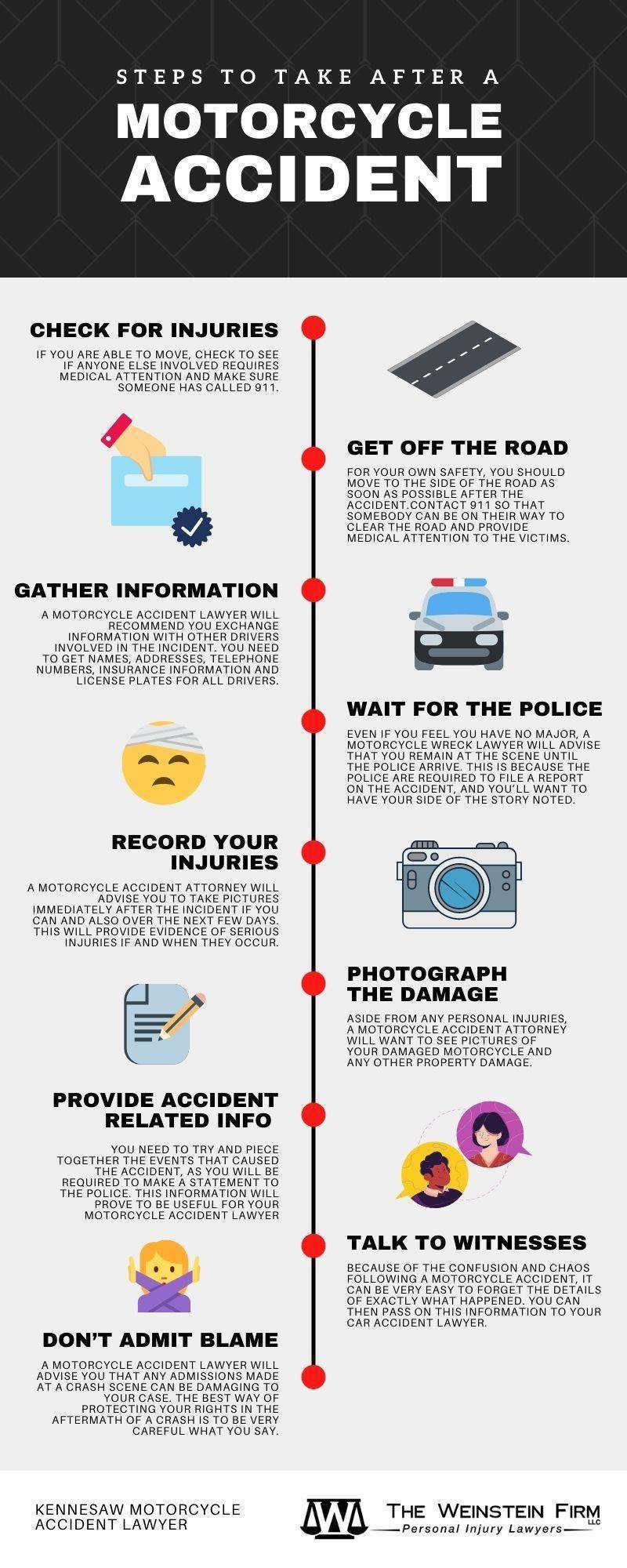 Be Wary of Insurance Adjusters
In the days following an accident, it will be the job of insurance adjusters to assess the financial consequences. These are highly-trained representatives who are skilled at extracting even the most sensitive information from people involved in traffic accidents. What can seem like an innocent remark can become something significant in the world of an insurance claim.
Just bear in mind that they are not your friends and have no concern for your wellbeing. They are simply serving their firm's interests, and their goal is to minimize their financial payouts. For that reason, a seemingly innocent comment can result in you receiving less compensation compared to what you might deserve. Therefore, be careful what you say and let your motor accident lawyer deal with insurance companies.
Hiring a reputable injury law firm in Georgia can be very helpful in such a situation. They will deal with insurance adjusters on your behalf. Being able to refer interested parties to your motorcycle accident lawyer will prevent you from falling into any trap. Motorcycle accident attorneys know how insurance companies operate. That is why you should let them handle the legal issues.
Let Your Motorcycle Wreck Lawyer Determine Liability
Motorcycle accident cases can be complex, especially because compensation is greatly dependent on the determination of fault. This is especially true when multiple parties are involved in the chain of events can be difficult for a motorcycle wreck lawyer to establish accurately. Many times, where liability is not easy to establish, the blame is put on the motorcyclists. This is something you need to prevent unless you were actually to blame. Talk to your motorcycle accident lawyer about what role each party played in the accident.
Motorcyclists are known to be reckless, and this fact can often be used against you even if you are not to be blamed for a particular accident. Situations where the motorcyclist may be accused of causing the accident include:
If they were driving at unsafe speeds in difficult weather conditions
If they were dodging through traffic or changing lanes recklessly
If they were not visible because of their positioning on the road
The third situation is actually not the motorcyclist fault per se, but the fact is that other motor vehicle drivers of passenger often fail to see motorcycles on the roads unless they are in front of them. Most drivers will register a car or truck, but because we generally take a quick look in our rear-view mirrors, there is a risk of missing a motorcycle.
Similarly, opening doors while parked at the side of the road and creating a hazard for an unnoticed motorcycle behind is a very common type of accident and is a testament to how the majority of drivers are not wired to notice two-wheeled vehicles.
Seeking legal advice as soon as possible after a motorcycle crash by consulting a motorcycle wreck lawyer is your best protection if you're injured. Not only does it save you from having to communicate directly with insurers and their representatives, but it will also put your mind at rest that your medical bills and loss of earnings will be compensated. Motorcycle accident lawyers understand how the system works and they know the argument they need to present to maximize your payout.
One area that many people are concerned about when they've been involved in a motorcycle accident is how they will cope financially if they are unable to go back to work immediately. Motorcycle accident lawyers will make your loss of earnings their priority to make sure that you are not placed in financial difficulty through no fault of your own. Some of the injuries motorcyclists sustain can be incapacitating for many years. Some conditions can remain dormant, only to surface somewhere down the line. Whatever the situation, you can be confident that motorcycle accident lawyers will take care of your interests.
Consult with a Georgia Motorcycle Accident Attorney Today
It's natural to be in a state of shock when you've been involved in a motorcycle accident, but it's also crucial that you keep calm, take care of your injuries and then consult a motor accident attorney. The Kennesaw motorcycle accident lawyers at The Weinstein Firm will guide you through the legal processes and help you get the compensation you deserve. Call us today at 770-HELP-NOW to schedule your free consultation.