Head-on collisions are rarely free of major repercussions, given the forces involved in the crash. If you or a loved one sustains an injury in one of these crashes, it is important to seek a head-on collision lawyer to fight for your rights and get compensated.
A head-on collision or frontal crash occurs when two vehicles collide while traveling in opposite directions. Vehicles involved in these cases include cars, trucks, motorcycles, and even trains.
When a motorist or passenger experiences a head-on collision, their bodies experience a level of impact that's magnitudes higher than conventional accidents as they are coming into contact with a vehicle driving straight into them. Most of these accidents call for surgeries, resulting in prolonged medical care.
If you or a loved one has been involved in a head-on collision that was due to a negligent or reckless driver, you are eligible for compensation. However, these cases tend to be complex and call for the intervention of an experienced head-on collision lawyer. The Weinstein Firm's team of Griffin car accident lawyers is always ready to fight for your rights. All you have to do is call us (770) HELP-NOW and get a free initial consultation.

The Most Common Causes of Frontal Collisions
Head-on collisions usually occur when one driver goes to the other side of the road and comes into contact with incoming traffic. There are numerous reasons that can result in a frontal collision, including:
Speeding
Losing control when driving at high speeds is one of the easiest ways to veer into the opposite lane and cause and collide with oncoming traffic.
Distracted Driving
A distracted motorist can pose a huge risk to the safety of everyone else on the road, particularly HGV drivers. Distracted driving comes in many forms from texting while driving, zoning out, watching videos while on the wheel, eating while driving, etc.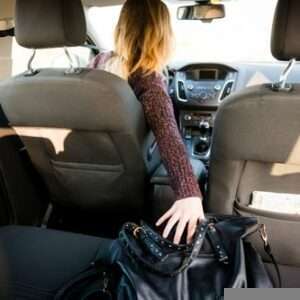 Driving While Tired
Truck drivers are especially guilty for this one. Spending too many hours on the road eventually makes an individual tired, but given the pressure to meet deadlines, some decide to continue. Fatigued drivers tend to have delayed reaction times and this makes them prone to making mistakes just like drivers under the influence. It's particularly easy to fall asleep behind the wheel, making the vehicle drift and get into the next lane.
Overlooking Traffic Rules or Reckless Driving
Some drivers also ignore traffic laws and drive in a reckless manner. An example is passing a vehicle on a 2-lane road by using the opposite lane or turning the wrong way on a 1-way street. Such driving habits are bound to increase the chances of a frontal collision.
Intoxication
Driving under the influence of alcohol or other substances is a no-brainer in that it increases the chances of causing an accident, including a head-on collision. Intoxication affects motor control as well as judgment and makes an individual prone to speeding. All these factors increase the chances of a head-on collision accident.
What Kinds Of Damages Can Be Awarded Following a Frontal Collision?
Georgia Law begins with personal injury protection insurance(PIP). However, the auto accident victims also have the right to sue the parties at fault for additional expenses. If you are able to prove the defendant was responsible for your injuries or losses, you are eligible for the following types of damages or settlement:
Economic Damages
These types of damages entail losses calculated based on the monetary costs you incur. These can include medical expenses, lost wages due to missed days or inability to work, disability, emergency room visits, hospital stays, in-home care services, transportation doctor appointments, therapy, rehabilitation, etc. If the auto accident results in a fatality, then funeral expenses can apply as well.
Non-Economic Damages
These types of damages are non-tangible, but can also be just as hurtful. Examples include pain and suffering, emotional trauma, loss of companionship or consortium, and even wrongful death.
Punitive Damages
These are rare in auto accident cases in Georgia as they need proof that the defendant actually knew what they were doing in causing a head-on collision accident. However, if their actions show reckless disregard to traffic and other people on the road, punitive damages are awarded to punish them and discourage others from doing similar things. Punitive damages are often awarded in drunk driving and hit-and-run cases.
Why You Need an Attorney for a Head-on Collision Claim in Georgia?
Seasoned frontal collision lawyers will make sure you have the upper hand when pursuing a settlement for your injuries and losses. This, however, is not the only benefit of getting a head-on collision lawyer for a head-on collision accident. Our team will help you in the following aspects:
Filing a claim
Determining how much your claim is worth
Showing liability or fault, especially if several parties might have been responsible for the accident
Negotiation for a fair compensation
Fighting for your rights
Representing you in court in case negotiations with the insurance company fall through.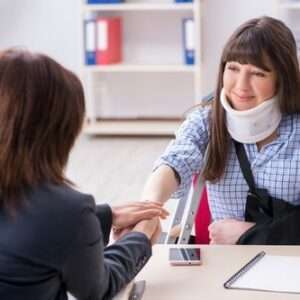 How Much Will a Head-On Collision Lawyer in Griffin Cost?
Fortunately, when you deal with personal injury lawyers in Griffin, you don't have to worry about the lawyer fees. We work on a contingency fee basis, meaning we pursue your case for free until you win. We agree on a certain percentage of your settlement from the get-go and if you don't win, you do not pay. You have nothing to lose by working with the Weinstein Firm and so, don't be afraid to call us if you need any legal assistance.
How Long Do I Have to File a Claim for a Head-on Collision in Georgia?
The statute of limitations for auto accident claims, in Georgia, including head-on collision is two years, starting from the date of the accident. This duration is put in place for victims to have enough time to recover before they file a lawsuit. However, it is best to use a head-on collision lawyer and initiate the claim as soon as possible. This will help you fight the case while it's still fresh, giving you a better chance of winning.
Hire a Griffin Head-on Collision Lawyer Today!
Head-on collisions can be fatal and traumatizing. Allow us to seek the compensation you deserve by fighting for your rights. Call The Weinstein Firm at (770) HELP-NOW for a free initial consultation with our attorneys.