After a serious car crash, dealing with accidents and mounting expenses may appear overwhelming and impossible. In 2019, the estimated medical cost of car accident injuries in the United States was $463.3 billion. (National Highway Traffic Safety Administration) You shouldn't need to manage the aftermath alone and those costs might not be your duty. In the event you were in an auto accident near Griffin, GA that wasn't your fault, then Georgia Law might help. You need to speak to a car accident lawyer near Griffin at The Weinstein Firm.
With years of experience, our car accident attorneys can help. We have committed ourselves to supply assistance to automobile crash victims. We would like you to recoup the most out of your claim. Unless you're awarded money, we'll never charge you. Let us provide you a FREE consultation. Get in touch with us at 770-HELP-NOW or complete the form to the best of your abilities now to get your free consultation.
About Griffin
The city of Griffin is the county seat of Spalding County, Georgia. It is part of the Atlanta metropolitan area and had a population of 23,478 as of the 2020 census. Griffin is home to a branch campus of Georgia State University and one of two main Southern Crescent Technical College campuses.
John Henry "Doc" Holliday, best known for the gunfight at the O.K. Corral, was born in Griffin. You can see Doc Holiday's birthplace and possible final resting place on a self-guided tour. The city holds an annual Doc Holiday festival with a BBQ championship. Other attractions include Wyomia Tyus Olympic Park and the Hill-Kurtz House.
Who is considered accountable for a car crash in Griffin?
The driver at fault is obviously liable. But determining who's at fault can be hard in some instances. That is where your Gainesville auto accident lawyer can help. An investigation is opened to analyze the accident and to make sure that the person is held responsible. Here are examples of proving the other driver was at fault:
They broke the law
They had been driving after drinking or using drugs
Their telephone or something else diverted their attention
They exhibited some other kind of carelessness
Griffin Accident Statistics 2019-2021
What is Negligence in a Georgia Car Accident Case?
If an accident happened because the other driver violated a traffic law, the driver was negligent. This means the driver was distracted or driving carelessly. Negligence also entails there is a driver liable for the crash, even if the law wasn't broken. Never apologize or claim responsibility, because finding who is to blame for an accident may be uncertain. You can be helped by a car accident law firm near Griffin if you're doubtful about who's liable to your injury.
What Damages Can I Recover in a Car Accident Case?
In accordance with Georgia state law, an auto crash victim is permitted to recover 100 percent of costs. Some costs may include:
Expenses or rehabilitation costs
Vehicle repairs
Lost wages or prices of lost work time
In some specific scenarios, victims can recover the cash, occasionally more than double the amount of their claim. This money may be awarded for claims concerning injuries that cause injury or the loss of life. We think that this money can on no account make up for such terrible events, but it can help families stay secure while trying to recover from the crash.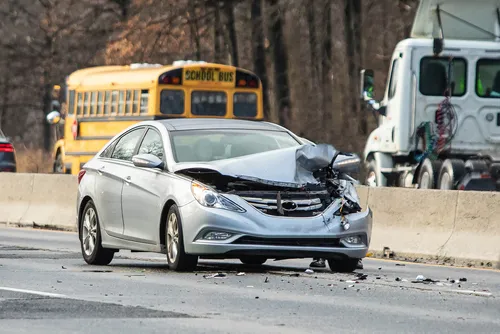 Do I Really Have a Case?
The best way is by seeking assistance. The car accident attorneys near Griffin at The Weinstein Firm can analyze the details of your case and start an investigation. Our group has successfully led claims for many different injury types, for example:
Frontal, side impact accidents and back end
Whiplash claims Accidents involving trucks, motorcycles, pedestrians or bicyclists
Accidents caused by hazardous driving conditions (rain, fog, etc.)
Distracted driving
DUI
Defective tires/auto parts
You could have the ability to recoup money when the driver wasn't insured.
What if I was Already Offered Cash by the Insurance Company?
Be careful once you are offered money after a crash by an insurance company. While maybe not malicious, insurance businesses aim to make the most money possible, so they'll be eager to offer less money to you. If you have a legitimate claim, the amount of money you recover could be greater than the amount you've been provided.
Insurance providers will use a variety of approaches to pay you. They may not include the cost of your work or time that is missed, or they may offer only what you need without consideration of prospective costs up to now, for your present bills. They may hurry to make you a deal whether additional treatment will be needed by you and before you understand you're recovering.
Just keep in mind that your insurance company knows how to talk you down and allow you to consent to accept their offer. An auto wreck attorney at the Weinstein Firm can help you make sure that you get the maximum amount out of your claim and talk with your insurance company.
Is There a Deadline to File a Car Accident Lawsuit in Griffin?
Yes. Deadlines are different for every crash. If you miss your deadline, then you likely won't have the ability to recover any money. Accident sufferers have just two years or sometimes just as little as a couple weeks, Your insurance policy may also take deadlines for when to file a claim. Don't risk waiting to file your claim, if you've been in an auto accident. The earlier you seek help, the more powerful your claim is. You need to speak with a personal injury lawyer immediately.
You Pay Zero Unless We Win!
Millions recovered for injured victims
How Much Does a Car Accident Attorney Cost?
We know how difficult it is recovering from an accident. We never ask our clients to pay out of pocket. Rather we stand by our charge system: We will not charge you while we work on your case. You don't owe us if you don't recover money on your claim. We take a small percentage for our fee if you win money from the claim, but the rest is yours to keep. We want to offer the assistance that is best and most fair.
Talk To A Car Accident Lawyer Near Griffin at the Weinstein Firm.
You shouldn't have to manage the aftermath of an auto crash on your own. As you recuperate, you deserve to have an attorney fighting for you. We would like you to get the most from your claim, and unless we win you money, you never get charged. Let us provide you a totally free consultation. Call us at 770-HELP-NOW or fill out the form to the right to acquire your free consultation.