In 2020, the injury rate per 100 million vehicle miles traveled was 101. (National Highway Traffic Safety Administration) The effects of a car crash go far beyond medical bills. Following a serious injury, you might feel that your life won't ever be the same. You could be confronting a disability, multiple surgeries, or weeks of therapy. Even a minor injury leaves you wondering how you are going to remain afloat financially, and can leave you out of work, in pain. But if your injury in the City of Gainesville was not your fault, you've got a right to find money to pay for your injuries. You need a car accident lawyer near Gainesville, GA.
At the Weinstein Firm, our attorneys have built their reputations on these cases. We understand how to get you paid, and we won't charge you anything unless we win money for you. Let us give you a FREE consultation. Get in touch with us at 770-HELP-NOW or complete the form to the right now to acquire your free consultation.
Facts About Gainesville, Georgia
The city of Gainesville is the county seat of Hall County, Georgia. As of the 2020 census, the city had a population of 42,296. The hustle and bustle can lead to traffic accidents. A news report from AllOnGeorgia ranks Athenes Highway in Gainesville 22nd on its list of 57 deadliest roads in Georgia.
Because of its large number of poultry processing plants, Gainesville is often called the "Poultry Capital of the World." The annual Spring Chicken Festival features a chicken parade, live music, arts and crafts, and the tastiest chicken you can find.
Lake Lanier is possibly the area's most well-known attraction. The lake draws around seven million visitors every year with its opportunities for swimming, world-class fishing, kayaking, and more. Linwood Nature Preserve is an Audubon Wildlife Sanctuary that is home to over 40 species of birds. Nature lovers also won't want to miss visiting the Atlanta Botanical Garden Gainsville.
Why is a car accident different from other kinds of injuries?
Georgia law helps make sure that car accident victims get cash to cover their injuries. It does this by requiring all automobile owners to get a car insurance policy that covers injuries in addition to automobile damage. This means that if you are hurt in an auto crash, instead of going after another driver personally you can look to pay.
However, you need to realize that insurance companies don't like to pay claims out. They will do what they can to offer you as little as you possibly can. That is why it is very important before you choose any insurance money to talk to a car crash attorney.
Gainesville Accident Statistics 2019-2021
When the driver doesn't have insurance, what happens?
You have a right to obtain compensation for your injuries. It merely means you have to seek it from a different source. Depending on the circumstances, this could provide you a few choices:
Your own insurance, home insurance coverage, or any other coverage may cover it.
The driver may be ordered to pay you back gradually over time.
The driver may be court-ordered to pay you when they market their own home or another piece of property in the future to pay you.
The result is the same, although these instances are not as instances with insurance: you should not be left to pay for an accident you didn't cause.
Who is responsible for a car accident in Gainesville?
In Georgia, it's called a fault condition. The insurance company for the driver who is at fault has to pay for all of the accidents that happen as a consequence of the accident, as well as the harm to the other driver's car. It follows that determining fault is a large part of any car accident case.
The driver who is at fault is the person who caused the accident by not following traffic laws or utilizing careful practices. The driver didn't mean to cause an accident, and he or she may be angry. However, the accident was caused by this, and it doesn't matter if it was illegal behavior or carelessness, their insurance company is responsible for your costs.
You Pay Zero Unless We Win!
Millions recovered for injured victims
Drivers might be at fault because of a variety of unsafe behaviors, including:
Texting and driving
Following too close
Weaving in and out of traffic
Breaking traffic laws
Georgia has a rule that is simple: car crash victims can get ALL their costs and damages paid by the driver who was at fault. While it depends on many different factors, most injury victims will be eligible for these types of costs:
Cash for time missed at work
All doctor appointments, surgeries and medical therapies
Any maintenance you need, or remedies like treatment
Car repairs
If you suffered severe injuries, you may have the ability to recoup additional sums of money for a handicap, suffering, or pain or losses that are devastating. Family members of deceased accident victims may qualify for wrongful death compensation. We all know money can not make up for a loss that tragic, but it can provide you the financial security you want to move forward with your life. Contact a personal injury lawyer to maximize the compensation you are awarded.
What kind of accidents does a vehicle accident case cover?
The law allows you to recover money for many of your injuries. While there Is absolutely no limit on what this might include, there are some accidents that are especially common after automobile accidents: Head injuries, burns, bone fractures, injured joints or muscles, loss of a limb, and whiplash are all unique features of car accident injuries.
Many accident victims go home feeling fine, and then encounter pain later on or feel dizzy. Because of this, we urge everyone to find a doctor straight away even if you believe you weren't actually hurt. You can be evaluated by a doctor and they can prescribe treatment that can help you heal. And the insurance carrier will be less inclined to fight you if you saw a physician shortly to dispute your claim.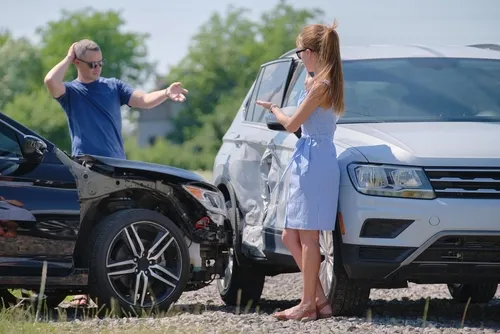 Can a lawyer help me negotiate with the insurance company?
Absolutely. The Car Accident Lawyers near Gainesville at the Weinstein Firm can help you evaluate the insurance company offer and determine what to do. The majority of the time, what the insurance company provides isn't large enough to pay for your losses. But the insurance carrier expects to generate a profit by giving you money that is less than you deserve. The problem is, if you take the money today, you'll give up your best chance to get a fair recovery.
Car accident law firms near Gainesville know how to negotiate with insurance companies to get you a reasonable amount. They can build a strong case revealing what it's going to cost, and who has been at fault, as well as how you're injured. An attorney can send you to doctors who understand your injuries and the type of therapy you need. An attorney puts an expert on your side getting your income.
Speak to a Car Accident Attorney Near Gainesville, GA, At No Cost
At the Weinstein Firm, our auto accident attorneys near Gainesville have been helping car accident victims for a long time. Since we don't bill anything unless we win you money, we are affordable for everybody. Let us provide you a FREE consultation and help you determine what to do today. Get in touch with us at 770-HELP-NOW or complete the form to the right to acquire your free consultation today.