You're going about your business on your way to work. You stop at a stop sign and check to make sure no cars are coming. You slowly cross the intersection and are crashed into by a truck going about 75 mph. He didn't stop at his stop sign and clearly didn't check to see if anybody was on the road. Your car is totaled and you suffer a broken leg and traumatic brain injury. You're rushed to the hospital in an ambulance and don't remember a whole lot after that.
While you're in the hospital, your family comes to visit. They want to make sure that you're okay. What they also need to do is contact a car accident attorney near Forest Park. You are going to have a long and painful recovery. You won't be able to work for a while. You're going to need to find a way to pay your bills and take care of your family. This is why you need an experienced personal injury lawyer near Forest Park.
In 2020, there were approximately 4.8 million people injured in car accidents in the United States. (National Highway Traffic Safety Administration) If you've been hurt in an accident and it's not your fault, somebody needs to pay. Whoever was driving that other car needs to compensate you for your injuries. The easiest way to do this is to file a claim with their car insurance policy. Their policy should cover your injuries and out of pocket expenses. The problem is when their insurance company denies your claim. Or, if they don't have insurance and you are left out to dry. That is when you call The Weinstein Firm to seek compensation for your injuries.
About Forest Park
Forest Park is a city in Clayton County, Georgia that is located about nine miles south of Atlanta. It is part of the Atlanta metro area and had a population of 19,932 as of the 2020 census. The city is about 5 miles from Hartsfield-Jackson Atlanta International Airport and about 15 miles from downtown Atlanta.
Clayton State University is just outside of Forest Park. If you want to get away from the hustle and bustle, the beautiful Reynolds Nature Preserve is less than 10 miles away. The State Farmers Market is another popular area attraction.
Forest Park is a prime location for Atlanta workers who want to commute to the city. Unfortunately, it sees its fair share of traffic accidents. A news report from AllOnGeorgia listed I-75 in Forest Park as one of the deadliest roads in Georgia.
What Type of Car Accidents Do Lawyers Handle?
There are dozens of types of car accidents. Some are more common than others. Thankfully, your local car accident lawyers near Forest Park handle all types of car accidents. Some are just fender benders and you'll only have to worry about repairs to your vehicle. Others are more serious and leave you in the hospital suffering from some pretty significant injuries. These are the accidents where you need a car accident attorney.
Forest Park Accident Statistics 2019-2021
Some of the most common types of car accidents in Forest Park are:
Head-On Collisions
These types of accidents can leave the drivers of both cars in really bad shape. Because both cars are driving at pretty high speeds, the impact can be extreme. Head-on collisions can cause serious head and brain injuries. They can also lead to back, neck and internal injuries. All of these can be life-threatening if not treated immediately.
Distracted Driving Accidents
You can't watch television without seeing a public service announcement about the dangers of texting and driving. In Georgia, it's illegal to text and drive. However, people still do it every day. You may even be guilty of this yourself from time to time. People are always trying to multi-task. This can lead to distracted driving which causes accidents every day. Some of the leading distractions on the road are:
Eating
Reading GPS or map
Talking to fellow passengers
Changing the radio station
Watching videos on handheld devices
Talking on the phone
Texting
All of these cause small distractions that can lead to major accidents.
Truck Accidents
Whether we like it or not, we share the road with a lot of commercial vehicles. A lot of these are tractor-trailers hauling products from one end of the country to another. They are large, powerful machines. When these trucks hit a passenger vehicle, the damage is extensive. In most of these accidents, the passengers in the car don't survive the crash. If they do, they are left with very serious and life-threatening injuries. 
Rear-End Accidents
A lot of car accidents are minor. Rear-end car accidents usually only result in minor injuries such as whiplash or a few scrapes and bruises. However, the damage to your car can be extensive. You will want an attorney to handle your case if the insurance company refuses to pay your claim.
No matter what type of accident you are in, your car accident attorney near Forest Park can help you. They will deal with the insurance company and make sure you get the settlement you deserve.
What do You Do if the Insurance Company Denies Your Claim?
If you've been in a car accident, there are two things you need to do. First, you need to seek medical treatment immediately. You want to make sure you haven't been seriously injured. Even if you don't think you're hurt, you could have suffered internal injuries or a concussion. The other reason you want to get medical treatment is to document your injuries. If the insurance company refuses to pay your claim, your car accident lawyer near Forest Park is going to need to prove you were hurt. They will use this information to try to settle your claim. They can also present your medical documentation in court if you have to file a lawsuit.
If your insurance claim has been denied, you need to contact a car accident attorney. Your lawyer will find out why your claim hasn't been paid. There are a number of reasons why this may have happened:
The other driver let his policy lapse or cancel because of non-payment.
They don't believe you were hurt.
You didn't file the proper paperwork when you submitted your claim.
They don't think their driver was at fault.
You have a history of filing accident claims to collect damages.
If the other driver did not carry a valid insurance policy, there is nothing your lawyer can do to get it paid. If this is the case, you will have no choice but to file a lawsuit against the other driver. However, if your claim was denied for any other of the reasons above, your lawyer may be able to help. He can contact the insurance company and try to get your claim reopened. He can talk to the adjuster and come to a reasonable settlement. 
If none of these tactics work, you may have no choice but to file a suit. Nobody wants to do this. Lawsuits can be expensive and time-consuming. However, if it is your only recourse, you have to do it. Your lawyer will explain how the case will proceed. He will contact the defendant's attorney and again try to settle the matter Settlements are always in your best interest. They lead to immediate money and are resolved a lot faster than a prolonged lawsuit.

What Kind of Compensation Can You Expect?
There is a common misconception that your lawyer can get you millions of dollars in a car accident lawsuit. This usually is not the case. Very few lawsuits lead to millions of dollars. If they did, insurance companies would go broke within a few weeks. You are only entitled to be compensated for your actual damages. Damages may include:
Medical Bills
Any bills that you have accrued due to your injuries will be included in your lawsuit. This includes past and present bills. It also includes any future medical bills you may incur. It's hard to estimate this last type of medical damages. Your lawyer may have to rely on a medical expert to testify as to what your future medical care will be. He then has to determine how much this care may cost. Your lawyer will demand that you be compensated for these bills.
Lost Wages
If you have been in a car accident, you will likely have missed some time from work. This could have been days, weeks or even months. You are going to want to provide your car accident attorney with copies of payroll records showing your missed time. If you used personal time or vacation time, your attorney can try to get you compensation for this. Either way, once you prove your lost wages, they will be listed amongst your damages.
Future Income
If you are going to be permanently disabled, or won't be able to return to your prior job, you will have a claim for damages. Your lawyer is going to demand that you be compensated for any future earnings you have lost. Essentially, he will calculate the difference between what you would have earned (had the accident not happen) and what you will now earn. He will include this amount in your damages.
Pain and Suffering
Georgia law does allow you to claim pain and suffering. Most cases will include a demand for pain and suffering. It is not easy to calculate this information. Your lawyer will have to testify as to what your pain and suffering may be. Some of the things the judge would look at include:
How severe were your injuries? The more severe your injuries, the more money your car accident lawyer in Forest Park will demand. He can demonstrate how much pain you were actually in and will prove how much pain you are still in. He will have to rely on expert witnesses to accomplish this. You may need to testify. You may have to submit an affidavit. If the case does settle, you may not have to do any of this. Remember, though, not all cases settle. Some do actually go to trial.

 

What are the chances that your injuries will last? Your Georgia car accident lawyer will show that your injuries are permanent. He can prove this using medical and case research. He will also rely on medical testimony. There are cases that show what your injuries are worth.

 

How old are you? The younger you are, the greater your amount of pain and suffering. The court considers the income you would have earned in your entire life. It will document how much longer you'll have to suffer. This is why large settlements often involve younger people. The same is true for trial verdicts.
Did you have a pre-existing condition? If you had neck or head injuries prior, the other driver's attorney will argue for lower compensation. He will claim you were hurt long before the accident. He will say the accident didn't cause your injuries. The insurance company will probably try the same tactic.

 

How much were your economic losses? Your economic losses will be taken into account. To calculate your pain and suffering, the court will ask what you actually lost. Did you lose your retirement or savings? Did you work thirty years to save that money? Have you exhausted all insurance coverage?

 
Whatever damages you have suffered, your car accident lawyer will fight to get you every dime you deserve.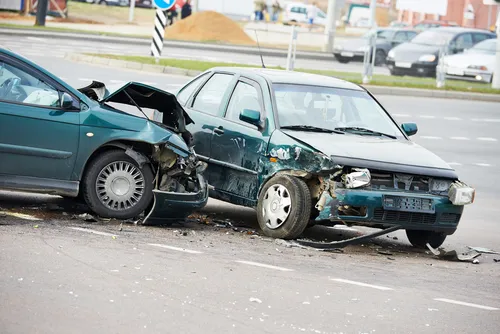 Your Car Accident Attorney Near Forest Park Will Get You Compensation for Your Injuries
No matter how minor or serious your injuries, your car accident attorney is going to work hard to get you paid. You will have to document your injuries. This is why it's so important that you seek medical treatment after the accident. You don't want the insurance company to argue that you got hurt sometime between the accident and the court date. 
Some of the most common types of car accident injuries include:
Head Injuries:
Some of the most severe injuries are head injuries. You can certainly suffer from broken bones, cuts, and bruises. You may suffer burns or lacerations to your face. However, the most serious type of head injury is a traumatic brain injury.
A traumatic brain injury is when your head suffers a severe blow. Your brain is actually injured as a result. You can end up with bleeding on the brain. You may display stroke-like symptoms. Some of the side effects of a traumatic brain injury are:
Concussion
Blurred vision
Short- and long-term memory loss
Nausea
Speech issues
Hearing loss
Fatigue or insomnia
Neck Injuries:
One of the most common types of injuries is whiplash. This is when your neck is stretched too far in one direction. You can suffer a muscle strain in your neck such as whiplash. It causes pain and limited motion. You won't be able to do normal things like drive and turn your head. You will probably have to wear a neck brace for a few days or weeks.
The issue with whiplash is that it's impossible to prove. There is no test or x-ray a doctor can show to prove you suffered whiplash. It really comes down to your statement and the testimony of your doctor or chiropractor. Juries and insurance companies are suspicious of whiplash claims. 
Courts understand that whiplash is a common injury. They don't typically award more than a few thousand dollars in damages for whiplash.
This is because it heals itself with time and is not that serious an injury. However, when you're the one suffering from it, this can be little comfort. 
Back Injuries:
If you injure your back in a car accident, you may be in for quite the ordeal. These injuries can last a long, long time. Back injuries like herniated discs and bulging discs are painful. They require years of treatment. You will need surgery and physical therapy.
With back injuries, you need to make sure you have an auto accident lawyer in Falls Church. Insurance companies are going to claim that you had back issues prior to the accident. By the time many of us reach a certain age, this could be true. If they can prove that you had a pre-existing condition, it may affect your compensation. Make sure you have a good car accident lawyer by your side to prove that your injuries are related to the car accident.
Internal Injuries:
Internal injuries are not uncommon in serious car accidents. The scary part is, they are hard to detect. You may not feel bad at all after the accident. Then, hours or days later, you start to feel terrible. You may suffer from headaches, nausea, and pain. If this is the case, you need to seek immediate medical care.
There are many different kinds of internal injuries that result from car accidents:
Internal bleeding
Concussion
Aneurysm
Punctured lung
Bleeding on the brain
Injuries to spleen, kidney, or other organs
The hospital will have to do a series of tests to check for internal injuries. The big problem with internal injuries is left untreated, they can kill you. Doctors know what the signs and symptoms are for internal injuries. This is why it's so important that you go to the hospital after an accident no matter what. 
Contact a Car Accident Lawyer Near Forest Park Today
If you've been involved in a car accident, you need to call a car accident lawyer today. You are going to need to focus on your recovery. Let a legal professional take care of the business side of things. The initial consultation is absolutely free. It gives you a chance to meet with your attorney and tell him your version of events. He can review all of your documentation. He may even be able to tell you what your case may be worth.
Remember, you pay nothing until you win your case. You have nothing to lose by visiting with a car accident attorney. You will get the peace of mind you need at a time like this.