According to the National Highway Traffic Safety Administration in 2020, the estimated medical cost of car accident injuries in the United States was $474 billion. Medical bills might be just one of your worries after an automobile accident. You might be unable to perform your work too. You may not be certain if you are going to be able to go back to work. You may be in pain, or struggling to come to terms with permanent, life-changing injuries. But you ought to know that you don't have to pay for your injuries after an accident in Ellenwood, GA that wasn't your fault. The law permits you to regain your medical expenses and more. You have to talk to a car accident lawyer near Ellenwood.
At the Weinstein Firm, our mission is to aid accident victims in receiving the money they need. We've been getting results for a long time, and we won't charge you anything unless we win money for you. Let's give you a FREE consultation. Call our personal injury lawyers near Ellenwood at (770)HELP-NOW or fill out the form to the best of your ability to get your free consultation today.
A Bit About Ellenwood
Ellenwood is an unincorporated community in Clayton, Henry, and DeKalb counties in northeast Georgia. The community is a southeastern suburb of Atlanta and can be reached by Interstate 675 and Georgia State Route 42.
Ellenwood is a diverse community and a growing part of metro Atlanta. It is also home to Panola Mountain Golf Course, which is a 27-hole golf course that offers scenic views in a serene setting. Ellenwood is just minutes away from Reynolds Nature Preserve and Panola Mountain State Park. Panola has been designated a National Natural Landmark for its stunning natural beauty.
How Does Insurance Work in an Ellenwood Auto Accident?
Unlike most accidents, an insurance plan usually covers car accidents. If you have a vehicle in the state of Georgia, you are required to get insurance to pay for damage to accident victim injuries AND other vehicles. This means that if you are injured in a car crash, there will probably be insurance money.
You should be aware that the insurance carrier will not be eager to pay you what your claim is worth. It is important to speak with an experienced car accident attorney near Ellenwood before you agree to have an insurer check.
How Do I Understand Who's at Fault in My Auto Wreck?
The motorist that is at fault would be the one who pays. Because of this, insurance companies want to ascertain who is in error prior to deciding who is responsible for the cost of your injuries. Fault is an issue of driver negligence. Every driver has a legal obligation to operate their vehicle in a proper way.
When drivers are careless and cause mishaps, they're liable for negligence even though they never intended to harm anyone. A motorist may be negligent for many reasons, but a number of the most common ones include breaking traffic laws and texting while driving.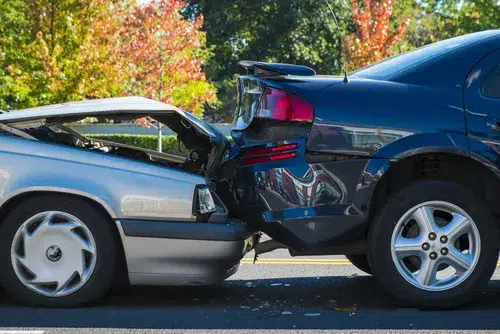 What Type of Injuries are Covered by Automobile Accident Claims?
You can recover money as long as it was caused by the incident. There are automobile accident injuries that are covered by this. They include:
Head Injuries
A traumatic brain injury is one of the most devastating of car crash injuries. But serious complications can be caused by even a minor concussion.
Whiplash
Movies and TV make fun of whiplash sufferers, but whiplash is a really real and quite painful neck injury.
Soft Tissue Injuries
These include sprains and strains.
Broken Bones
Hands, wrists and face bones are especially common.
Many car accident victims believe they haven't been injured because they only begin to come up with pain, nausea or stiffness. You shouldn't dismiss these symptoms, as they may be signs of something severe if you don't treat them and they are able to develop into more serious conditions. Get checked out by a doctor as soon as possible. Seeing a physician makes it easier for you to earn an insurance claim and protect your health. Our personal injury lawyers have the experience to get you the money you deserve.
How Do I Know if I Truly Have a Case?
It's typical for car crash victims to blame themselves. Or you might be thinking you were just unlucky. It's natural to have these thoughts, but that's how the law works. Your accident was someone's fault, and person at fault is liable for paying for your injuries. Don't walk away from the money that you deserve in the event that you have a legitimate claim.
How Much Money Can I Expect to Get?
You can recover all your costs and damages. The amount you can get can differ, depending on the types of injuries you might have and the way the accident occurred. But you can expect to receive cash for medical expenses, long-term rehabilitation (if any), your damaged automobile, and any time you missed from work. Money is received by some injury victims.
If your injuries were severe, it's common to get money for long-term ailments pain along with other acute losses. If a relative of yours lost their life in a crash, wrongful death damages may be recovered by you. It may provide you stability as you keep your therapy and plan the next phase of your lifetime, although this cash will never return what you've lost.
You Pay Zero Unless We Win!
Millions recovered for injured victims
What If I've Got an Insurance Offer?
The insurance company's offer may seem great, but they have a motive. The insurance companies need to make a profit, and they will purposely offer you less than your claim is worth. The insurance provider expects you'll need the cash and sign away your rights before you find out what the accident is going to charge you.
Automobile crash attorneys near Ellenwood, Georgia help you navigate the insurance company's traps and tricks and will watch out for your interests. At the Weinstein Firm, we begin every case with an investigation into your injuries and the way your accident happened. We send you to physicians who understand the treatment you require, your illness, and exactly what it will cost. We construct a good case that we can use to convince the insurance company to give a reasonable offer to you. Having an accident attorney in the Ellenwood area on your side, you stand to recover far more income than you would get on your own.
Talk to a Car Accident Lawyer Near Ellenwood Today!
At the Weinstein Firm, our auto accident lawyers near Ellenwood have a long track record of helping accident victims. We never charge you anything if we don't get money for you. Let's provide you with a free consultation to talk about your situation and explain your rights. Call us at 770-HELP-NOW or fill out the form to the right to get your free consultation.