When it comes to personal injury law, it's not always a matter of who files their lawsuit first. Even if you're the plaintiff in your car accident case, you're not automatically entitled to damages. Your Ellenwood accident attorney will have to prove two things.
First, they'll need to prove that the defendant was negligent. Second, they'll need to prove that you suffered certain damages.
The Law Doesn't Prohibit Anyone From Suing After a Crash
The law doesn't prohibit you from suing somebody after a car accident. However, the law is pretty clear that you should only take legal action against somebody when you're reasonably certain they caused your injuries.
If you take it upon yourself to sue someone and they weren't at fault, there's a good chance your case will be dismissed. The same is true if you can't point to a certain injury or financial loss and say they caused it.
The Question Is Whether You'll Be Able to Collect Damages
So, while you can certainly sue the other driver even if you were primarily at fault, that doesn't mean you'll win. You'll have to prove that the other party was more at fault than you.
For example, if you were hit in a rear-end collision, there's a good chance the other driver will be found liable. However, you may be found partially at fault as well. If your brake lights weren't working, the defendant will claim that the crash was all your fault.
Our Ellenwood Accident Attorneys Thoroughly Review a Case Before We Agree to Handle It
Before any of our Ellenwood accident attorneys file a lawsuit, they make sure it is a legitimate claim. We would never go so far as to say someone who is partially at fault is being frivolous.
However, there is a thin line between thinking you're less at fault than the other party and knowing that you were primarily responsible.
Before we agree to represent anybody in a civil lawsuit, we make sure their claim is valid. This means that you did suffer some sort of injury. It also means that the other party is primarily responsible for your injuries.
If we don't think there's sufficient evidence to prove your case, we may not want to move forward with your case. What we can do is reach out to the insurance company and try to negotiate payment for your claim. Even if your accident lawyer in Ellenwood is able to negotiate partial payment, it's better than nothing.
Your Accident Lawyer in Ellenwood Will Need to Prove Negligence for You to Collect Damages
To collect any damages, your Ellenwood accident attorney must prove negligence. To do this, they'll need to demonstrate the following four (4) things.
The defendant owed you a duty of care.
They breached this duty.
You were hurt and/or suffered a significant financial loss.
Your injuries were directly caused by the defendant's breach of duty.
As long as your accident lawyer in Ellenwood can prove these four elements of negligence, there's a good chance you'll collect some damages, even if you don't collect your full demand.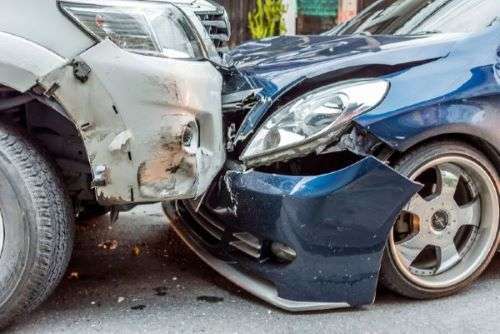 You Can Collect Damages if You Were Partially at Fault
In Georgia, you can still sue somebody if you were partially at fault. As we saw in the rear-end collision example earlier, it's common for both parties to be somewhat at fault. If you were to observe anybody's driving habits, you could probably find something to criticize.
The difference here is that we're talking about a situation in which you were more than 50% at fault. Georgia's comparative fault rule doesn't allow someone to collect damages if they were more than 50% at fault.
Georgia Law Only Allows You to Recover if You're Less Than 50% at Fault
According to OCGA §51-11-7, a plaintiff can collect damages as long as they're less than 50% at fault. Even then, your damages will be reduced by your percentage of fault. Imagine that you sued the defendant for $100,000. The court finds that you're 30% at fault.
In this example, your damages would be reduced from $100,000 to $70,000. This is because you were 30% at fault and 30% of $100,000 is $30,000. When you decrease your total damages by $30,000, you're left with $70,000.
It's a Good Idea to Meet With an Ellenwood Accident Attorney Before You File Anything
We suggest that you hold off on filing a lawsuit until you've met with an accident lawyer in Ellenwood. They can review whatever information you have related to the crash. If they believe there's enough evidence to support your claim that the other driver was at fault, it may be worth pursuing.
If, however, it doesn't appear that you have sufficient proof that the defendant was more than 50% at fault, your Ellenwood accident attorney may not want to proceed with legal action. It all comes down to what you can prove.
Any experienced accident lawyer in Ellenwood would not want to accept a case where their client is clearly more than 50% at fault. Whether it's frivolous or not, it often isn't worth the time and expense of filing legal action.
Take Advantage of Your Free, Initial Consultation With an Ellenwood Accident Attorney
Some people are under the impression that they can sue somebody in the hopes of collecting damages. However, any Georgia accident attorney will tell you that this isn't the case. In order to sue somebody legitimately, you need to have suffered some sort of injury. You also have to prove that the other party was at fault.
If you were hurt in an accident and you were partly at fault, you should meet with a seasoned accident lawyer in Ellenwood. They can review your information and let you know if your claim has merit.
If it does, they'll be more than willing to represent you. If, however, it doesn't appear that you have a reasonable chance of winning, they'll be upfront and honest with you.
Call today and schedule your free, initial consultation.