If you've been involved in an accident that involved a speeding driver, you need support from a speeding accident lawyer in Dublin, GA. The Weinstein Firm's Dublin accident lawyers can help you to recover damages and collect the money that you're owed. Contact us today to find out more about what we can do to help you.
In Georgia, car accidents are the leading cause of injury death and the second-leading cause of ER visits and hospitalizations.  Many of these accidents are caused by a driver that is traveling above the posted speed limit.
[toc]
How Does Speeding Increase Chances Of Causing An Accident?
When people drive at higher speeds, they have less time to process information and react to what's happening around them. Furthermore, braking distance increases when driving at a higher speed. Because of these factors, speeding significantly increases the risk for accidents. In addition, it elevates the risk of a severe injury.
There are many factors considered when a speed limit is set, including the road type and condition, traffic volume, and crash history on the road. Going beyond those limits can put drivers, passengers, and anyone else on the road at risk. It's estimated that speeding is a factor in one-third of all accident fatalities.
It's also important to remember that many vehicle safety features were not designed to work at very high speeds. Airbags and seatbelts are able to reduce the force of impact in a crash, which can protect drivers and passengers against fatalities. At very high speeds, these safety features will not function as intended.
Driving even a few miles over the speed limit can have dangerous consequences. It can also be risky to drive at normal speeds in bad weather conditions. It's the responsibility of all drivers to pay attention to posted speed limits and driving conditions when they are on the road.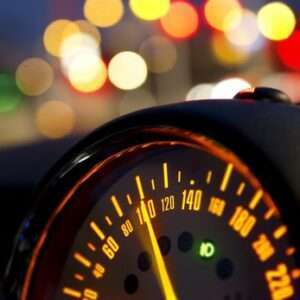 How Can I Prove That The Other Motorist Was Speeding When They Hit Me?
After an accident, a driver may claim that they weren't speeding and that they are not to blame for the accident. Thankfully, there are a number of ways to collects evidence and establish that the at-fault driver was traveling at an unsafe speed.
Modern vehicles are equipped with onboard devices that record information while the vehicle is being operated. In Georgia, it is legal to download this data and use it to establish driving speed, even if the at-fault driver does not give you permission. This is one of the easiest ways to establish that a motorist was driving above the speed limit.
In 2015, the Georgia Court of Appeals declared that testimony on speed based on the experience of impact was inadmissible in court.  However, witnesses that were at the scene of the crash can still give testimony to support that the at-fault driver was speeding.
In some cases, it may be possible to use GPS data to establish that a driver was speeding. Although GPS devices do not collect information about vehicle speeds, a GPS logger can show that a driver could have not traveled between two locations without going above the speed limit.
If you were involved in an accident that was caused by a speeding driver, The Weinstein Firm can build a strong case on your behalf. We'll work to collect evidence that shows that the driver was traveling at an unsafe speed, which will lead to a win for you.
How Long Do I Have To Make A Speeding Car Accident Claim In Georgia?
In the state of Georgia, injury claims need to be filed within two years of the date of the accident. Property damage claims need to be filed within four years of the date of the accident. However, these deadlines may vary in some cases.
If an accident occurred when the injured party was a minor, the deadline will not begin until after the individual turns 18. Personal injury claims have to be filed within two years of the individual's 18th birthday, and property damage claims need to be filed within 4 years. In a case like this, you will have more time to file a claim.
In some instances, however, you will have a shorter deadline to file a claim. For accidents that involve city or county vehicles, claims typically need to be filed within six months. For accidents involving state vehicles, claims have to be filed within one year.
If an accident involves a federal government vehicle, it is necessary to file a claim with the appropriate government department within two years of the accident. If that claim is rejected, a court claim must be filed within two years of the date of the rejection.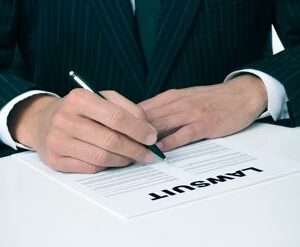 Why Do I Need A Speeding Accident Lawyer?
Hiring a speeding accident lawyer in Dublin, GA is the best way to ensure that your claim has a favorable outcome. An attorney can prove liability, negotiate with insurance companies, and determine the true value of the injuries that you've sustained. A lawyer can also gather evidence and consult with experts to build the strongest possible case for you.
Your Dublin speeding accident lawyer will be able to file a claim on your behalf and can mitigate any arguments that are made by the other party. In many cases, your attorney will be able to settle your case out of court. If things do proceed to trial, however, a lawyer will be able to handle that for you.
It's vital to have the assistance of someone that understands Georgia car accident laws and knows how to prepare a settlement demand letter. Without an attorney, you could receive far less than the true value of your claim, and your claim could even be denied entirely.
The Weinstein Firm has recovered millions for our clients, and we'll fight to ensure that you receive the money that you're entitled to. We'll make sure that your legal rights are protected throughout this process. Car accidents can be devastating, especially when they result in severe damage or serious injury. We'll provide you with support throughout this process.
How Much Will a Speeding Accident Lawyer Cost?
You may be reluctant to hire an attorney because of the potential cost. If you're dealing with medical bills and other expenses, you may be concerned that you don't have room in your budget for legal fees. Thankfully, you don't have to pay any money upfront when you work with The Weinstein Firm.
We work on contingency, which means we won't get paid unless you do. Instead, we'll collect a percentage of the settlement that you're awarded. If we're unable to secure a settlement for you, you won't owe us a thing.
While the total compensation for your claim will vary based on the circumstances of your accident, we'll work to recover the maximum amount for you. In Georgia, it's possible to collect economic damages, non-economic damages, and punitive damages.
Since you won't pay anything unless we win, there's no reason not to seek the support of one of our attorneys. Don't take the risk of filing a claim on your own. Instead, put your claim in the capable hands of The Weinstein Firm. You can trust our firm to support you during this difficult time.
A Dublin Speeding Accident Lawyer at the Weinstein Firm is Here to Help
If you've been injured in an accident, and speed was a factor, you need the help of an experienced speeding accident lawyer in Dublin, GA. The Weinstein Firm can build a strong case for you so that you can collect the compensation that you deserve.
Being involved in a car accident can be devastating, which is why it's so important to have the support of an expert attorney during this difficult time. Schedule a free consultation with The Weinstein Firm today so that we can review your case and start fighting for you.