Speeding accidents can have disastrous consequences. Excessive speed limits a driver's ability to react fast enough and prevent a crash. As a result, speeding is a factor in 26 percent of US accidents and it causes 8,544 crashes with a fatal outcome each year.
If you've been hurt or a loved one suffered the consequences of a speeding accident, you'll need to understand your legal rights.
In Georgia, you're entitled to various protections as a speeding accident victim. Our Danville speeding accident lawyers can help you recover damages and get compensated adequately for the pain, suffering, and losses incurred. Call the Weinstein Firm at 770-HELP-NOW today for a free consultation with a car accident attorney.
How Does Speeding Increase Chances of Causing an Accident?
Excessive speed is a high-risk factor on the road. Research suggests that driving too fast makes it more possible to be involved in a crash and it also increases the severity of the injuries.
The higher the speed of the vehicle, the shorter the time a driver has to react in the event of unforeseen circumstances. As a result, stopping the car becomes difficult or even impossible.
Here's a quick example to demonstrate the gravity of the situation. At 30 miles per hour, an average vehicle will need 42 feet after braking to come to a complete stop. In comparison, at 24 miles per hour, the same car would need just 27 feet to stop completely. An incremental speed increase of just 0.5 miles per hour contributes to a three percent higher risk of a crash and a four to five percent higher risk of an accident that will cause a fatality.
Speed can be an exceptionally powerful factor when it comes to the most vulnerable road users. Studies show that a pedestrian has a 90 percent chance of survival when hit by a car traveling at 20 miles per hour. When the speed reaches 28 miles per hour, the survival rate goes down to 50 percent or even lower, the World Health Organization reports.
How Can I Prove Another Motorist Was Speeding When They Hit Me?
There are several ways to prove that the driver at fault for a crash was speeding.
Needless to say, you have to call the police to the crash scene as soon as possible. Law enforcement professionals will create detailed police reports that take into account both evidence and witness testimonies. Obtaining this police report will help you build a speeding accident claim later on.
In addition, it's a good idea to get in touch with witnesses of the crash. Most people will be capable of attesting to speed and some of them could have even recorded the accident.
You can also benefit from the testimonies of expert witnesses like forensic experts. Their skills and competencies could make it possible to prove beyond a shadow of a doubt that the at-fault party for the crash was speeding.
How Long Do I Have to Make a Speeding Accident Claim in Georgia?
In Danville, Georgia, just like in the rest of the US, you have a limited amount of time to come forward and make a speeding claim.
This period is legally known as the statute of limitations.
For injury-related cases in Georgia, including car crashes, there is a two-year statute of limitations. The time period starts from the date of the crash.
If you're injured in a speeding accident, however, it's in your best interest to initiate legal action as soon as possible. Finding witnesses and collecting evidence will become much more difficult with each passing day. Get in touch with a Georgia speeding accident attorney to learn a bit more about your options and the steps you'll have to undertake.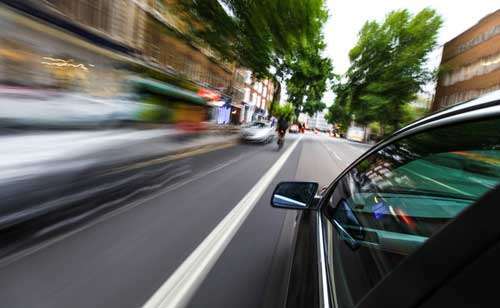 Why Do I Need a Lawyer?
A speeding accident lawyer will make the legal process easier to go through and much more understandable.
It's normal to feel confused and overwhelmed after getting injured in a speeding accident. If you've lost a loved one due to someone's reckless behavior on the road, the situation could become even more difficult for you to handle.
A Danville speeding accident lawyer can help you every step of the way.
For a start, your speeding accident attorney will handle communication with the insurance company on your behalf. In addition, a lawyer would know what it takes to prove liability for your injuries, they'll negotiate a fair settlement on your behalf, and in the event of necessity, they will also file a personal injury lawsuit.
We believe that partnering up with a reputable and experienced legal professional is the best way to receive fair and adequate compensation for everything you were forced to endure as a result of the speeding accident.
How Much Will a Danville Speeding Accident Lawyer Cost?
You don't have to worry about the cost of hiring a Danville speeding accident lawyer.
Reputable law firms will adopt the so-called contingency fee structure.
A contingency fee is a charge for professional services provided that's only payable in the event of a favorable outcome for the client. In other words, if you don't receive damages in the aftermath of the speeding accident, your legal representative would not be paid.
Contingency fees make it easier for accident victims to pursue legal action. They also provide an additional stimulus for attorneys to actively seek out the most favorable resolution for their clients.
Contact Us Today
A speeding accident will change your life in a minute. This is the main reason why reckless behavior on the road is so dangerous and why legal action should be sought out to punish the guilty party.
At the Weinstein Firm, we have the knowledge, experience, and excellent reputation required to represent you after a speeding accident. We've managed to maintain a stellar reputation through the years due to our personalized approach and transparent communication with customers.
Don't leave the provision of financial compensation for your pain and suffering to chance. The cost of overcoming a speeding accident can be significant. There will be medical expenses, lost wages, and major ways in which your lifestyle would change. The right speeding accident attorney can help you receive financial support that will at least partially reduce the burden of handling the accident's aftermath.
Contact our team at 770-HELP-NOW for a free review of your case in Danville, Georgia, and get the best legal guidance.