If someone else was responsible for your head-on collision, you can make that driver pay for your car's damage repair and medical bills for the injuries you sustain over time. But filing the lawsuit requires knowledge of court proceedings and appropriate paperwork. If you are already injured, you may not be able to handle these things alone. Let our Danville head-on collision lawyers take over the responsibility while you recover both physically and mentally from the accident.
With years of experience in this field, our car accident attorneys have what it takes to emerge as the winner in your case. Our lawyers will set up the case in such a way that the reckless driver won't be able to escape without paying hefty compensation for your damages. Call The Weinstein Firm today at 770-HELP-NOW to book an appointment so that we can start the legal process quickly.
Common Causes of Head-On Collisions
Over the years, Danville has seen some of the most dangerous head-on collisions in the state. A few of these accidents led to victims dying on the spot. Those who managed to survive and contact us got handsome compensation from the offenders. But what can cause these fatal accidents? Here are a few reasons that experts cite as the causes of head-on collisions:
• Texting while driving
• Drunk driving
• Drowsy driving
• Driving on the wrong side of the road
• Poor lighting due to fog or rain
• Hazardous construction sites
• Potholes on roads
Damages You Can Receive Through a Head-On Collision Claim
The defending lawyer will try his best to ensure that his client gets away by paying a small fine, but it's our responsibility to prove to the judge the consequences of the accident. We collect every piece of evidence against the driver so that the judge has no choice but to make the offender pay you fair compensation.
There are several types of damages you can claim after a head-on collision. Some of the most common include:
Medical Expenses
We know how expensive the medical treatment for head-on collision accident injuries can get, especially if you have to stay in the hospital for weeks. You have to pay for surgeries, medication, doctor's consultation, physical therapy, and various other things. But once we represent you in court, we assure you that you won't have to pay for any of the above expenses from your pocket. The driver will cover these expenses because it was his mistake that started this thing in the first place.
Medical bills can go up every day if you need additional treatments to help you recover quickly. We will set up the case so tactfully that the offender ends up paying for your long-term care also. A team of experienced lawyers works together to develop a strategy that the opponent cannot beat.
Property Damage
Apart from medical bills, the driver will also pay for your car repair damages. We know how head-on collisions can damage your car's front. Sometimes, the damage is beyond repair. If you cannot get an estimate of the repairs, let us do the hard work. We will visit a reliable car repair store and get a quotation to fix the vehicle.
Lost Wages
Head-on collision accidents are sometimes so severe that you remain injured for months. Your employer may not want to give you the salary you deserve for not working during that period. However, that doesn't mean you won't have money to support your family. The reckless driver will take care of your household expenses if you can't go to work. It's his fault, and we will convince the judge that he should bear these expenses and not you.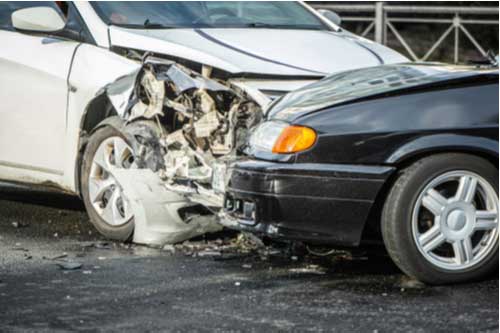 Why Do You Need an Attorney for a Head-on Collision Claim?
You need both emotional and legal support after a head-on collision accident. This is a traumatic event for many. And we completely understand your emotions. Our lawyers will always be by your side from the moment you contact us. We will not pressure you to provide the details of the accident if you are not ready. You can talk to us whenever you feel comfortable.
Investigation & Filing Lawsuit
In addition to providing emotional support, our lawyers will also take care of court proceedings. They will file a lawsuit immediately after they have all the details of the accident. Additionally, they will try to find pieces of evidence by going through dashcam footage, highway camera footage, witness testimony, and speedometer calibration. These allow us to prepare the case properly. We don't want to leave a gap that the opponent can use to get away.
Settlement Negotiation & Court Representation
We are also there to negotiate your claim settlement. Most reckless drivers don't want to provide the amount that the victims claim. If necessary, we will take your case to court to recover the highest possible compensation.
How Much Will An Attorney Cost?
You will be surprised to know that you don't need to pay a single dime when you hire us. We don't pressure our clients to pay an advance upfront. Let us win the case on your behalf, and then you can pay a small fee from your compensation amount.
How Long Do You Have to File a Head-on Collision Claim in Georgia?
We advise everyone to file the lawsuit as soon as possible to increase the chances of getting higher compensation. But according to Georgia law, you have two years to file the case.
Call Our Danville Head-On Collision Lawyers Today
It's a terrible sight to see a head-on collision accident on the road. The police immediately come over to the scene, and there is utter chaos all around. In addition to the police, the paramedics also arrive at the scene of the accident in no time and take the injured victims to the hospital right away. That victim can be you. If you were a victim, you deserve compensation for your injuries and losses.
Head-on collision accidents can result in permanent injuries. Don't let the offender escape. Call The Weinstein Firm at 770-HELP-NOW as soon as possible to file the lawsuit and receive the compensation you deserve. Our Danville head-on collision lawyers have years of experience and offer a free initial consultation.