It seems like wherever you turn these days, there are delivery trucks on the roads. Corporations like Amazon and FedEx employ countless drivers to ship packages all over the country, and more small businesses are taking advantage of online shopping. While they are not as big and powerful as tractor-trailers, delivery trucks are still much larger than your average passenger car.
When delivery drivers cause accidents, the victims often suffer severe injuries and are left wondering how to get justice. If you've been hurt in a delivery truck accident in Morrow or anywhere in Georgia, our attorneys can help you get the compensation you deserve.
What Are Some Common Causes of Delivery Truck Accidents?
Delivery truck drivers are just like everybody else. They make mistakes. Unfortunately, these mistakes can lead to tremendous injuries for the victims.
Some of the more common reasons that delivery truck accidents happen include the following:
Speeding
Distracted driving
Bumper-to-bumper traffic
Driver fatigue
Run a red light or stop sign
Vehicle defect or malfunction
Driving under the influence
Of course, this is not an exhaustive list. There are dozens of other reasons why a delivery truck could end up smashing into your vehicle. As long as your accident attorney can prove fault, there's no reason why you shouldn't receive the compensation you deserve.
Many Victims Are Severely Hurt in Collisions With Delivery Trucks
While they are not as big and powerful as tractor-trailers, delivery trucks are still much larger than your average passenger car. Very rarely will you walk away from this kind of collision.
Some of the more serious injuries you may suffer in a delivery truck accident include:
Back and neck injuries
Spinal cord injuries
Broken bones and lacerations
Traumatic brain injury
Knee injuries
Facial disfigurement
Burn injuries
Any of these injuries can land you in the hospital. There's a good chance you may need surgery and long-term physical therapy. This means you'll be out of work for quite some time.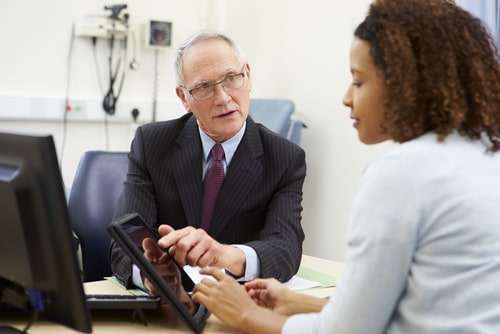 Compensation for a Delivery Truck Accident
Your truck accident lawyer will fight to get you compensation for all of your medical expenses, lost income, and property damage. Depending on the severity of your injuries, you can also receive pain and suffering damages for physical pain and mental trauma.
Your attorney will negotiate with the insurance company on your behalf. If the insurance adjuster refuses to pay your claim, you have the option of suing the delivery driver. If you do this, their insurance carrier will still be the one paying your claim.
Your Attorney May Sue Multiple Parties After a Delivery Truck Wreck
Because delivery drivers work for a transportation company, you'll more than likely have to pursue their employer. What your accident lawyer will do is confirm that the defendant was on duty at the time of the crash.
As long as the defendant wasn't performing personal duties, the company will be vicariously liable for their behavior. Your accident attorney will name both the driver and their employer in your lawsuit.
There's a Strong Chance Your Truck Accident Lawyer Will Settle Your Case
It's important that you understand going into this that there's a very good chance your case will settle. Our truck accident lawyers settle most of the cases they handle. In fact, when it comes to truck accidents in general, more than 95% of them are settled before trial.
What your Morrow accident attorney will do is come up with a bottom-line figure that you're comfortable with. If the defendant offers any amount higher than this you may want to consider accepting their settlement offer.
Reach Out to an Experienced Morrow Accident Attorney Right Away
If you've been injured in a delivery truck accident, you may be entitled to compensation. Of course, this will depend on whether your Morrow accident attorney can prove two things. First, they need to be able to prove that the delivery driver was at fault. Second, they'll need to demonstrate that you were actually injured.
If your truck accident lawyer can't prove damages, there's no point in filing suit.
We suggest you call our office at (770) HELP-NOW today and ask to schedule your free, initial consultation.