Pedestrians across Georgia are injured or killed in traffic accidents every year in the state. In 2016, more than 100 pedestrians were killed in Georgia, and many more pedestrians are injured in traffic-related incidents every year. Pedestrians in Alpharetta have to deal with many different types of risks while walking along our city's streets. Simply a walk around a city can result in close calls with buses, cars, and trucks. All of us become pedestrians at some point in our daily lives, and according to the NYTSA, 73% of pedestrian deaths occur inside cities, and 70% of those do not happen at intersections. For these instances, our Alpharetta, Georgia pedestrian accident lawyers are here to help ensure that you are compensated for any resulting medical expenses.
If you frequently walk along the sidewalks in Alpharetta, you should also bear in mind some hazardous road conditions. Loose gravel, cracked pavement, and potholes can result in serious injury. While walking on or around areas of private property, an injury may also occur due to unforeseen hazards. If you have suffered an injury on the Alpharetta, GA streets, The Weinstein Firm has pedestrian wreck lawyers who are ready to help you and your family recover the compensation necessary for any expenses resulting from that accident. Our experienced pedestrian accident attorneys are able to help you through the process of filing a claim and receiving the full and just payment to which you are entitled
Georgia is the 6th most dangerous state for pedestrians. Many residents of Alpharetta, GA suffer life-altering injuries from pedestrian accidents, and lawyers can tell you that it makes no difference whether your accident was caused by a lazy property manager, a negligent driver, or dangerous conditions. Your injury can and will change your life in unexpected ways, and anytime your injuries are due to the action of another individual, you need to contact a pedestrian accident lawyer to help you protect your rights and aggressively negotiate with the insurance companies.
Preventing Pedestrian Accidents
As a pedestrian walking along Georgia roadways in and around Alpharetta, you are ultimately responsible for using care and caution to ensure your safety. As a pedestrian, it is important that you make sure to take the following safety steps:
Observe traffic and walk/don't walk signals at every intersection
Do not disrupt traffic flow by entering the street while traffic is in motion
Never assume that a moving vehicle will stop for you to cross if you begin to cross – even if the signal reads "walk"
Always use crosswalks
Owners of private property in Georgia with areas where the public walks have the responsibility of ensuring that their property is clear of hazards and that warning signs are plainly posted to inform passers-by as to potentially dangerous areas. In order for you to receive compensation after being injured on someone else's property, you and your pedestrian accident lawyer in Alpharetta will need to prove that the owner of the property was negligent in their property care. In order to show negligence, you and your pedestrian wreck lawyer will need to show the following:
That the owner of the property is the reason the hazard existed, OR
That the owner of the property knew about the hazard and neglected to address it, OR
That the hazard existed for a prolonged period of time, and the property owner should reasonably have known about it.
If you or a loved one suffers an injury from a pedestrian accident, it is very important that you contact the police and seek medical care as soon as possible following the accident. Do not leave the scene of the accident before assistance arrives. You should also try to collect contact information of the at-fault driver and any other witnesses available. As with any other type of accident, even if you do not believe your injuries are serious, it is important that you seek medical attention as soon as possible, to address or rule out the possibility of serious injury, but also to prevent an insurance company from arguing that your injuries were not suffered as a direct result of the accident. After these steps are complete, it is always recommended to consult with an experienced pedestrian accident attorney in Alpharetta to discuss the specifics of your incident and determine the best route forward.
Common Causes of Pedestrian Accidents in Alpharetta, GA
Accidents involving pedestrians can happen essentially at any time, and they usually happen for unique reasons. Pedestrians should ensure that they are careful and use care when walking along the streets and roadways. Some of the most common causes of pedestrian accidents seen by pedestrian accident lawyers in Alpharetta, GA include:
Pedestrians not paying adequate attention to their surroundings – don't "text and walk!"
Drivers not paying attention to their surroundings
Drivers speeding or breaking traffic laws
Reckless or impaired drivers who fail to exercise caution
Property owners who have failed to properly maintain their property
If you have suffered an injury in a pedestrian accident, you may wish to speak to the driver or property owner on your own to seek direct compensation for your injuries. However, you will find that many people are less than willing to take responsibility for their actions, and often it is necessary to seek legal recourse with the help of a pedestrian wreck lawyer in Alpharetta.
If you expend your own efforts in chasing a settlement yourself from the responsible parties and their insurance companies, you will be taking time and attention away from something more important: your own recovery. By working with a pedestrian accident attorney in Alpharetta, you can let your lawyer deal with the negotiations, and focus on getting better.
Even if you are not sure you need to hire a pedestrian accident lawyer, it is well worth the time to meet with one to discuss your case. A personal injury attorney like those at The Weinstein Firm can give you an idea of how strong your case is, what to expect I the claim process, and what difficulties you may face along the way. If we believe you don't need a pedestrian accident lawyer to file a successful, just, and fair claim, we'll tell you that you are better off without representation. On the other hand, if you do end up working with a pedestrian wreck lawyer in Alpharetta, we will advocate for you, aggressively negotiate a fair settlement amount, and help you to understand every aspect of your case.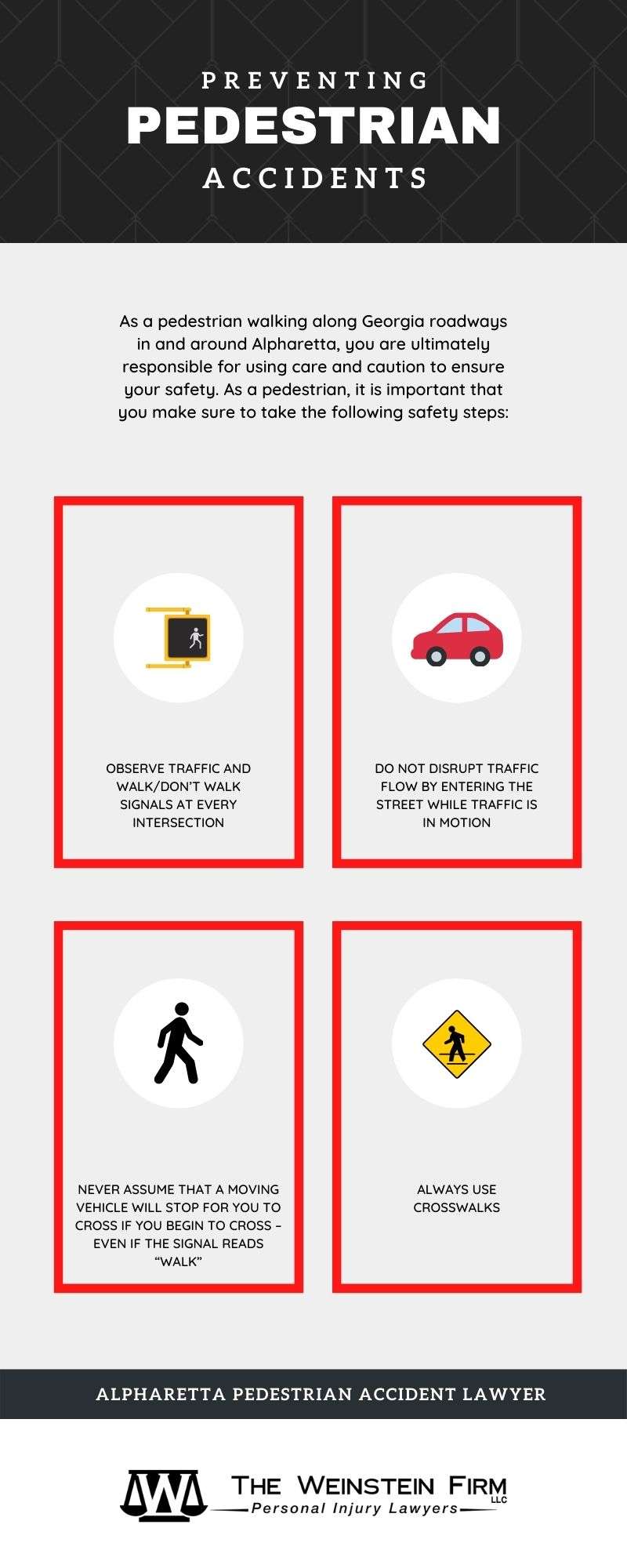 Common Injuries in Georgia Pedestrian Accidents
Pedestrians may suffer any number of serious injuries in an accident, and some of the most common injuries suffered include broken bones, sprains, strains, bruises, cuts and abrasions, head trauma and brain injury, and spinal injuries.
Any injury you suffer in a pedestrian accident will almost certainly result in quite a bit of discomfort and pain. Injuries which are especially serious may leave you with long-term problems such as disabilities, disfigurement, and reduced ability to work to earn income. If you or a loved one has been injured in a pedestrian accident in Alpharetta, consider consulting with a knowledgeable pedestrian accident lawyer right away.
Pedestrian Accidents in Georgia Can be Complex
Accidents involving pedestrians along the Alpharetta streets can be very difficult, for a variety of reasons. At times, drivers may claim that a pedestrian caused the accident by not paying attention. In most cases, drivers claim they did not see the pedestrian walking – however, in a court of law, this is not an adequate defense. You and your car accident lawyer at The Weinstein Firm in Alpharetta will do thorough research in order to completely investigate the causes and events of your accident. Together with your pedestrian accident lawyer, you will meet witnesses, consult experts, and decide on a strategy to prove your case and see that you recover the compensation you deserve.
A pedestrian accident can introduce a great deal of confusion to your life, and your pedestrian wreck lawyer can be an ally through the process, helping you to understand the claims procedure, to advise you as to the next steps, and to assist you through your legal action. Insurance companies are primarily interested in their own bottom line and will try very hard to pay as little as possible in settlements. Your pedestrian accident attorney in Alpharetta will go to the negotiating table on your behalf and aggressively advocate for you to ensure that your settlement is the full, just, and fair amount to which you are entitled. Your pedestrian accident attorney in Alpharetta is here to help you through this complex and difficult process and truly cares about your well-being, unlike the insurance company which bears the responsibility of compensating you.
Expenses Associated with Pedestrian Accidents
When you incur injuries in a pedestrian accident in Alpharetta, GA, you may find that you incur a number of expenses associated with the accident itself and your injuries. On top of this, you may find yourself unable to work to earn additional income, meaning that your new expenses are even more difficult to cover. It will be very difficult to recover from your injuries if you are not able to cover your medical bills or your household expenses. Your pedestrian accident lawyer in Alpharetta will help you to seek compensation to cover all the expenses associated with your accident, including:
Lost wages due to an inability to work
Medical bills from emergency room visits, ambulance trips, and ongoing injury treatments
Pain and suffering
Prescription drugs and mental health treatment
Compensation for disability, disfigurement, or any other change to your quality of life
By working with an experienced pedestrian accident lawyer in Alpharetta, your attorney will negotiate on your behalf to make sure that the settlement you receive is enough to not only cover your costs thus far, but also future expenses for medical treatments, medications, and additional wages lost while out of work. Your pedestrian accident attorney will take care of all the legal hurdles so that you are free to focus on your own recovery. Any kind of accident will cause setbacks in your life, and even minor injuries sustained in a pedestrian accident will need time and money to recover – see that you get all you deserve by allowing a pedestrian wreck lawyer to advocate on your behalf.
Your pedestrian accident attorney will handle investigating your accident, determine the causes, and ensure that the parties are held responsible for your property damages, injuries, and losses both tangible and intangible. Your pedestrian accident lawyer will review your accident report and medical files, interview witnesses and reconstruct the accident with the help of experts. Your pedestrian accident lawyer will also negotiate with the insurance company to make sure all the relevant expenses, past, and future, are included.
Your pedestrian accident lawyer will stay in close contact with you until you are completely satisfied with the amount of your settlement, and ensure that you and your family recover the necessary resources to put your lives back together. In the weeks and months following a pedestrian accident, you are certain to have many questions, and your pedestrian accident lawyer will be able to help you find the answers you want and need.
Contact Our Law Firm and Speak to a Georgia Pedestrian Accident Lawyer Today
After your pedestrian accident, you need to be able to focus your attention on your own recovery. Your pedestrian wreck lawyer will work for you to investigate the accident, collect information, forward your medical bills to the appropriate places for payment, help you file your claim, and negotiate the maximum possible favorable settlement. The Weinstein Firm will be by your side throughout the process and will help you to see your case through to a positive conclusion. Your attorney will protect your interests and rights, and make sure that you have everything you need to rebuild your life after your accident. If you have been injured in a pedestrian accident and have not yet spoken with a pedestrian accident lawyer in Alpharetta, GA, call The Weinstein Firm today at (770) HELP-NOW.