If you've been involved in an injury-causing accident caused by a distracted driver, talk to a distracted driving accident lawyer that has the reputation and tenacity to secure compensation for your injuries and damages. The Swainsboro distracted driving accident lawyers at The Weinstein Firm have represented the interests of distracted driving accident victims for decades, and can help you secure the compensation you deserve and need.
Distracted driver accidents are a major cause of fatal and serious injuries on Georgia roadways. Be it you use your mobile device to keep track of your kids, stay in touch with your friends, or for work, smartphones and tablets can be both a curse and a blessing. The consequences of using a handheld device while operating a vehicle can be deadly not only for the driver but also for other road users and pedestrians.
The problem with distracted driving accidents is that those most affected by these accidents are often victims of circumstances. A lot of people's lives end up being jeopardized by a few careless drivers that can't wait to text, check their phone, or fiddle with other devices once they come to a stop. That's why at the Weinstein Firm, we always advise distracted driving victims to take action against those responsible to ensure that they are punished for their reckless actions.
Call the Weinstein Firm today and schedule a no-obligation consultative meeting with our Swainsboro auto accident attorneys for a free case review and professional legal counsel.
What's Distracted Driving?
According to Georgia State Law, distracted driving is the act of engaging in other activities while operating a vehicle that potentially distracts you from operating your vehicle safely. Though distracted driving is generally associated with cell phone use and texting, it also includes several other behaviors/activities that distract the driver while they are driving, such as drinking and eating, engaging other passengers, grooming, checking the radio, etc.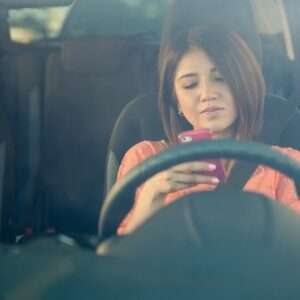 Types of Distracted Driving
In today's digital age, there's no limit to the number of things that can distract a driver while they are driving. Even if a driver isn't looking at their smartphone, there are plenty of things in today's vehicles that could still sidetrack a driver's attention like the infotainment system, air conditioning, and so forth. When traveling at high speeds, getting distracted for even a split of a second could spell disaster.
According to the CDC (Centers for Disease Control and Prevention), there are three basic types of distraction:
Cognitive: This is where a driver allows their mind to become unfocused on where they are going, such as driving while arguing with a passenger or fatigued.
Visual: which is where a driver adverts their eyes from the road for whatever reason, like taking a moment to look at an accident as they pass.
Manual: this is where a driver takes their hands off the wheel so they can do something else like text while driving.
Laws Regarding Distracted Driving in Georgia
Georgia is one of few states in the country that are aggressively fighting against distracted driving as is evidenced by the signing into law of the Hands-Free Georgia Act in 2018. The signing of this act led to many revisions being made to the state's motor vehicle code to curb all forms of driver distractions on the road, both technological and human. Before that, Georgia only had limited statutory protections in place.
The Hands-Free Georgia Act now makes it illegal to read, write, or send a text message while driving. Apart from that, it also treats distracted driving as a problem with a wide range of issues, and that includes texting and driving, that need to be addressed. Its implementation now means that drivers in Georgia are:
Barred from performing actions that could distract them from safely operating a vehicle, irrespective of what the action is
Barred from physically supporting or holding any wireless or stand-alone electronic device with an exception for wrist-worn devices, earpieces, and headphones for voice communication purposes.
Prohibited from reading, writing, and sending any type of text from a handheld device. However, there are exceptions for GPS use for navigation and voice-to-text communication.
Prohibited from broadcasting, recording, or watching movies or videos on wireless or stand-alone devices. However, there are exceptions for watching data related to navigation, continuous-recording devices focused on the vehicle's exterior, and dash-cams.
The act also enforces a few restrictions on how a driver can physically interact with devices in the vehicle. These include:
Drivers should never reach for devices if, in doing so, they have to leave the normal driving position or have to take off their seatbelt.
Drivers should press one button only to activate or terminate voice communication.
What Damages Can Swainsboro Distracted Driving Accident Victims Get from a Car Accident Claim in Georgia?
Distracted driving-related accidents can cause serious injuries with lasting implications. If you've been injured after being hit by a distracted driver, you could be entitled to receiving damages for injuries sustained. However, it is worth noting that the severity and nature of your accident will play a major role in determining the type of damages you'll seek and how much you should seek as compensation. Types of damages you can seek:
Economic Damages
These involve damages that resulted in financial losses such as medical expenses, lost wages, etc.
Non-Economic Damages
These involve intangible losses that cannot be assigned any monetary value and include things like emotional distress, pain, and suffering, etc.
Punitive Damages
These are meant to punish the perpetrator for acting in a deliberate or excessively reckless manner. However, it's worth noting that these damages are seldom awarded in personal injury claims.
How Long Do I Have to File a Distracted Driving Claim in Georgia?
The statute of limitation for auto accidents in Georgia, including distracted driving claims, is two years. Please note that you only have two years from the day the accident happened to file a claim against the responsible party; once this period is over, you can no longer seek compensation.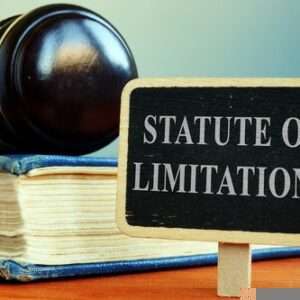 Why Do I Need a Distracted Driving Accident Lawyer?
If you've been injured in a car crash involving a distracted driver, it's in your best interest to get in touch with an experienced distracted driving accident lawyer and have them handle the case for you. Proving that the other party was not focusing on the road when the accident happened can be difficult. A professional distracted driving accident attorney from the Weinstein firm can help you build a rock-solid case by conducting a thorough and proper investigation and gathering all the evidence needed to prove your claim.
Apart from that, our attorneys will also handle negotiations with insurers to ensure you get well compensated for your injuries and damages. If need be, our lawyers are ready and willing to take the case to trial and represent your interests before a jury or judge
Get in Touch with a Swainsboro Distracted Driving Lawyer
It's the duty of every driver on the road to exercise safe driving and refrain from acting in any manner that could put the lives of other road users at risk. One of the main aspects of safe driving is focusing on the road ahead and your driving. When someone operating a vehicle engages in any other activity that distracts their driving, they become a danger to themselves and others on the road.
If you've been involved in an accident that was caused by a distracted driver, you need to make sure that they are held accountable for their actions. For professional legal counsel and representation, get in touch with the Weinstein Firm today. Contact our Swainsboro distracted driving attorneys at 770-HELP-NOW to schedule a free, no-obligation consultation.