Have you been involved in a head-on collision accident in Statesboro, GA? Are you wondering whether or not you should be compensated for the injuries sustained in the accident? If the other driver was at fault for the accident, a car accident lawyer can help you demand compensation.
Talk to the Statesboro head-on collision lawyers at the Weinstein Firm for the best assistance. Call 770-HELP-NOW to schedule your free consultation today.
What Are The Common Causes Of Head-On Collisions?
Most car accidents are usually minor fender benders. However, when a head-on collision happens, it can be very devastating. Some of the common causes of head-on collision accidents in Georgia include the following.
Driving While Fatigued
If you have not had enough time to get proper sleep, it's highly likely that you will end up sleeping behind the wheel and cause an accident.
Distracted Driving
Distracted driving such as texting, using GPS devices, fiddling with the radio, or failure to concentrate on the road can easily lead to a serious head-on collision.
Low Visibility or Bad Weather
When driving in low visibility conditions or poor weather, failure to adjust your behavior when on the road will often lead to a serious head-on collision accident.
Overtaking a Vehicle
When overtaking a vehicle if you use a poor technique, you are likely going to cause a serious accident.
Drunk Driving
Another common cause of head-on collisions is driving under the influence of alcohol or drugs.
Ignoring Traffic Signs Or Signals
Finally, if you ignore traffic signs and signals, such as running a red light will result in a serious head-on collision.
Whatever the cause of the head-on collision, you need to get legal help to make sure you are fully compensated for any injuries suffered. Call the Weinstein Firm today and we can start working on your case immediately.
What Are The Damages You Can Receive From A Head-On Collision Claim In Georgia?
According to Georgia law, if one of the drivers is found at least 50% responsible for their own injuries, they don't have a right to sue the other driver. It might be a little complicated when both drivers share the fault. However, if the percentage is less, you can sue the other driver for the following damages.
Medical costs
Loss of income
Pain and suffering
Property damage
Diminished quality of life
Note that, the same applies to bystanders or passengers who have been injured in a head-on collision accident. To determine the amount you are owed after an accident, call us today so we can start working on your case.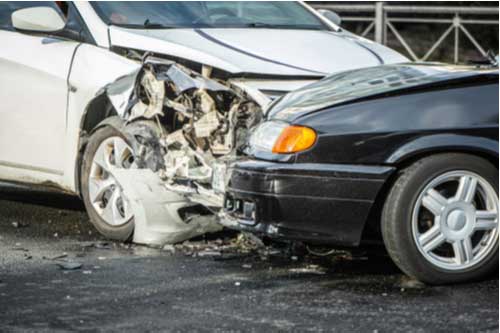 What To Do After Being Involved In A Head-On Collision Accident In Statesboro, GA
Here are the steps you should take if you're involved in a head-on collision:
Stop & Check For Injuries
Everyone involved in the accident should stop and check for injuries. You are likely going to feel pain in your neck, back legs, shoulders, or other areas of your body. If you feel any type of pain, you should wait for help.
Report The Accident To The Police
If you suffered serious injuries, you may not be able to file a police report at the time of the accident. Make sure you get a copy of the police report so you can use it for your compensation claim.
Exchange Information
Share your contact information and your insurance details with the other driver. That way, it should be easy to follow up for compensation after your accident.
Gather Evidence
If you are not seriously injured, you should gather relevant evidence at the scene of the accident. Start by taking photos and videos of the accident. Take photos of the vehicles involved in the accident, the witnesses, and other drivers. All this evidence will be used for your claim.
Contact An Attorney
You might not be sure whether or not you need an attorney at that moment but it is important. Remember, every case has a statute of limitations. Therefore, the earlier you contact The Weinstein Firm for your head-on collision case, the better. Call us now to talk to the best attorneys for your case.
Why Do You Need An Attorney For A Head-On Collision Claim?
At the Weinstein Firm, we can help you with the following issues when it comes to your compensation claim.
Filing and Preparing Your Case
Here, we will collect the relevant evidence to make sure that your case is not thrown out due to small mistakes.
Settlement Negotiation
Also, we will negotiate a settlement with the other party's insurance company. Having worked on numerous head-on collision cases before, we are ready to make sure that you receive a fair amount for the injuries sustained.
Trial Representation
Finally, if your case ends up in court you need to have the right representation. We have litigation experience and can help out with your case.
Call us now so we can handle your case without any hassles. If you can't pay for the expenses out of pocket, you need to work with the best attorneys at the Weinstein Firm immediately so you can receive compensation.
How Much Will An Attorney Cost?
At the Weinstein Firm, we work on a contingency basis. Therefore, you will not be charged for the initial consultation and we will come up with an arrangement for you to pay your legal fees after you receive your compensation. We will work diligently to make sure that you are paid. We receive a percentage of the compensation as our legal fees.
How Long Do You Have To File A Claim For A Head-On Collision In Georgia?
If you have been involved in a head-on collision accident in Georgia and are seeking compensation, you need to file your claim within 2 years after the date of the accident. We urge you to call us immediately after the accident so we can work on your case before the statute of limitations expires.
Review Your Case With a Statesboro Head-On Collision Lawyer
After being involved in a head-on collision accident, you might be feeling overwhelmed. Well, we are here to make sure that you seek compensation for the accident to avoid further expenses for you. When you work with the Weinstein Firm, you can rest assured that your case will always be our top priority. Call us now at 770-HELP-NOW to talk to the best Statesboro head-on collision lawyers.