More than half a million people get injured, and over 2,000 die due to distracted driving-related accidents-according to the latest NHTSA report. In fact, one out of every five people who die from distracted driving is not in vehicles but other road users like cyclists, motorcycle riders, pedestrians, and people who are simply standing beside their vehicle.
If you are a victim, contact our Statesboro distracted driving accident lawyers today. At the Weinstein Firm, we offer free initial consultation services where we evaluate your claims and offer the best legal action to take. We understand how painful, costly, life-threatening, and traumatic injuries resulting from a distracted driver can be.
This is why our Statesboro, GA car accident lawyers will not ask you for payment until we get you the compensation you are rightly owed. We work on a contingency basis. This service payment option is beneficial to our clients because we do not get paid unless we the compensation for you. Do not hesitate, call 770-HELP-NOW today to get started.
What Are The Statistics Of Distracted Driving In Georgia?
According to the Georgia Department of Transportation, the number of distracted driving accidents has increased by more than 400% in the last decade. A report by Atlanta Journal-Constitution shows that drivers who text while driving have a higher probability (23 times) of causing an accident. According to NHTSA, if a driver takes his/her mind off the road to send or receive a text, they spend an average of 4.6 seconds not focusing on the road.
In 2016, there were more than 25,215 distracted driving-related accidents in Georgia.
What Is Distracted Driving?
According to the definition, distracted driving is an act of driving while also being engaged with other activities that remove a driver's attention from the road. A distracted driver compromises the safety of others. distracted driving is divided into three categories:
Manual Distraction
Manual distraction occurs when a driver is forced or takes their hands of the driving wheel to perform other activities. If a driver takes off both of their hands off the wheel, it interferes with their reaction time.
Visual Distraction
Visual distraction relates to any action that takes a diver's eyes off the road. In fact, according to reports, this is the leading cause of accidents in America.
Cognitive Distraction
Cognitive distraction is any distraction that takes a driver's mind off the road. Reports show that the leading cause of cognitively distracted accidents is stress, anxiety, and recollections.
The Laws Regarding Distracted Driving In Georgia
Following the Hands-Free Law becoming law in 2018, Georgia became one of the few states in America that is very strict in fighting distracted driving. The act led to the revision of the state's motor vehicle codes.
Because of the Hands-Free Act, it is now illegal to text, write, or read while driving. This law discourages drivers from:
Performing any action that might divert them from carefully working a car (it does not matter the kind of action it is)
Holding or supporting any wireless device with their hand while driving. This includes any electrical device
Writing or reading or sending any kind of message from a handheld device.
Watching, recording, or broadcasting videos or movies using devices while driving. This section comes with exemptions for navigation devices, dash cams, and recording focusing on the vehicle exterior.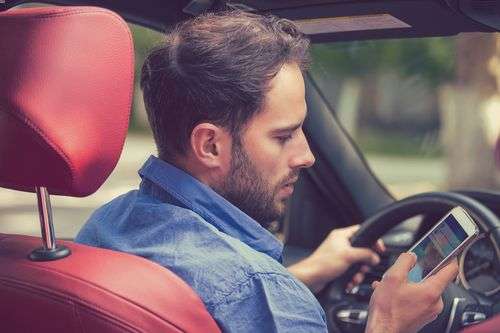 What Damages Can I Receive In A Distracted Driving Claim?
If you have sustained injuries due to another person's negligence, you are legally allowed to seek compensation. The compensation will cover all documented and proven losses you have suffered. These damages can be divided into three categories:
Economic Damages
This type covers everything or any loss you have suffered that can be quantified. It covers losses like; out-of-pocket expenses, lost income (current and future), medical expenses, therapy, etc.
Non-Economic Damages
This type covers any form of losses that you have sustained but cannot be quantified. It includes damages like trauma, pain, anxiety, stress, loss of life enjoyment, torment, and more.
Punitive Damages
This type of damage is awarded by the courts, and it does not cover any loss a victim sustained but is meant as a way to punish the offender and discourage others from doing the same offense.
Why Do I Need A Lawyer?
Proving distracted driving and the complex legal system makes filing a claim very difficult. Without knowing what to do and the processes to follow, it may affect your compensation value or lead to a compensation denial. However, with the help of an experienced lawyer, you improve your chances of getting a better or favorable compensation amount. Al lawyer will offer the following services:
Collecting or looking for evidence
Offer legal advice
File the compensation claim
Negotiation for a settlement
Court representation and preparation
How Long Do I Have To File A Claim In Georgia?
The time you have to file a claim is legally known as the Statute of Limitation. According to Georgia's Statute of Limitations, a person has only two years to file a claim for personal injury. Therefore, if you were injured because of a distracted driving accident, your case will fall under the personal injury section, which means you have only two years starting from the date of the accident to file a claim.
When it comes to damage to personal property, a person has only four years starting from the date of the incident. Therefore, if your case involves distraction of your property due to distracted driving, you have only four years to file the case.
Contact Our Statesboro Distracted Driving Accident Lawyers
If you are a victim of distracted driving in Statesboro, Georgia, call us immediately so that we can help you protect your rights. At The Weinstein Firm, we offer our services on a contingency fee basis. This means that we do not get paid unless we secure compensation for you. For this reason, we are committed to our client's needs and offer personalized service. Call us today at 770-HELP-NOW to book a free consultation with our Statesboro distracted driving accident lawyers.