When you experience a sudden accident that results in injury, it may take a huge toll. A personal injury in Smyrna, GA could leave you with permanent disabilities, medical bills, lost work time, and psychological anguish.
You may worry about the future and if you'll be in a position to physically, emotionally, and financially recover from this incident as the prices continue to grow. Working with a personal injury lawyer near Smyrna can make all the difference.
Although everything you've endured can never be made up for by money, we can get injury victims and their families on the path to recovery much faster.
This is our mission at The Weinstein Firm. We've been working personal injury law for years, and we understand what is needed to win the financial recovery our clients genuinely deserve. We can offer advice and help during this confusing and difficult time.
Our goal is to win for you. To have a free consultation with one of our experienced and compassionate attorneys, contact our injury firm near Smyrna today. Call 770-HELP-NOW to begin with your free consultation. 
Should I Hire a Personal Injury Attorney For My Claim in Smyrna?
While it is possible to represent yourself during a personal injury claim, it isn't a simple task for most people. To submit a claim, you'll have to navigate a lot of information, understand how to negotiate with insurance companies, and gather the evidence to support your claim.
In addition to recovery from your injuries and the accident, that can be a lot. Finding a good personal injury lawyer near Smyrna will get rid of a good deal of the burden. Your attorney can answer for you and be your main advocate in this time of need.
They can also save you a great deal of frustration and wasted time trying to learn exactly what you need to know about the legal procedure. They win if you win. And having an expert on your side greatly increases your chances of getting compensation. We settle most of our cases quickly with no need to go to court.
Who is Liable for My Injuries?
Since Georgia is an at-fault state, the person whose negligence resulted in the accident and your resulting injuries is liable. Negligence means carelessness. Everyone has a duty to behave in a manner that doesn't cause harm.
If a person doesn't uphold that duty, and it leads to a crash that injures others then they have been negligent. It doesn't mean they meant to cause harm. When you're the victim of an injury collision, you're then legally eligible to submit an insurance claim against the individual.
The person could be another driver in a car crash, a truck driver, an automobile repair shop, a homeowner, or a pet owner in the event of a dog bite case. If you are unsure where the fault lies, an injury attorney near Smyrna, GA, can investigate and assist you to find out. 
Get the compensation
you deserve $$$
Schedule a free initial consultation. We will provide sound legal advice without judgement. Contact us today at 770-HELP-NOW
What Types of Personal Injury Cases Can You Cover?
We take all kinds of personal injury cases: 
Rear-end collision accidents 

Workers compensation cases 
Call us at 770-HELP-NOW to talk about the details, if you're unsure whether your situation counts as a personal accident. Every case is a little bit different, and your recovery will be dependent on those details. But even accidents may lead to costs and when the injury wasn't your own fault, you shouldn't have to pay a dime.
Our goal with each circumstance is to secure you the fullest recovery. In case you lost a loved one you might have the ability to bring a wrongful death case from the at-fault individual. We can help you with this, also. 
Why the Insurance Provider is Not on Your Side
Though insurers should be on our side following an accident, that's not always true. They are for-profit businesses, meaning they'll look for ways to avoid paying. So when you make a claim to the person's insurer, they may use tactics to decrease what they actually pay you.
For example, it's common for an insurer to claim their policyholder is not to blame. They may try to give you money right away after your accident, a sum that doest come close to covering your damages. That is another place where a car accident lawyer makes the difference.
They know every trick in the book an insurance company might utilize to undermine you. If the insurer offers a settlement to you or rejects your claim, your attorney can work to negotiate a fair amount.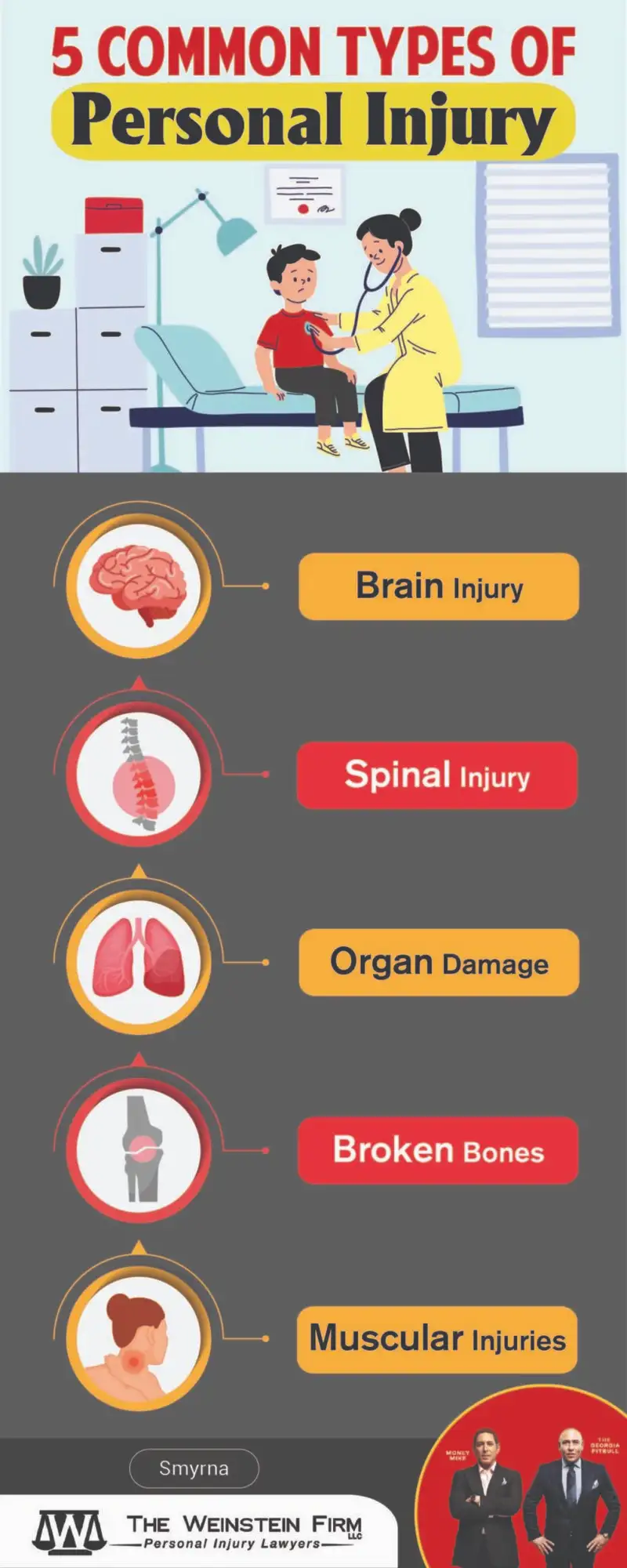 Talk to a Personal Injury Lawyer Near Smyrna
At The Weinstein Firm, we know you have a lot on your plate. Life doesn't stop just because you were in an accident and are currently dealing with injuries and more. We'll utilize our years of experience to obtain the fullest potential recovery.
There is never a fee for the consultation. Give us a call at 770-HELP-NOW so we could get to know you, analyze your case, and counsel you.