Traffic accidents can and do happen. When an accident occurs, the normal and acceptable protocol is to remain at the scene, contact 911 and answer any questions that the police may have. This is true for all parties involved – the driver who is at fault and the innocent people who suffered injuries. There are no two ways about this requirement. However, sometimes a driver hits another vehicle, but instead of staying behind and taking responsibility, they flee the scene. This is called a hit-and-run. A hit-and-run is the worst type of accident and the most irresponsible way of dealing with a difficult situation. If you were involved in an accident with a hit-and-run driver in Kennesaw, Georgia, you need to call a hit and run accident lawyer immediately.
Contact a Hit and Run Lawyer for Immediate Support
In the chaos and confusion following an accident, it can take a while for you to snap out of the shock. When the perpetrator is nowhere to be seen, these feelings can be heightened. You may have lots of questions flooding your mind: how will I be able to work? Who will pay for my medical treatment? Will I be able to get help looking after my kids? How will I ever be able to afford the repairs on my car? The best way of allaying these concerns at this difficult time is to speak to a Georgia hit and run accident lawyer. Remember, you are the victim here, and the law is on your side. You may be worried, and that is understandable but you have rights in this case, and your hit and run accident lawyer will ensure your rights are protected.
While nobody expects to be in an accident, let alone one where the other driver flees the scene, it might be a good idea to take certain precautions to protect yourself in case such an event occurs. Hit and run accident accidents happen more often than you would think. There is a way you can extend your insurance coverage to protect you from such a situation if it happens.
Uninsured/underinsured motorist coverage or UM/UIM is designed to allow you to make a claim if you are involved in an incident with a driver who is not insured or who leaves the scene before identification. Hit and run accident attorneys are able to advise you on how you can adapt your insurance policy so that you can be protected if such an event happens and if the other driver hits you and flees the scene.
For all legal purposes, a driver that can't be identified is classified the same way as one with no auto insurance. Although having UM/UIM cover will cost you a little more in premiums, most hit and run accident lawyers would recommend taking this precaution to protect yourself. In case of such an accident, this additional coverage can pay out more than the state minimum of $30,000 per person capped at $60,000 per accident.
What is Personal Injury Protection (PIP)?
Personal injury protection, or PIP, is a type of insurance coverage that offers additional protection. This coverage provides you with benefits including up to 85% loss of earnings, medical expenses, and other injury-related costs.
Hit and run accident lawyers advise taking out this type of insurance coverage so that you are protected. The main difference between UM/UIM and PIP coverage is that PIP only provides coverage for personal injuries. Any damage to your vehicle or personal property will not be covered by PIP.
Whatever coverage you might have, it is important to speak to a hit and run accident lawyer if you have been involved in such an accident. Keep in mind that you have no information about the driver and the only information available to the authorities and to your lawyer is what you tell them. Evidence at the scene of the accident will help determine what happened. But you do need legal counsel in such a situation. Hit and run accident attorneys not only have a thorough understanding of the law, but they also have experience dealing with insurance companies. They will be well aware of the tactics that can be used to minimize payouts.
Remember: Insurance Companies Are Not Your Friend
Whenever there is an accident, the victims have to deal with insurance companies. This is true if the drivers are known and also applicable if the driver has fled the scene. The problem with insurance companies is that they want to pay you as little money as possible. In the case of a hit and run, it will be your insurance company that will be providing you compensation. They will make it difficult. That is why it is important to let your hit and run accident lawyer handle the negotiations.  It takes skill to deal with insurance representatives, and you already have to deal with your recovery after the accident. Let your hit and run accident lawyer deal with them.
Generally speaking, when there has been a vehicle accident, an insurance adjuster will either visit the scene to make initial inquiries or contact you soon after. Hit and run accident attorneys will want you to be aware that insurance adjusters are trained specifically to gather information to serve their own interests. What may seem like an innocent question about your wellbeing could, in fact, be a concealed attempt to trip you up into admitting something that could damage your case.
As long as you bear in mind that an insurance agent is only seeking to minimize your payout, you should be okay. But it's best to avoid getting into such a situation. Our Kennesaw personal injury attorneys can deal with them on your behalf. It is extremely useful to have hit and run accident attorneys remove this burden from your shoulders, especially if you are recovering from injuries from the accident.
 Steps to Take at the Scene of a Hit-and-Run Accident
It's just not possible to predict future events, but you can arm yourself with information so that you know what to do if an accident happens. Here we outline the steps to take following an accident where the driver who hit you has fled the scene:
Keep calm and call 911
Inform the police and let them know that one of the drivers involved has left the scene. It is an offense to leave a crash site before the police have arrived, so you are on the right side of the law. You should remain calm and wait for the police to arrive.
Check yourself and those around you for injuries
You can determine quickly those who need urgent medical attention and those you can help reach a place of safety. It's important to move away from any debris or wreckage after an accident in case it creates more collisions.
Get statements from witnesses
Using the voice recorder on your smartphone, get some witness statements and make sure you get names and contact details of any witnesses. This information will be useful for your hit and run accident attorney at a later stage.
Take plenty of pictures of the scene including any damaged vehicles and property
If there is damage at the roadside or skid marks on the road surface, you should also take pictures of these. Your hit and run accident attorney will be able to put this kind of evidence to good use when pursuing your claim.
Give a full account to the police
The accident report they file will become central to any claims you make in the future. It's also beneficial to have the sequence of events recorded by an indisputable authority such as a policeman. Because the hit and run driver has committed a crime, your statement is likely to be very important. You are also at an advantage because you stayed and the other driver left. The law is thus on your side.
Don't engage in too much conversation with others at the crash scene
When there has been an incident, people tend to play the blame game, and if the driver responsible for the accident has left the scene, there could be a temptation to point the finger elsewhere. Accident victims are in a state of panic and in their quest for answers, things can get a little out of hand. Stay in control of your emotions and don't say anything that you might regret later.
Get in touch with a hit and run accident attorney
This will help see you through the initial aftermath of a hit and run accident as they will be able to advise you of your options and set your mind at rest.
Take pictures of any injuries you may have sustained
You may think they are relatively minor scratches and abrasions, but sometimes, these small injuries can become more serious over time. You could also have internal injuries that have no external signs, and you will be unlikely to notice the symptoms immediately. Hit and run accident lawyers always advise you to get your injuries checked out by healthcare providers, even if they appear relatively insignificant.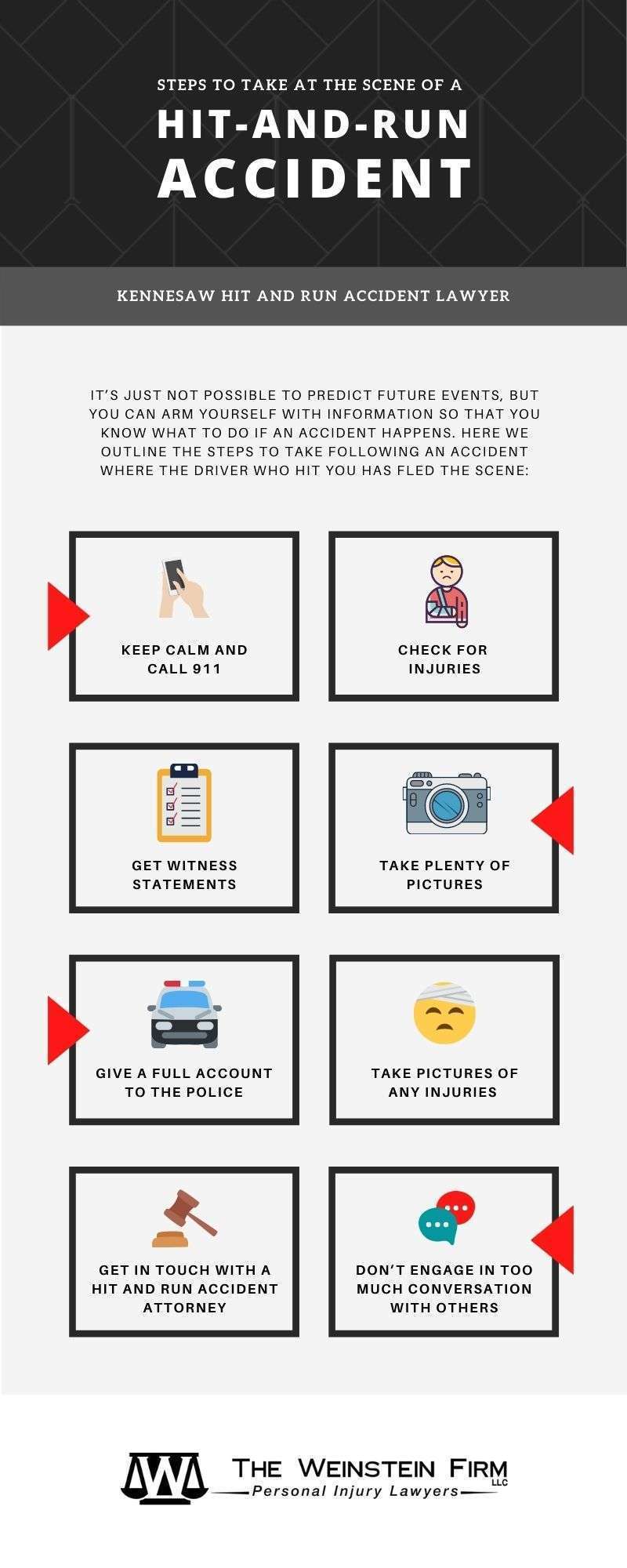 Let a Hit and Run Accident Lawyer Help
Even though all traffic accidents are traumatic, there is something even more upsetting about a driver causing an accident and then fleeing the scene. It implies that the other driver has zero respect for human life and no sense of responsibility. Because of the more distressing nature of these kinds of incidents, hiring a car accident attorney is your best form of protection.
Hit and run accident lawyers are well-versed in dealing with drivers who evade arrest after these shocking and traumatic events. It is in your interest to contact a hit and run accident lawyer sooner rather than later as they will know how to deal with the situation and how to go about identifying the absent driver. A hit and run accident lawyer is able to work directly with the local police department and access any CCTV footage that might be available so that they could use it to identify the driver. Most importantly, a hit and run accident lawyer will know what processes are available to get maximum compensation for their clients involved in such incidents.
The fact that a hit and run accident lawyer is able to negotiate with insurers on your behalf is also significantly beneficial. Whether you have UM/UIM or PIP coverage or not, it is very likely that an insurance agent will be snooping around the crash scene When you hire a hit and run accident lawyer, you are able to refer any persistent insurers to your legal team. You do not have to worry about dealing with them or figuring out whether you should accept any offers. Let your hit and run accident lawyer deal with all of that for you.
Seek Legal Counsel from a Hit and Run Accident Attorney in Kennesaw, Georgia
Ultimately, if you have been involved in a hit and run accident, you want to get the recovery you are entitled, without any unnecessary stress. Hiring a hit and run accident lawyer protects you from having to deal with the legal aspects of a crash while you concentrate on recovering. You will also be more likely to achieve a favorable outcome if you have a hit and run accident lawyer fighting for you. That is why it's so important to seek legal counsel if you are involved in a hit and run accident.
There are hundreds and thousands of drivers on the roads today, and not all of them play by the rules. Following the advice of a Kennesaw hit and run accident lawyer can make the difference between getting paid out for your injuries and having to fund your medical expenses yourself. It's always better to be safe than sorry, and so it's recommended that you seek legal advice from a hit and run accident lawyer as they can help you get the compensation you deserve. Call The Weinstein Firm before it's too late.