Auto accidents happen all the time, for an array of reasons. It might be due to human error, the motorist's negligence, a technical issue, poor weather conditions, speeding, and even drunk driving. While some are beyond our control, car accidents resulting due to things like driving under the influence are completely avoidable.
Drunk driving car accidents can be avoided if drivers maintain sobriety while on the road. There's no denying being involved in an auto accident is painful and traumatic, but it's even more terrifying if it's, as a result, of a drunk motorist's carelessness and recklessness. In fact, driving under the influence is considered a misdemeanor, and even a felony offense in some situations.
If you or a loved one sustain injuries due to a drunk driver, our Griffin DUI accident lawyers can fight for your rights to ensure you are fairly compensated. Even if the motorist is facing criminal charges already, you're still eligible for filing a personal injury or wrongful death claim. Let an auto accident attorney at The Weinstein Firm assess your case and determine what you're owed as a result of your loss or injury. Call us today at 770-HELP-NOW to get started.
Drunk Driving Stats in Georgia
According to data from the FBI crime reports, the U.S Department of Transport, and CDC, Georgia takes the 23rd spot in the list for worst states for driving under the influence. According to the stats, the state of Georgia saw about 350 DUI-related arrests per 100,000 individuals in 2018.
According to the NHTSA, nearly 400 individuals die in Georgia alcohol-related accidents, accounting for 28% of all car accidents. The state has implemented stricter laws and penalties, ridesharing, and anti-DUI campaigns, which have all reduced the arrest rates. However, alcohol impairment is still a huge factor in auto accident fatalities.
What are the BAC Limits in Griffin, Georgia?
The current legal blood alcohol content(BAC) limit is .08% for those aged 21 and over. Individuals driving commercial vehicles are subject to a more stringent BAC limit of .04%. In addition, drivers under the age of 21 are held to a zero-tolerance and their legal BAC limit is .02%.
Driving under the influence is illegal in Georgia and any motorist found drunk driving is charged with a criminal offense or even a felony in some extreme cases.
What to Do After an Accident With a Drunk Driver in Georgia
If you get involved in an auto accident, you should handle the situation by taking the following steps:
1. Call Emergency Services
Drunk driving can lead to catastrophic accidents. This means you will most likely require instant medical attention. So, when involved in an auto accident with a drunk motorist, call an ambulance immediately.
2. Call the Police
Even if no one sustains severe injuries, you still have to contact the authorities to report the negligent or careless drunk motorist before they try to flee or cause more damage. It's imperative to call the authorities as they will confirm the motorist was certainly drunk at the time of the accident.
3. Collect Evidence
If possible, you should also collect evidence of the scene by taking photos of both cars, any damages inflicted, as well as the injuries sustained.
4. Collect Information from Witnesses
If you want a solid case down the line, you'll need to garner as much evidence as possible from witnesses at the crash scene. Ask them whether they would describe what they saw and record their statements. Make sure you collect their full names and contact details.
5. Contact A DUI Accident Lawyer
After the DUI accident, there will be a lot to handle, so don't waste any time. You'll require medical attention, repair your car, get in touch with the insurance company, etc. A seasoned Griffin DUI accident lawyer can guide you through every necessary step after the accident. Our team at The Weinstein Firm will not only give you useful information about the case but also protect your rights and help you seek full compensation.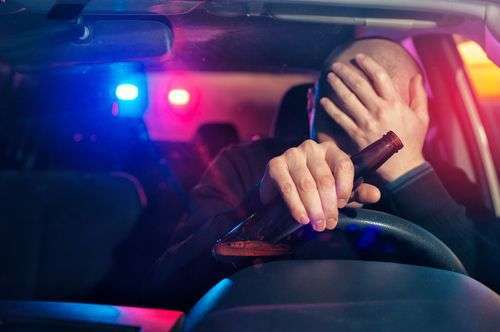 What Damages Can You Recover After a Drunk Driving Accident in Georgia?
In the state of Georgia, the party at fault is held liable for your damages. DUI accident victims are eligible to seek the following damages.
Compensatory Damages
You can recover damages for medical expenses, property damage, future, and present lost wages, loss of earning capacity, pain and suffering, loss of companionship, loss of consortium, etc.
Punitive Damages
You are also eligible for punitive damages, which are awarded, with the intention to punish the drunk motorist for recklessness and also discourage others from engaging in such behavior. In the state of Georgia, the cap for these types of damages is $250,000.
How Long Do I Have To File A DUI Claim?
According to the statute of limitations for personal injury cases, you have 2 years to file a claim with the court in Georgia. However, this limit can go up to 6 years as people who cause drunk driving accidents and harm individuals are often prosecuted. As such, the 2-year deadline can only start after the party at fault's criminal prosecution is done or after the 6 years have passed.
Even so, we highly advise you to take action as soon as possible, as evidence tends to disappear the longer you wait. A DUI accident attorney can help you comprehend all the set time limits relevant to your claim.
How Much Will a Griffin DUI Accident Lawyer Cost?
Fortunately, you don't have to fret about the cost of retaining a lawyer because, at The Weinstein Firm, we don't charge any upfront fees. Our lawyers will work for you on a contingency basis, meaning you will only have to pay a certain amount after you get compensated.
Hire a Top DUI Accident Attorney Today!
If you have been involved in an auto accident with a drunk driver in Griffin, Georgia, you deserve compensation for your financial losses, physical pain, and emotional trauma. Our DUI accident lawyers at The Weinstein Firm have been in the field for a long time and can properly represent your interests and alleviate your stress as you focus on recovery. Get in touch today by calling 770-HELP-NOW and speak to a seasoned personal injury lawyer near Griffin.