Since trucks play an integral role in the transportation of goods, they are an unavoidable necessity on our roads. However, since trucks are huge compared to other vehicles, truck accidents are often devastating. If you were in an accident with a truck and suffered injuries and/or property damage, you need to consult a truck accident lawyer near Fayetteville.
Truck accidents are usually never minor and can involve multiple vehicles. Compared to a truck, smaller vehicles like cars or motorbikes or even bikes stand no chance if the collision is severe. That is why most serious truck accidents end up causing significant injuries to drivers and passengers of other vehicles. Sometimes, these accidents can also be fatal.
If you are a victim of a truck accident and have suffered serious injuries, you need to call a personal injury lawyer near Fayetteville today.
Major Causes of Truck Accidents
Some of the most common causes of truck accidents in Fayetteville, GA include the following.
Speeding
This is one of the most commonly observed causes of a truck accident. The problem with truck drivers is that they seem to think that they own the road and that all other vehicles are somehow under their command. This attitude often results in reckless behavior. When a truck is running at high speed, it puts other vehicles at risk.
Also, trucks are huge, and if they are being driven at such high speeds, it is not always easy to control them or even come to a sudden stop if and when required. Avoiding a collision can thus become difficult and can cause catastrophic damage.
If you were hit by a speeding truck and suffered injuries, you should speak to a truck accident lawyer near Fayetteville, GA as soon as possible.
Driver Fatigue
This is another very common cause of truck accidents. Truck drivers work long hours which often include night shifts. They also have to drive long distances, and their work pattern usually does not come with many breaks.
Fatigue is a natural consequence of such a schedule, and since truck drivers are expected to make their deliveries on time, they tend to continue working even when they are sleepy and tired and unable to concentrate.
A fatigued truck driver is not only a risk for themselves but for other drivers and passengers as well.
Faulty Truck
Trucks are usually engaged in commercial transportation activities. They are thus employed and managed by trucking companies. Sometimes, the trucks that are on the road are not 100% operational, and this increases the risk of an accident in case there is a sudden breakdown.
It could be the truck driver knew about the problem with the truck but still chooses to ignore getting the problem fixed and took the truck out on the road.
The trucking company may have failed to do timely truck inspections or allowed the truck to be on the road even though it is aware that there is some problem with the truck. Regular inspection is very important for trucks but many trucking companies and truck drivers fail to ensure this.
Distracted Truck Driver
Driver distraction is a problem with most drivers today, including truck drivers. The risk of a truck accident increases if the truck driver is texting while driving, talking to somebody on the phone, eating or drinking while driving, listening to loud music, etc.
If you were hit by a distracted truck driver, you should talk to a Fayetteville truck accident lawyer to find out how you can receive compensation for your injuries.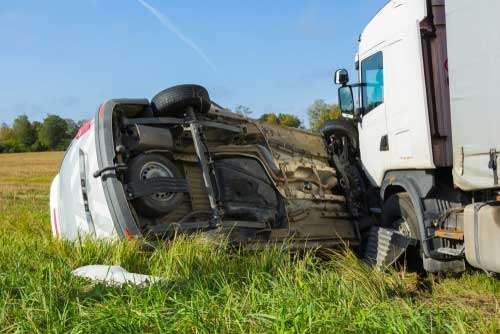 Most Common Types of Truck Accident Injuries
Truck accidents can cause very serious injuries which can have a long-term impact on the accident victims. The size of the truck is one of the major factors at play here since the risk of serious injuries is greater because the vehicle in question is so large.
Personal injury lawyers can help accident victims get the compensation they deserve to be able to deal with the financial consequences of injury and property damage.
Some common types of truck accident injuries include the following.
Crush Injuries
Crush injuries are understandably the most common since a truck is much bigger in size compared to a car or a van. You need to speak to a truck wreck lawyer if you or someone you love has suffered crush injuries from a truck accident.
Abdominal Injuries
Abdominal injuries can cause serious damage to important organs like the bladder, bowel, liver, and Contact a truck accident attorney for information regarding how you can recover the medical costs that you incur to get treatment for these injuries.
Head and Brain Injuries
Head injuries are also quite common among truck accident victims and can have devastating consequences for those who are injured. A traumatic brain injury can change your life forever. Speak to a truck accident lawyer if you are a victim of a truck accident with serious head injuries.
Spinal Injuries
Spinal injuries can also be physically painful and can result in long-term disability. Spinal injuries can have a negative impact on a person's professional life, physical health, and their financial situation. Talk to a truck wreck lawyer today as to how you can recover the losses you incur because of a spinal cord injury.
Fractures
Fractures are also a common consequence of being in a truck accident. Some can be quite serious while others take a shorter time to heal. In any case, truck accident victims do have to incur medical expenses to get the required treatment and may also have to miss days at work. Speak to a truck accident lawyer about how you can get compensation for your medical bills and lost earnings.
Amputation
Amputation is among the worst possible outcomes for a truck accident victim. Not only is this type of injury excessively painful but it can completely change the course of a person's life. Victims may have to deal with the emotional trauma along with the physical pain of such an injury.
It is important to talk to a truck accident attorney to deal with the medical expenses and the pain and suffering associated with amputation.
Who Is Responsible for a Truck Accident?
Your truck accident attorney will have to determine exactly who should be held responsible for the accident. If the truck was faulty and if the driver had notified their company, but the company failed to take action, it is not the truck driver who is responsible but the trucking company.
On the other hand, if the trucking company had behaved responsibly and if the truck was regularly inspected and fully functional, but if the driver was drunk, on drugs, or distracted, it is the driver who should be held liable for the accident.
All these elements have to be considered before a claim is filed.  A truck accident lawyer can help you in this regard.
The important thing here is to gather all the relevant information related to the accident, review the police report, evaluate witness statements, study the truck inspection report, investigate the scene of the accident and on the basis of all this information, figure out who to file a claim with and for how much.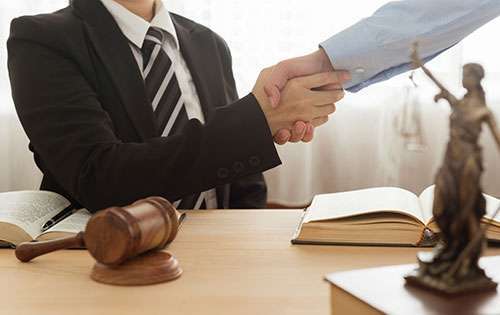 Consult With a Fayetteville Truck Accident Lawyer for Compensation
Truck accident victims can file a compensation claim so that they can recover money for the costs that they incur because of the injuries from the accident. A Fayetteville truck accident lawyer can help you in this regard and can guide you in the right direction as to how you should file the claim and what damages you can claim.
You can claim compensation for your medical expenses including those that you have already incurred and those that you are likely to incur based on the treatment plan outlined by your healthcare provider. You can also claim any loss of earnings if the injuries from the truck accident are serious and if you have had to miss work.
If your injuries have had a long-term impact on your physical and/or mental abilities and if these injuries are likely to affect your earning potential, you can also claim the loss of earnings due to the inability to do the same work in the future.
Also, any property damage that the truck accident causes can also be part of your claim. Finally, the emotional distress and the pain and suffering that the victim and their families have to endure are important elements of a compensation claim after a truck accident.
Talk to a truck wreck lawyer as to how you can proceed with this claim.
Let Your Truck Wreck Lawyer Negotiate With the Insurance Company
The biggest challenge people face with compensation claims is the hassle of dealing with insurance companies. When a truck driver hits you, and you suffer injuries and/or property damage, it will be the truck driver's insurance company that will be held liable to pay you for your damages.
However, since truck drivers are often employed by trucking companies, there may be complications regarding which insurance company will pay up.
If the trucking company accepts responsibility for both the driver's actions and the resulting injuries, it will be their insurance company that will have to pay up. If the trucking company refuses to accept responsibility (which can happen if the driver was drunk and/or distracted), then it will be the truck driver's insurance company that will be responsible for reviewing your claim.
Either way, the insurance company will try to settle with you as soon as possible and will also try to convince you to settle for an amount that is much lower than what you actually deserve.
That is why it is important to let our Fayetteville truck accident attorneys negotiate with the insurance company on your behalf as they know how insurance companies operate and what they want to accomplish by offering you a quick settlement.
Your truck accident attorney will never advise you to sign an offer very quickly. That is why you should let your truck wreck lawyer handle the negotiations and work towards obtaining the best possible outcome.
Contact a Truck Accident Lawyer Near Fayetteville for a Free Consultation!
Our Fayetteville truck accident lawyers at The Weinstein Firm are well aware of how accident claims work, especially those involving trucks and trucking companies.  You have to understand that a commercial truck accident case has to be dealt with quite differently from a normal car accident case.
Multiple parties are often involved since you have to deal with the truck driver, the trucking company, and the insurance company. Your truck accident attorney will have to determine exactly who should be held responsible for the accident.
At The Weinstein Firm, we are here to ensure your rights are protected, and we are here to get you the justice you deserve. No one deserves to live in pain because of another party's negligence. The least we can do is offer you legal support so that you can get financial support from those who did wrong to you.
Call our Fayetteville, GA truck accident lawyers today at 770-HELP-NOW and discuss your case with them. We will provide the best legal representation, and we can negotiate the best possible settlement on your behalf. Don't hesitate.