Annually, thousands of individuals in the United States suffer from severe injuries due to motorcycle collisions. Without having the same enclosed protection as driving a motor vehicle, motorcycle riders and passengers are often exposed to serious injuries, including abrasions, fractures, and trauma. If the motorcycle crash injuries you have sustained are attributed to the negligence of another driver, you are within your legal rights to seek compensation.
A committed motorcycle accident lawyer near Dunwoody, GA can help in the filing of a compensation claim so you can recover from your losses. Whether you're opting for settlement or working on a court case, the help of a personal injury firm near Dunwoody is crucial, call today at 770-HELP-NOW for your free consultation.
What a Motorcycle Accident Lawyer Can Tell You about Accident Statistics in Georgia
As reported by the Insurance Institute for Highway Safety (IIHS), motorcycle fatalities in 2016 reached a staggering 4,967, which accounted for 13% of all motor vehicle crash deaths all over the United States.
Of these fatalities, 61 percent wore a helmet. Additionally, a larger percentage of these fatal motorcycle crashes occurred in urban areas across various states.
The Federal Highway Administration Research and Technology have also reported on the sharp rise of motorcycle deaths all over the country, from 2,000 fatalities in 1997 to 50,000 in 2015.
In Georgia, a total of 163 motorcycle fatalities were recorded by the IIHS for 2016. This accounted for 10% of all motor vehicle crashes in the state for the year.
Severe injuries are often sustained by motorcyclists, and these may require costly hospitalization, rehabilitation, and even long-term care. If you have been injured in a motorcycle accident for which another motorist has been responsible, you are within your rights to fight for proper compensation. A personal injury lawyer near Dunwoody, GA can help.
The Seriousness of Motorcycle Accident Injuries and the Help of a Motorcycle Accident Attorney
There are several reasons why a motorcycle on the road faces a high risk of encountering collisions at any time. One of these reasons is that a motorcycle is considerably less stable than a four-wheel vehicle. Without the confined environment afforded by a motor vehicle, a motorcycle poses a higher risk for fatal injuries to both driver and passenger.
The types of injuries that a motorcycle rider may sustain in a crash are varied. A motorcycle accident attorney in Georgia can help you obtain compensation for injuries such as:
Road rash.
A road rash happens when the skin comes in sudden contact with a concrete or asphalt surface, scraping away skin layers and exposing the injury to road debris such as shattered glass, metal, and dirt. Although some road rash types are easily treated, others may require stitches. A compression rash may also involve broken bones.
If you have suffered from road rash and the expenses that usually come with its proper treatment, you can seek the help of a motorcycle accident lawyer for the filing of a compensation claim.
Bone fractures.
The severe impact of a motorcycle collision may result in serious bone fractures, affecting several parts of the body such as the legs, arms, ribs, and skull. Whether you sustain a simple fracture or a more serious comminuted fracture, it is important that you seek for medical compensation with the help of a dedicated motorcycle accident lawyer.
Joint injury and dislocations.
Dislocations are not only painful; they may also require surgical intervention. In addition, a dislocation can make the affected joints more susceptible to injury in the future. Post-traumatic arthritis sometimes develops in individuals who have had to suffer from joint injury and dislocations. Your motor wreck lawyer may include future medical costs into the compensation amount, in order to take care of joint dislocation complications later on.
Other injuries that may result from a motorcycle crash are spinal cord injuries, amputations, and even wrongful death. Regardless of the nature of injuries after a motorcycle collision, it is important for any injured party to take important steps in obtaining accident compensation.
Since a compensation claim will often involve discussions with the other driver and his or her insurance carrier, the help of a car accident lawyer near Dunwoody is most helpful.
A motorcycle wreck lawyer can help you either in a settlement or in court litigation, when necessary. Motorcycle accidents can be complex, depending on how many vehicles or motorists are involved. The complexity further increases where there are multiple negligent parties involved in a collision. Some of the causes of accidents for which a motorcycle rider may be susceptible are the following:
Failure to yield
Intersection collisions
Failure to see motorcyclists
Overspeeding
Distracted driving
Depending on state laws, shared negligence in a motorcycle accident can significantly affect your ability to obtain full compensation. If you are dealing with a case in Dunwoody, GA, you will need a motorcycle accident attorney who is familiar with Georgia state laws.
Which Compensation Claims Will I Be Able to File with My Motorcycle Wreck Lawyer?
The losses after a motorcycle accident may extend beyond simple financial matters. If the accident has left you with an amputation or a reduced quality of life, you may be able to seek non-economic damages in addition to economic losses.
Your motorcycle accident attorney can help you seek compensation for the following kinds of losses:
Economic or financial losses
These losses are more specific and financial in nature. Any accident will come with its fair share of expenses, which are necessary for hospitalization, rehabilitation, and others. More specifically, the following damages fall under economic losses:
Medical expenses
Loss of present and future wages
Property losses
Non-economic losses
Non-financial losses may also be computed and factored into a compensation claim. Although these subjective damages can be challenging to calculate, most motorcycle accident lawyers will have the background knowledge on how to include these losses into a claim. Listed below are more specific types of these non-economic damages:
Pain and suffering
Emotional pain
Loss of limb
Reduced quality of life
A trustworthy motorcycle wreck lawyer will help to ensure that you are fully compensated, not only for financial damages but for non-economic losses as well. This is an important commitment to look for in a motorcycle accident lawyer, as the negligent parties may counter with their own computation and may attempt to propose a much-reduced amount.
As much as possible, motorcycle accident lawyers should be willing to bring the case to court, in case a settlement agreement doesn't fully work out.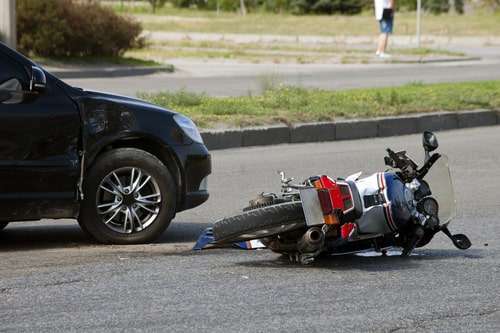 Should My Motorcycle Accident Lawyer Go for a Settlement or Lawsuit?
When pursuing compensation as a result of a motorcycle accident, you may either opt for a settlement or choose to go to trial. It is important for your motorcycle wreck lawyer to explain the benefits and drawbacks of both options.
In a settlement, you will sit down with the other party and agree as to how much you will be compensated for your losses. Settlements are typically discussed out of court, and once both parties have agreed to the arrangement, the injured party may obtain compensation almost immediately.
Some individuals may choose to no longer hire a motorcycle accident lawyer at this point. However, there are clear advantages to hiring the services of motorcycle accident lawyers even for settlement discussions. With a motorcycle accident attorney beside you, you will have the necessary legal backing in case the other party attempts to downplay your losses or also accuses you of shared liability.
Most importantly, anything that you say can be used against you in case the initial settlement proceeds to litigation. A motorcycle wreck lawyer can provide valuable counsel on which information you should provide to the other party. With a motorcycle accident attorney beside you, moreover, you will have a legal representative to speak on your behalf.
Nonetheless, not all accident compensation cases can benefit from a settlement. If your motorcycle wreck lawyer understands that the settlement is not going to allow you the compensation you rightfully deserve, s/he should be willing to file a lawsuit.
Depending on state laws, a lawsuit should be filed within a specific deadline. In Georgia, the Statute of Limitations requires that lawsuits for personal injury be filed within two years from the date of the accident. If you are planning to sue for property damage, you are allowed a period of four years from the date of the accident.
One drawback of choosing to battle it out in court is that the litigation could stretch to months or years. This can be challenging especially if you are working on limited resources or if you need the compensation to take care of hospital bills immediately.
However, a successful courtroom battle may result in a better compensation amount for you and your loved ones. You and your motorcycle accident attorney may also sue for punitive damages in the event that the accident has resulted in severe impairment or if there was malicious intent in the action involved.
Choosing a Motorcycle Wreck Lawyer that You Can Fully Trust
When it comes to hiring a motorcycle accident lawyer, you have to know which qualities are deemed helpful in winning a compensation claim. Not all motorcycle accident lawyers are equipped for the job, especially for a case in Dunwoody, GA. When a motorcycle accident lawyer tends to overpromise, moreover, you may want to think twice before making a hire.
Since motorcycle accidents often result in serious injuries, even wrongful death, it is important for a motorcycle accident lawyer to be committed enough, whether in settlement talks or in court action.
Some of the more important qualities to look for in a motorcycle accident lawyer are the following:
Knowledge of pertinent state laws.
Not all states operate on the same laws for motor vehicle accidents, including motorcycle collisions. Laws regarding negligence, as well as lawsuit filing deadlines, differ from state to state. If you have a case in Dunwoody, GA, you need a motorcycle accident lawyer who has full knowledge of state laws and compensation guidelines in Georgia.
Access to investigative resources.
The determination of negligence is crucial in compensation computations. In order for your lawyer to establish the negligence of the other party, s/he will need the resources to acquire important evidence. Depending on the scope and complexity of the accident, your lawyer may need to work with other professionals, including scene reconstruction experts. It may even be necessary to summon a doctor in court to prove the severity of your injuries. Simply put, your attorney should be able to strengthen your case as much as possible.
Negotiation and courtroom skills.
It's possible for you to require extensive medical care after an accident. Depending on the availability of your financial resources, you may prefer that the compensation be rewarded to you at the soonest time. An attorney should be able to negotiate during settlement talks, in order to ensure a maximum amount for you and the earliest possible release of the funds.
However, you have to be wary about a lawyer who is too eager to settle, despite the case not being able to benefit from the proposed settlement. If possible, an attorney should be willing to bring the case to court and fight for your rights in front of a state judge. A legal counsel who prefers an easy way out through an unstudied settlement may end up shortchanging you in the long term.
Work with a Trusted Motorcycle Accident Lawyer Near Dunwoody from The Weinstein Firm Today
Motorcycle accident injuries can range from simple to serious. In some cases, it can lead to severe impairment, loss of limbs, and even wrongful death. If you have been involved in a motorcycle crash and need help in filing for compensation, talk to us at The Weinstein Firm.
Our motorcycle accident lawyers ready to study the facts of your case and handle your compensation claim in Dunwoody, GA.
It's not fair to let the negligence of another person affect you physically, emotionally, and financially. Work on your motorcycle accident compensation immediately. Call us at 770-HELP-NOW to talk to a motorcycle accident lawyer at The Weinstein Firm to get started today.