Our qualified personal injury lawyers near College Park can help you recover suitable damages and compensation for your injury. Most personal injuries are caused by the negligence of another party. We are here to make that party pay for your losses.
A personal injury can be a daunting experience. You have to experience pain and suffering. You also have to meet unexpected expenses such as medical bills. In some cases, you may be too seriously hurt to resume your work anytime soon. This can also lead to lost wages and worsen the financial crisis in the wake of a personal injury. The good news is that you don't have to go the tough stretch alone.
Personal Injury in College Park
In 2017, nearly 1500 people died from traffic crash fatalities in Georgia. Another 150,000 were injured in traffic-related crashes. For the same year, 194 people suffered fatal work-related injuries across the state. Other personal injury cases accounted for a huge total number of injuries suffered by the residents across the state.
A personal injury can be a life-changing experience. The severity of the injuries may leave you bed-ridden or temporarily disabled. In most cases, the injury may result in a long-term and permanent disability. You are also left to face endless medical bills and expenses. You have to pay the doctor's fees, travel to the medical facility as often as required, purchase medicine and more. For more serious injuries, you also have to pay for rehabilitation, therapy and other specialized services.
Suffice it to say that a personal injury puts you in a financial crunch. To make matters worse, an injury may prevent you from resuming your work soon. This means that you can't go to the office and earn wages as you routinely did before the injury. This only compounds your financial problems.
In the middle of all this, it is easy to forget that you may actually be able to recover damages for your injury. Seeking personal injury damages is immensely important because the compensation helps you through the period of stress. The amount paid in compensation also allows you to get proper medical care and recovery with peace of mind.
Why do I need a personal injury lawyer?
When you suffer a personal injury, you file a claim for damages. This claim is typically filed with your insurance company or the other at-fault party. In nearly all cases, you have to contest the claim with an insurer. The insurance company always tries to pay you as little as possible. This is why the company will downplay your injuries, find faults with your claims or reject it on any other pretext. Company agents may also pressure you into accepting a much smaller compensation than you actually deserve.
This is why you need a qualified personal injury attorney near College Park on your side. A good lawyer will help you gather evidence and file a fool-proof claim. The more supporting evidence your claim includes, the less inclined will be the insurance company to reject it. Once the insurance company agrees to pay your claim, your lawyer will also negotiate a fair settlement amount. This ensures that you are not underpaid for your losses.
In some cases, an insurance company may refuse to honor a claim even when it is valid. This is when it's time to go to court. Here at The Weinstein Firm, our attorneys specialize in personal injury claims as well as lawsuits. If your case goes to a court, we will make sure that we fight for your rights and get you fair compensation.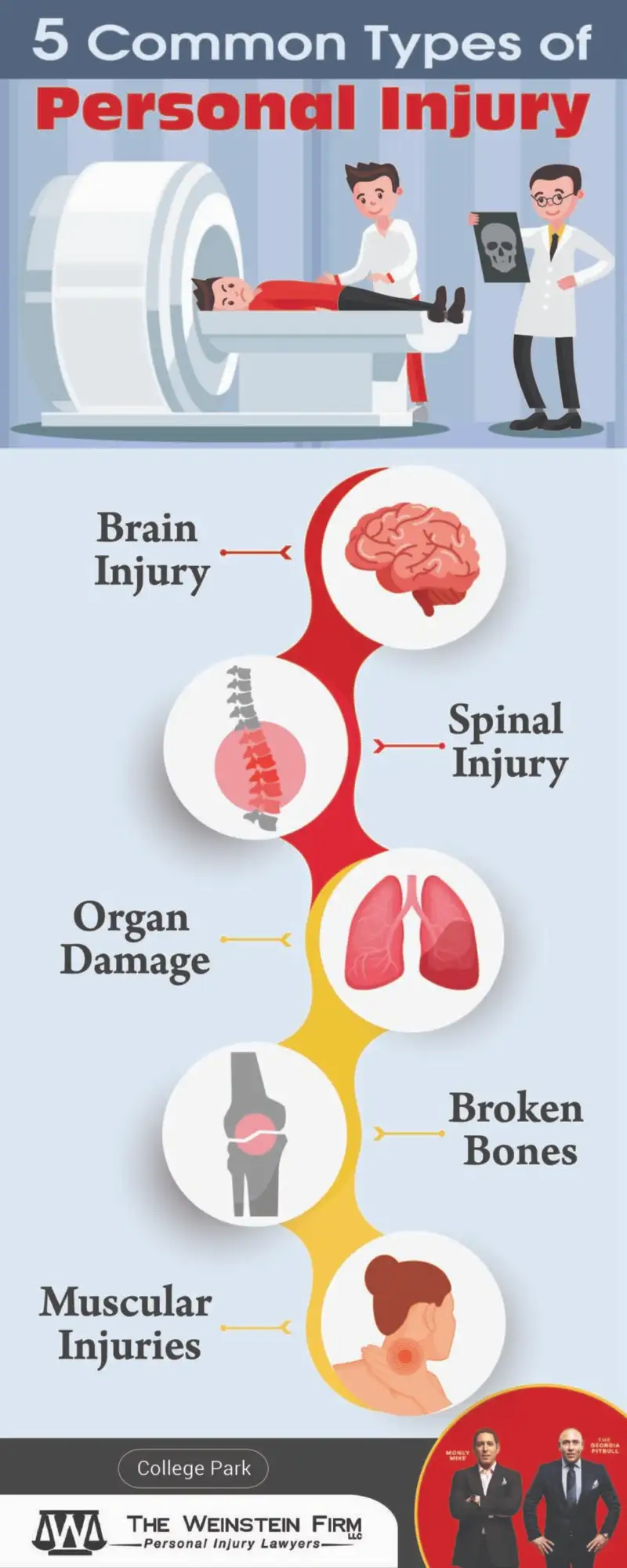 How much does a personal injury lawyer cost?
You may be daunted at the prospect of hiring a personal injury lawyer. That's because it is commonly believed that lawyers cost a fortune. The good news is that this is not the case with The Weinstein Firm. Our attorneys work entirely on a contingency basis.
What this means is that you don't have to pay any money upfront. Instead, we work closely with you to file your claim and win you the maximum compensation. You pay us only if and when you receive the compensatory damages.
In most cases, the contingency arrangement works by stipulating a percentage for the lawyer. This percentage usually ranges from 25% to 40%. So you pay nothing upfront to hire the lawyer. The lawyer also charges you nothing for filing and fighting your claim. Once you get the damages, you then pay the decided-upon percentage to the lawyer. So if you get $10,000 and the agreed-upon percentage was 30%, you pay your lawyer $3,000.
A contingency arrangement is the standard practice in most personal injury cases. It also has several benefits. For a start, it lets you hire our best attorneys for no upfront money at all. For someone who's suffered a personal injury and is facing financial stress, this is a great deal.
At the same time, a contingency arrangement ensures that we provide you the best legal service. After all, we will get no money if we don't win your case. So we put all our effort and hard work into getting you a fair settlement. In this way, such an arrangement works both to your advantage and that of your lawyer. It's a win-win situation.
Hiring a personal injury lawyer Near College Park
It is important to know whether or not your particular personal injury qualifies for damages. You should also understand the estimated amount of damages you may qualify for. This is the starting point for your claim. On your own, it is hard to draw an estimate or determine whether or not you qualify for compensation. If you contact your insurance company, it will not guide you properly and pay you as little as possible.
Our personal injury attorneys near College Park provide free consultation and advice. You can contact us today to book a free session with one of our experienced lawyers. In this session, we review your case. We then determine whether you qualify for any damages and if so what is the estimated amount.
We work closely with you to gather the details and evidence of the case. Our attorneys work with you on every step from filing a claim to negotiating the settlement. Even if the case goes to a court of law, we are there to help you secure a decent compensation.
Contact us today at 770-HELP-NOW for a free session or hire our attorneys on a contingency basis. We have many years of experience in helping personal injury victims get damages for their losses.