We drive by them every day – minor car crashes on the side of the road. We never stop to think about it, but these accidents happen every few minutes in this country. Some of these accidents are very minor and everyone walks away okay. However, some are very serious and result in life-changing or deadly injuries. Whiplash is the most common car accident injury, with approximately 1 million cases reported each year. (American Chiropractic Association) If you've been in a car accident, you are going to need a car accident attorney. If somebody is responsible for your injuries, they need to be held accountable. 
With the number of drivers on the road today, it's not surprising that thousands of people die every year in automobile accidents. The surprising thing is that most of these accidents could've been prevented. Many car accidents involve some sort of negligence. Somebody isn't careful enough or isn't paying attention to the road. As a result, people are hurt or even killed. When this happens, car accident attorneys near College Park are there to help. They will work hard to get you the compensation you deserve.
The first thing any personal injury attorney is going to tell you it to always seek medical treatment following a car accident. Even if you don't think you're hurt, it's important to get a doctor to check you out. You could be suffering from internal injuries or a concussion. You want to make sure you are healthy and safe. The other reason you want to seek medical treatment is to make sure you get documentation of your injuries. Your car accident attorney is going to need this later on. 
A Little Bit About College Park
College Park is a city in Fulton and Clayton counties and borders Atlanta. Part of Hartsfield–Jackson Atlanta International Airport is located within the city. The Georgia International Convention Center is the second-largest convention center in the state and draws many visitors to College Park. Sports fans will want to catch a basketball game at the Gateway Center Arena, home of the College Park Skyhawks and Atlanta Dream.
College Park also offers many fun seasonal events. The annual College Park JazzFest has been going strong for 20 years old and features live bands playing jazz, R&B, rock, and more. Grab something tasty from local restaurants and food trucks while you enjoy the music. Spring Fest is a celebration of food, music, and creativity with art installations and live music.
College Park Accident Statistics 2019-2021
Do You Need to Reach Out to a Car Accident Lawyer Near College Park?
In most car accidents, you file a claim against the other driver's insurance company and they reimburse you for your loss. This usually includes damage to your car, can rental expenses and minor medical bills. Sometimes, however, the insurance company denies your claim and you are left with no vehicle and a ton of medical bills. When this happens, you need to contact a car accident attorney. He will go to battle with the insurance company on your behalf and get you the compensation you deserve.
You may have no idea what to do following a car accident. If you've never had to deal with it, it can be frustrating and a little scary. The insurance company will try to intimidate you. So will the other driver's attorney. The last thing you want to do is go up against them alone. Georgia has certain laws about car accidents that you need to be aware of. Your car accident lawyer near College Park knows these laws.
Under Georgia law, you only have two years to file a car accident lawsuit. The two years starts on the date of the accident. You may go back and forth with the insurance company for months. You may have to months' worth of medical care after the accident. Two years goes by a lot faster than you may think. You want to reach out to a car accident attorney sooner rather than later.
It's important to note – the status of limitations only applies to a lawsuit. The other driver's insurance company has rules about how to submit a claim to them as well. Most insurance companies require that you file your insurance claim within a few days of your accident. If you are unable to do this due to medical issues, contact a lawyer and they can assist you with this.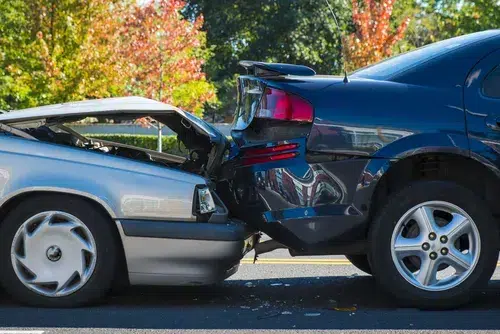 Types of Car Accidents in College Park, Georgia
There are as many types of car accidents as there are types of cars. Some are more common than others. They can lead to minor injuries or they can be life changing. It all depends on the circumstances of your case. If your injuries are serious enough, you may have to file a claim against the other driver's insurance company. If they refuse to pay your claim, you will have to file a lawsuit. It's important to have an attorney handle this for you.
Some of the more common car accidents include:
Rear-End Accidents
We see these types of accidents on the way to work every day. They usually result in one driver scratching his head confused while the other insists it isn't his fault. Thankfully, rear-end car accidents don't usually lead to life threatening injuries. They are almost always the fault of the rear driver. He either isn't paying attention to the road or is going too fast to stop. Regardless of the reason, if he is at fault, you should be entitled to compensation. 
Head-On Collisions
These accidents are a lot more serious than rear-end car accidents. They usually involve two cars driving pretty fast on the road. One car crosses the median or loses control of their vehicle and smashes into the other car head-on. Because of the speeds involved and the strength of the impact, the people in both cars can be seriously injured. The medical bills with this type of accident can be very high. It's important that you have an experienced attorney by your side to get your bills paid.
Driving Under the Influence
One of the most senseless types of accidents is the kind that involves drugs or alcohol. One driver decides to get behind the wheel of their car despite the fact that they're intoxicated. They inject or snort drugs and then decide it's a good idea to drive somewhere. When this happens, innocent people get hurt and killed. If you've been injured in an accident that involved drugs or alcohol, you probably sustained some pretty serious injuries. When this happens, you need to focus on getting better. Let an experienced lawyer handle the legal side for things for you.
Wrong-Way Accidents
We understand that sometimes, you find yourself in a strange neighborhood and have no idea where you're going. You may turn down a one-way street going the wrong way. When this happens, you're driving slowly because you're trying not to get lost. There are times, however, when people recklessly drive the wrong down the street with no concern for what could happen. Innocent people get hurt and killed this way. If somebody's recklessness causes your injuries, you absolutely have a right to be compensated.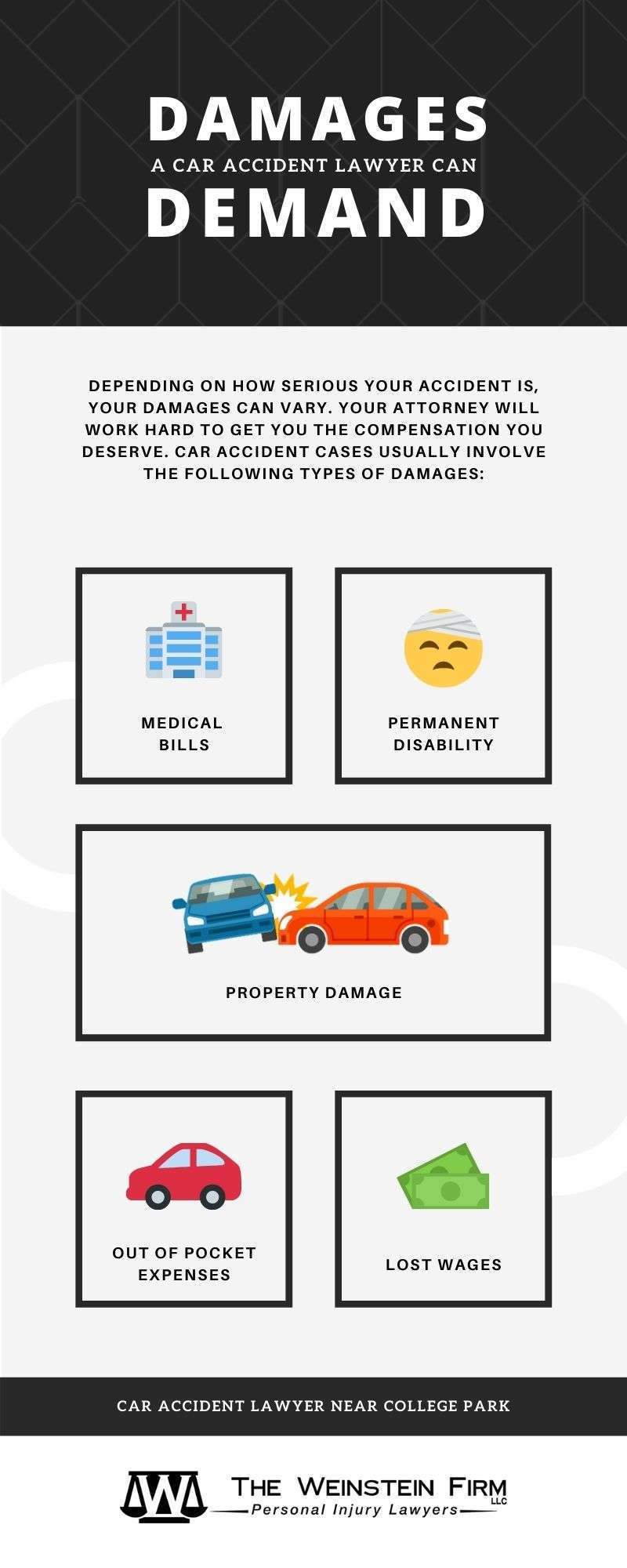 Your Car Accident Attorney Near College Park Can Deal with the Insurance Company
Some insurance companies are good about paying out smaller accident claims. When these claims start to get bigger, a lot of companies are reluctant to pay then. They may dispute the amount of your claim or they may state that they don't believe their insured is responsible. When this happens, you have a few choices. You can file an appeal and hope that the insurance adjuster will do the right thing. Or, they may offer a small settlement of your claim and require you to sign a release.
If an insurance company requires you to sign a release, it means you aren't allowed to come back and say you need more money later. This is a tactic insurance companies use to pay much less than what you're entitled to. You should never sign a release without first talking to an attorney. If your insurance claim isn't paid in full, you want to contact a car accident lawyer right away.
Why would an insurance company deny your claim? There could be many reasons, including:
The policy was not valid. It may have been cancelled or lapsed for non-payment.
The driver wasn't listed on the insurance policy. Or, the driver had a suspended or revoked driver's license and doesn't qualify for coverage.
The insurance company doesn't believe you were injured.
They don't believe your injuries were as serious as you said.
Your claim exceeds the amount of coverage the other driver had.
If any of these reasons are cited for why your claim wasn't paid, your car accident lawyer can appeal the claim. Attorneys have relationships with a lot of the insurance companies. They can communicate with them and try to get the claim reopened. They can also work with the insurance company to get the claim settled. This may mean you receive less than the entire amount of your claim. Sometimes, this is in the best interests of all parties involved. Your lawyer will advise you on whether or not you should settle.
Can An Attorney Help if You were Partly at Fault?
Very few accidents are 100% one driver's fault. Usually, one driver is more at fault than the other. Or, both parties are at fault and it's not clear who is responsible. If you are involved in an accident where you were partly at fault, your car accident lawyer can still get you compensation. In Georgia, there is something called a comparative negligence rule. This means that as long as you are less at fault than the other driver, you may file suit. Your claim will be reduced by your percentage at fault.
For example. Let's assume you are involved in a rear-end car accident. The driver slams into you from behind while you're stopped at a red light. He was driving way too fast and was texting at the time of the crash. His lawyer argues that the only reason he didn't stop is that your left brake light wasn't working. You sustain $50,000 in property damage and medical bills. You file a claim for $50,000 and it is denied. Your lawyer has to file a suit.
In this example, you will likely win your lawsuit. However, the judge may find that you are partly at fault for the accident due to the faulty brake light. Because the other driver was speeding and texting, he will be found mostly at fault for the accident. Let's say you are found to be 20% at fault. Your $50,000 claim will be reduced by $10,000. Because all lawyers in Georgia understand the comparative negligence rules, they would probably settle this case long before it went before a judge.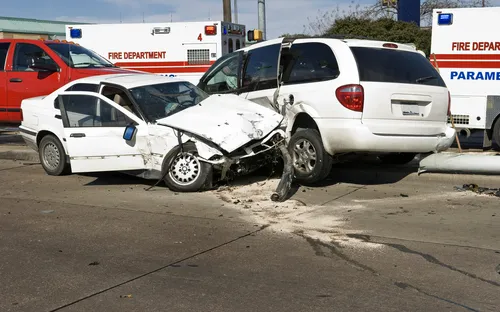 What Type of Damages Will Your Car Accident Lawyer Demand?
Depending on how serious your accident is, your damages can vary. Most accidents involve some form of property damage. Your car may be totaled or it may just need a few thousand dollars' worth of repairs. Most damages for car accident cases come from medical bills and lost wages. Your attorney will work hard to get you the compensation you deserve.
Car accident cases usually involve the following types of damages:
Medical bills
Your car accident lawyer near College Park is going to demand that the defendant pay all of your medical bills. This includes past, present and future medical bills. You can easily prove your past and present medical bills by producing copies of your bills. You can show receipts any for monies already paid toward medical bills. Proving future medical bills is a bit more difficult. Your lawyer may have to rely on medical experts to testify as to what medical care you will need in the future. Your lawyer can then estimate what this care is going to cost. He will also want to account for inflation. 
Lost Wages
Even minor injuries can cause you to miss time from work. If your accident has kept you sidelined for a significant period of time, your auto accident attorney will demand that you be compensated for this. You can use timesheets and payroll records to prove that you have missed time. You can also show that you have been forced to use personal time to cover any time missed. 
Property Damage
If your car is damaged in the accident, you will have to get it repaired. You want to keep all receipts for auto repairs and give them to your attorney. Most if not all of these repair costs will be covered by your settlement.
Out of Pocket Expenses
If you had to pay for a rental car, you can demand that you be reimbursed for this.
Permanent Disability
If you have to change jobs or stop working because of your injuries, you are going to want to be compensated.  Your car accident lawyer will need to prove that you can no longer do the same kind of work you did before the accident. He can demonstrate the difference between what you will earn and what you would have earned had the accident never happened.
Your accident attorney is going to work hard to get you as much money as possible. Just keep in mind he cannot get you more than your damages. If you weren't seriously hurt in an accident, don't expect your car accident attorney to get you millions. It simply doesn't happen.
Get the compensation
you deserve $$$
Schedule a free initial consultation. We will provide sound legal advice without judgement. Contact us today at 770-HELP-NOW
Contact a Car Accident Attorney Near College Park, Georgia Today
If you or a loved one have been injured in a car accident, you need to call a car accident attorney near College Park today. The time to file an insurance claim is just a few days. You want to make sure you have an experienced lawyer by your side to guide you through this process. You don't want to accept a low-ball settlement and sign a release. There's a chance that you may find out later that you were entitled to a whole lot more than they offered.
If the other driver's insurance company refuses to pay your claim, don't just walk away. Call a car accident lawyer and have him review your case. You may still be entitled to money. You have to keep in mind – insurance companies don't stay in business by paying claims. They deny a certain number of claims hoping that the claimant will just back down. Surprisingly, a lot of people do just this. They don't know to call an attorney and end up walking away with nothing.
When you contact the attorney's office, schedule your free initial consultation. You'll get a chance to discuss your case with the attorney and ask any questions you may have. Make sure to bring the following with you for your first meeting:
Copy of the accident or police report
Pictures of the accident scene
Contact information for any witnesses
The other driver's insurance and contact information
Copies of your medical documentation
Receipts for any out of pocket expenses
Your attorney will discuss how he thinks you should proceed with your case. He will contact the insurance company and make a final attempt to settle your claim. If he is unable to do so, he will have no choice but to file a lawsuit. Keep in mind, just because you file suit doesn't mean you can't still settle your claim. Most cases do settle long before going to trial. A trial is not a good idea for anybody. It is expensive and time-consuming. 
If you've been in a car accident, contact your car accident lawyer right away. The initial consultation is free and you pay nothing until you settle your case!