It's rare that our Atlanta accident attorneys handle a case where the other party passed away. Thankfully, most accidents are not fatal. But even if the other driver does die as a result of the crash, that doesn't mean you aren't entitled to damages.
As bad as you may feel for the family of the other driver, you owe it to yourself to protect your legal rights. Here, we'll explain how your car accident lawyer in Atlanta can help you do that.
The Number of Traffic Fatalities Is At Its Highest Since 2007
For many years, the number of traffic fatalities in the U.S. has been on the decline. However, in 2020, the number of people killed in traffic accidents increased by almost 7%. This may not sound like a lot, however, it's the most this country has seen in almost fifteen years.
According to the National Highway Traffic Safety Administration, in 2020 alone, more than 38,000 people died in motor vehicle accidents. In many of these cases, the person who passed away was not the person who caused the accident. Every now and then, however, the driver at fault doesn't survive.
What Are the Leading Causes of Fatal Car Accidents?
In most cases where one of the drivers or passengers dies, at least one of the drivers was negligent. Some of the more common causes of these fatal accidents include:
Speeding
Distracted driving
Drunk driving and drugged driving
Driver fatigue
If You Weren't at Fault, Your Atlanta Accident Attorney Can Still Pursue Damages
As long as you weren't the one at fault, there's no reason why you shouldn't pursue damages. Yes, it is sad that the other driver didn't survive the crash. But you still need to file your claim if you suffered serious injuries in the accident.
In order to collect damages, your accident lawyer will have to prove fault. To do this, they'll need to show that the other driver was negligent. This requires that your attorney prove four things.
The other driver owed you a duty of care. All drivers owe a certain duty of care to others on the road. For example, you are required to abide by the posted speed limits and all other traffic laws.
The other driver breached this duty of care. For example, the driver was speeding or intoxicated.
The driver's negligence caused the accident. Your car accident attorney in Atlanta will use the police report and other evidence to prove this.
Your injuries were caused by the accident. You need to seek medical treatment right away in order to document your injuries.
Once your lawyer proves these four elements of negligence, they can move on to proving your damages.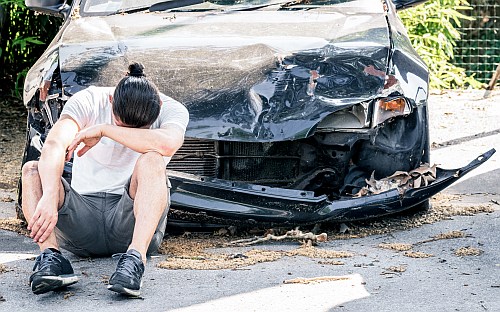 Your Attorney Will Have to File a Claim with the Insurance Carrier
Before you even think about filing suit, your Atlanta car wreck attorney will need to file your insurance claim. Ideally, this claim will be paid, and you won't need to file a lawsuit.
However, the insurance company may try to argue you were responsible for the accident. What your car accident lawyer in Atlanta will do is gather the necessary evidence to prove that this is not the case. They'll work hard to show that the decedent was at fault, so you can collect the compensation you deserve.
If Your Car Accident Lawyer in Atlanta Does Sue, They'll Have to Pursue the Deceased's Estate
The main difference between your case and an ordinary car accident case is that instead of suing the decedent, your attorney will be suing their estate. The insurance company is responsible for paying the compensation if you win.
If the deceased's family has not set up an estate, your attorney may need to file legal action to have an administrator appointed before your lawsuit can move forward.
There's a Good Chance Your Attorney Will Negotiate a Settlement
The good news is that, regardless of what happened to the defendant, your auto accident lawyer will work hard to settle your case. They'll meet with the insurance company and their attorneys and try to reach an agreement for a fair compensation amount.
If your case does go to trial, you may be at a disadvantage. The judge and jury will be sympathetic toward the defendant, and this can impact your case. This is one of the reasons it's so important that your car crash lawyer in Atlanta resolve the matter via a settlement.
Reach Out to One of Our Skilled Car Accident Lawyers in Atlanta Today
If you were in an accident and the other driver passed away, you're probably feeling terrible. However, as bad as you feel for the other driver's family, if you were hurt, you need to protect yourself. That's why we suggest you meet with one of our Atlanta accident attorneys right away.
What you need to remember is that this isn't personal. In fact, there's a very good chance that the insurance company will settle your claim and the family won't be involved at all.
To find out the best way to proceed, call our office at 770-HELP-NOW and schedule your free, initial consultation.