No one leaves their home knowing they'll be in a car accident. Getting into a car wreck is stressful, and it starts as soon as horns start to honk, the sounds of crunching metal echoing in your ears. Moments later, the blame game begins, trying to determine either verbally or in your head who is at fault.  This is where a Lawrenceville car accident lawyer can heavily impact the outcome of your case.
You may try to handle it on your own, but with trying to find alternative transportation, dealing with the insurance companies, car repairs, possible injuries and so much more, this is an ominous task. In 2018, the total cost of car accident injuries in the United States was $75.2 billion. (National Safety Council) Getting the help you need is key to managing all of the aspects of a car accident case.
Getting a car accident attorney isn't just important if you are at fault for the car accident.  The role of an experienced car accident attorney is to make sure you have the best outcome possible, no matter what or who caused the accident.
If you have suffered injuries after a car accident in Lawrenceville, contact one of the best Georgia accident lawyers at The Weinstein Firm. They will aggressively pursue appropriate and fair compensation for your damages.
A Little Bit About Lawrenceville
Lawrenceville is the county seat of Gwinnett County, Georgia. It is a suburb of Atlanta, located about 30 miles northeast of downtown. In 2019, the U.S. Census Bureau estimated the city population to be 30,834.
Drivers need to be alert, especially in heavy traffic. The intersections of Duluth Highway and Riverside Parkway, Lawrenceville Highway and Lawrenceville Suwanee Road, and Lawrenceville Highway and Sugarloaf Parkway are some of the worst places for accidents.
While in Lawrenceville, you can catch a baseball game at CoolRay Field and see a performance at the Aurora Theatre. Learn about the city's rich history when you visit sites like the Gwinnett Historic Courthouse and Fallen Heroes Memorial and go on a ghost tour
Lawrenceville hosts a variety of events throughout the year, so check the city's website to find out about upcoming events and festivals. The annual Polish Pierogi Festival in August features Polish beer and food as well as live music.
How To Pick A Car Accident Lawyer
Just like any other job, lawyers have specific areas of focus. You wouldn't go to a chiropractor for knee pain, right? The same concept applies to lawyers and what they do. You'll need to pick a very experienced car accident lawyer who isn't just a lawyer but is specifically a car accident lawyer. Keep in mind that there are dozens of car accident lawyers in Lawrenceville alone. How do you sift through them all and make sure you're finding the perfect car wreck lawyer that is right for your case?
Keep in mind never to pay for a car wreck lawyer upfront. A consultation should be free of charge, and if a reputable (and respectable) personal injury law firm or office with skilled car accident lawyers feels confident that you have a strong case, they'll take it.
This isn't just for the car accident itself. Having an experienced lawyer with a great record means they will fight for your rights in every aspect of your car crash case. Insurance companies, for example, may try to avoid settling with you or may try to give you less financial compensation than what you deserve.  Your car wreck lawyer should be well versed in this situation and will work aggressively with the insurance rep to get a fair settlement in your favor.
A Lawrenceville personal injury lawyer will also explore all the available evidence when it comes to your car accident evidence that may be overlooked by the other driver or even the police.  Once all the details are determined, your Lawrenceville auto accident personal injury lawyer will work tirelessly to work out a claim, and if necessary, take the case to court to get the compensation you rightfully deserve.
Lawrenceville Accident Statistics 2019-2021
Previous
Next
Do All Accidents Need A Car Accident Attorney?
Since you won't have to pay out of pocket unless a car wreck lawyer decides to take on your case, the answer is this:  a consultation is a great place to start to find the answer.  Think about  some of the possible car accident scenarios:
Rear-Ending
Hit and Run
Side Impact
Head-On
Single Car
Multi-Vehicle
Putting the above car accident cases itself in one of those categories is simple.  But now stop and think:  what caused the above to happen?  Here are a few of the most common causes of car accidents where a car accident lawyer in Lawrenceville has been asked to intervene:
Defective Car Part(s)
Poorly maintained roads
Intoxicated driving
Reckless Driving
Distracted Driving
If you're lucky, you might be able to pinpoint the cause of your accident, but after that, things can tricky. That's because in the midst all the chaos, you don't have a car, there are possible injuries, and the phone calls you are now receiving from the insurance company – the people who are supposed to represent YOU – are making this situation even more stressful and you don't know how to manage everything on your own.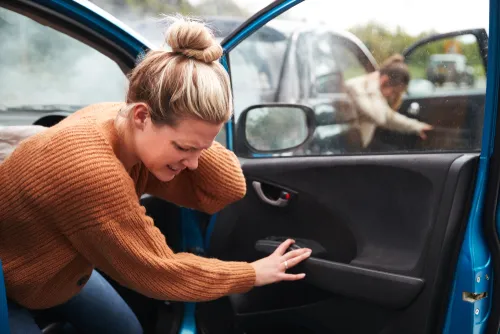 Multi-Car Accident Scenarios
Accidents that involve multiple cars can be complicated, here are some scenarios covering multiple car accidents:
Accident Scenario #1
For example, suppose you got rear-ended by another driver because of a defective car part in their vehicle. Not only do you have whiplash from the crash and daily headaches, but now the insurance company wants to partially blame you for the accident and pay only a percentage of your car repairs.  Plus, they're not willing to assist with the other medical expenses and bills you have piling up that you know are a direct result of the rear-end collision.  What now?
What will a car accident lawyer do?
In a situation of personal injury like this, you can recover maximum compensation for your damages and losses, even if your insurance company doesn't want to pay.  A Lawrenceville car accident lawyer will pull all the facts and put the pressure on the insurance company to do what's right.  Although the insurance representatives say they're on your side (you do pay them, after all, right?) they work for one side, and that's the insurance company.
If they can get away with paying you very little, or worse, nothing at all, they will.  A Lawrenceville auto accident attorney will make sure you get full compensation on every level.
Accident Scenario #2
You stop at a stop sign look both ways and proceed through.  Out of nowhere comes a vehicle barreling through the intersection and before you can get out of the way, that car has t-boned yours.  This side impact collision sends your car into another vehicle.  You know you didn't cause the accident, but the insurance company is saying that because your vehicle hit the other vehicle, you are to blame because you lost control of your car.
To further complicate this already stressful situation, the passenger in your car claims to have seen something crucial to your case:  the driver of the car that hit you was looking down as their car was coming toward yours.  Could they have been texting and driving?
What will a car accident lawyer do?
Did you know that the nationwide number of texting and driving car accidents has now surpassed that of drinking and driving accidents?
Texting while driving has so many deadly outcomes because it does three things simultaneously: It causes the driver to take their hands off the wheel, take their eyes off the road and take their mind off driving.
A Lawrenceville personal injury lawyer will help you to get compensation for several potential problems, such as vehicle damage, medical bills, doctor's appointments, rental car expense, lost wages, and mental trauma.
Accident Scenario #3
It's 8 a.m. on a Monday morning.  You got up on time and are out the door with 5 minutes to spare.  Your week is off to a great start.  You click the unlock button on your car key's remote, walk in front of your car and make your way to the driver's side door.  That's when you see it: Your mirror is hanging on the side of the car; both the passenger and driver's doors are completely mangled, and skid marks show the story of what happened.
You're the victim of a hit and run.  You take pictures and call your car insurance company to get a new claim filed.  Fast forward three days: Appointments with the car repair shop and the insurance adjuster go smoothly.  The repairs are complete, and bills are settled.   You get your car and drive home, but something doesn't seem right.  Your car seems to be running differently. The car repair shop says it fixed the problem and nothing is wrong.  But you know otherwise because your car is not running properly.
What will a car accident lawyer do?
First and foremost, the first call you should always make in a hit and run accident is to the police.  Tell them everything you can so their focus can be to catch the person responsible. The best-case scenario for accident victims is that the person gets caught and prosecuted with great supporting evidence.  In this situation, the accused driver could have to cover the cost of your damages, serve jail time, pay criminal fees and fines and more.
If a driver cannot be found, you will most likely have to file a claim with your own insurance company for coverage.  If your policy allows, you'll file an uninsured motorist claim.  If that becomes difficult, a dedicated car accident lawyer will step in on your behalf and resume all future correspondence with your insurance company.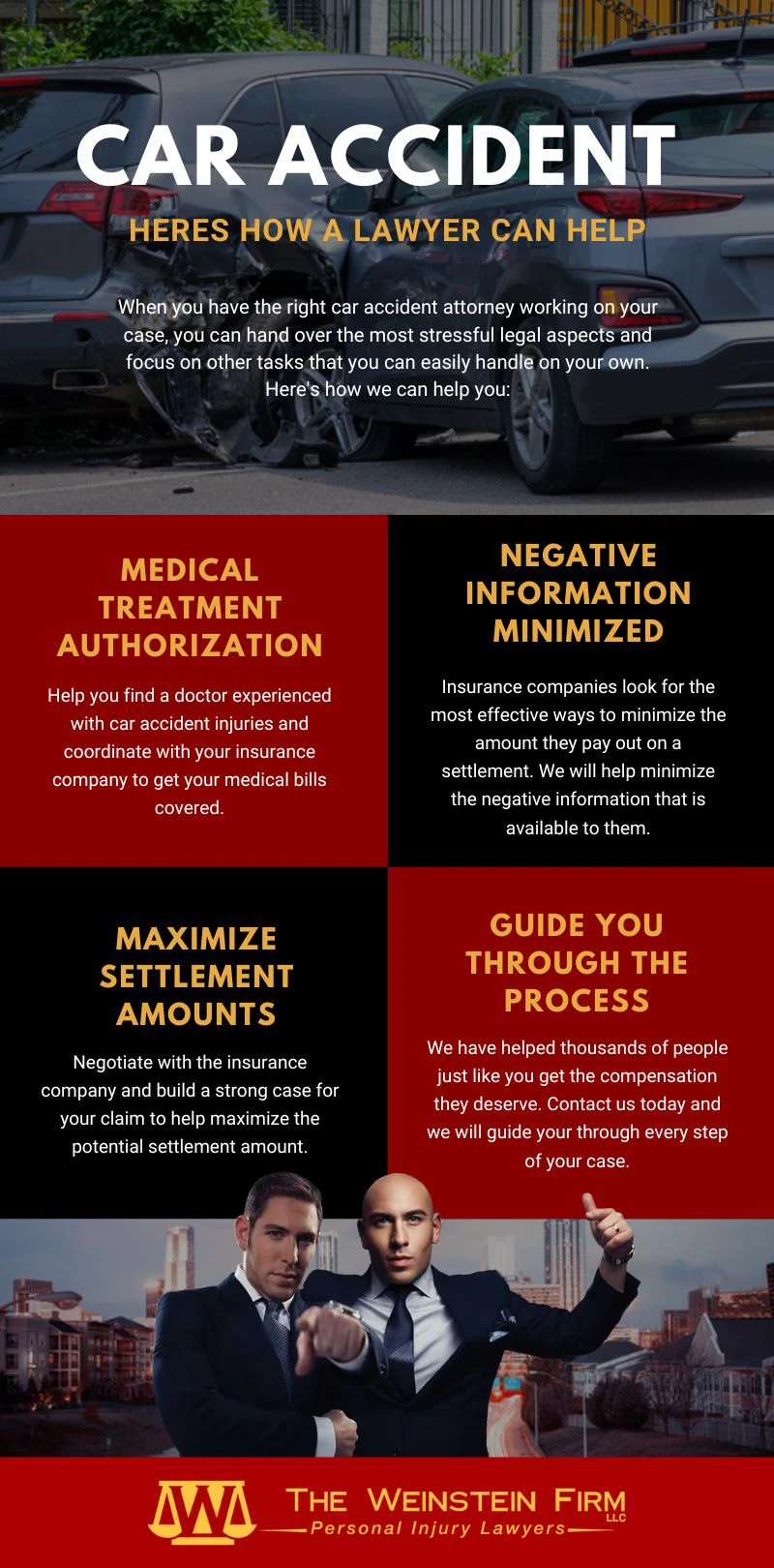 How A Car Wreck Lawyer Can Help
In each of the above scenarios, the victim thought they had everything handled.  Things seemed to be under control after the accident until they weren't under control at all.  This is the case all too often and if that victim doesn't get the proper representation from a Lawrenceville car accident lawyer, they will be alone in dealing with the stress of the circumstances.
In each accident, police report that the victim did nothing wrong.  The victim was not speeding, drinking and driving, or running red lights.  No laws were broken.  The victim was simply in the wrong place at the wrong time.
Car accident lawyers are used to every possible car accident scenario and will make sure each detail is covered including those easy to miss details that can have a huge impact on the outcome of your case.  When you have the right car accident attorney working on your case, you can hand over the most stressful legal aspects and focus on other tasks that you can easily handle on your own.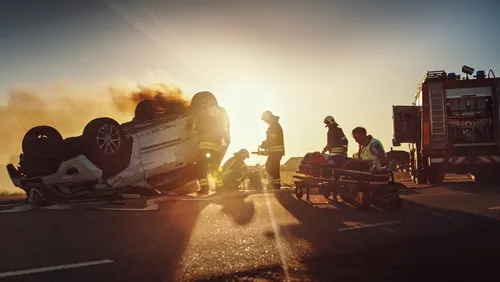 What If You're In A Single-Car Accident?
Accident Scenario #1
You're driving down the road on a beautiful fall Sunday afternoon.  The rain stopped several hours ago, so this was a perfect time to take care of a few last-minute errands before the weekend comes to a close.   As you make your way around a subtle curve, your car begins to slide.  You can't get control, and in a matter of seconds, your car comes to an abrupt stop after colliding with the guardrail. You get out to survey the damage and it isn't good.
As you look back at the road to see what could have happened, there is no obvious answer, so you take pictures of the scene, just for your records before making your next move.
What could a car accident lawyer see? 
The obvious culprit:  Leaves.  The previous rains soaked the freshly fallen leaves and as you made your way around the small curve – even under the speed limit – your wheels had no traction.  Your attorney informs you that this not only means you are not liable for the accident, but the city is, for poor road maintenance.
Accident Scenario #2
You're driving through a construction zone.  The speed limit signs are clearly posted at 15 miles per hour, so you slow down, not just for the sake of yourself, but the dozens of construction workers too, who, along with their heavy machinery, are hard at work on each side of the road.  You quickly realize the lanes are merging, so check your rear and side-view mirrors and see that you can safely merge.
You put on your signal and make your way to the next lane. Evidently, the driver behind you didn't see that and – although you were both obeying the reduced speed limit, he rear-ended your car.  You both pull over to observe the damage, and although the front driver is rarely at fault for rear-ending accidents, the other driver says you pulled over too fast, and there was no way for them to stop in time.
What could a car accident lawyer see?  
Witnesses – the construction workers acknowledged that no one seemed to be speeding at the time of the accident.  Your Lawrenceville car wreck lawyer tells you the reason the accident occurred isn't your fault at all.
It happened for two reasons:  the other driver didn't see you – cell phone records show that they were texting at the time of the accident.  What's more,  photos of the accident scene show inadequate signage.  Now there are two causes of your accident:  distracted driving and improper design, which means there were not adequate warning signs on display to inform you of the time to merge lanes.
How Much Is Your Car Accident Claim Worth?
The most effective way to estimate the value of your personal injury claim is to consult with a car accident lawyer who can understand the specifics of your situation. The final amount hinges on numerous elements: damage to property, injuries suffered, evidence of fault and losses, insurance coverage, among others.
While many insurance firms aim to resolve claims within their coverage limits, a seasoned car accident attorney could potentially secure a significantly higher compensation for you.
The Weinstein Firm Will Defend Your Rights
There are so many different car accident scenarios, unfortunately, too many to count.
When your life has been turned upside down due to a traffic incident, you shouldn't have to suffer through it alone.  It is paramount that if you have been in a car accident, you get a trusted legal professional, like a car wreck attorney to guide you through the legal system and champion your legal rights every step of the way.
The car accident lawyers at The Weinstein Firm in Lawrenceville, Georgia want you to know that it doesn't matter if your accident happened recently or if you are in the middle of filing a claim.  Retaining legal representation is your right, no matter when your accident occurred.
The type of accident should never determine if you should or should not seek help from a car wreck lawyer.  It could be as simple as a "fender bender" or a more serious situation with property loss and physical injuries.  Those injuries could be subtle, like headaches or be more serious long-term injuries that require long-term medical treatment and rehabilitation.  This can then lead to stress and a lesser quality of life.  The cost of treatments can also be a big factor, and you have done nothing to deserve it.
Contact The Expert Car Accident Lawyers At The Weinstein Firm
You are the victim, so making sure you have a Lawrenceville car accident lawyer who is relentless and aggressive in the pursuit to get you the full compensation you deserve is extremely important.
If you have been in a car accident, seek representation from a car wreck lawyer immediately. A Lawrenceville car accident attorney at will proudly challenge insurance companies, corporations, and even the opposing lawyers to get the best and most beneficial outcome for your case.
Call The Weinstein Firm today at  770-HELP-NOW for a free consultation. Remember, there are no fees for our services unless we win your case! Contact us today to get our experienced accident lawyers fighting for the compensation you deserve.