Car accidents are very common in Johns Creek, Georgia. Unfortunately, many of these accidents result in injuries and damage to personal property. In 2020, the estimated medical cost of car accident injuries in the United States was $474 billion. (National Highway Traffic Safety Administration) The types of injuries that the victims could suffer from after a car accident depends on the type of accident and severity. If you were in a car accident you need to call and speak to a car accident lawyer near Johns Creek as soon as possible. A car accident lawyer can file your claim so that you can recover your financial losses because of the accident. Schedule your free consultation with our injury firm near Johns Creek today.
About Johns Creek
Johns Creek is Georgia's tenth-largest city with more than 82,000 residents, located approximately 25 miles northeast of Atlanta. It is home to several Fortune 100 companies and frequently appears on lists of the best places to live in Georgia.
Residents and visitors can go kayaking, canoeing, and fishing on 13 miles of Chattahoochee Riverfront. Autrey Mill Nature Preserve and Heritage Center features a replica of a Creek Indian hut, an 1800s historic village, and 46 acres of woodland. Don't miss the chance to enjoy a performance at the Johns Creek Symphony Orchestra.
There are many fun events throughout the year. The Johns Creek International Festival celebrates the city's diversity with traditional food, music, and art. At the Johns Creek Art Festival, artisans from around the country showcase paintings, metalwork, pottery, and much more.
Common Car Accident Injuries
As far as car accidents and injuries are concerned, muscle and bone injuries are the most common, followed by soft tissue damage and internal organ injury. Examples of injuries range from whiplash, head trauma, fractures of the arm or leg, lacerations, dislocations, and spine injuries. In many cases, the injuries require not only emergency treatment but also a prolonged course of rehabilitation to regain muscle function and muscle strength. When the nerves are damaged, prolonged disability may result. In other words, the type of injury varies from accident to accident. Consult a car wreck lawyer to understand how different injuries are compensated as per the law in Georgia.
Johns Creek Accident Statistics 2019-2021
What should I do following a motor vehicle accident in Johns Creek, GA?
Car accidents can be fairly traumatic for most people. That is why whenever someone gets into an accident, they tend to panic and stress out. We accept that this may be easier said than done, but a general recommendation that any car accident lawyer would give you is that if you are in an accident, you should always try to stay calm and not panic.
You also need to know that if you are involved in a car accident, and the accident results in injury, the death of any individual, or any property damage that appears to be more than $500, you are required by law to report the accident. This means that you must inform the police and you also need to inform your insurance company. Keep in mind that this is an important step and will work in your favor if you decide to file a compensation claim in the future. Speak to a car accident attorney for more information.
You should also make sure that in case of an accident, you do not leave the scene of the collision. Not only will leaving prematurely prevent you from giving your side of the story to the police, but it is also illegal in some cases. Make sure that you remain at the scene and get the other driver's name, address, insurance company information, and registration number. It is also a good idea to offer reasonable help to any individual at the scene of the accident by calling 911 or making arrangements for transfer to the nearest hospital. You should act responsibly and sensibly. Once you've handled the immediate situation, call a car accident lawyer.
Whether you should move your motor vehicle after an accident is completely dependent on the situation at hand. If there is no evidence of serious injury or damage to personal property or death, then the driver with a valid driver's insurance can move the vehicle to a safe place. However, if there is a significant injury to another individual or major property damage, it is better that you don't move your car until the police arrive and determine the cause of the accident. They can then direct traffic around the wreck if needed.
Keep in mind that what you do at this point can either make or break your case later. Your car accident attorney will be able to present a strong argument on your behalf if you do things correctly after an accident.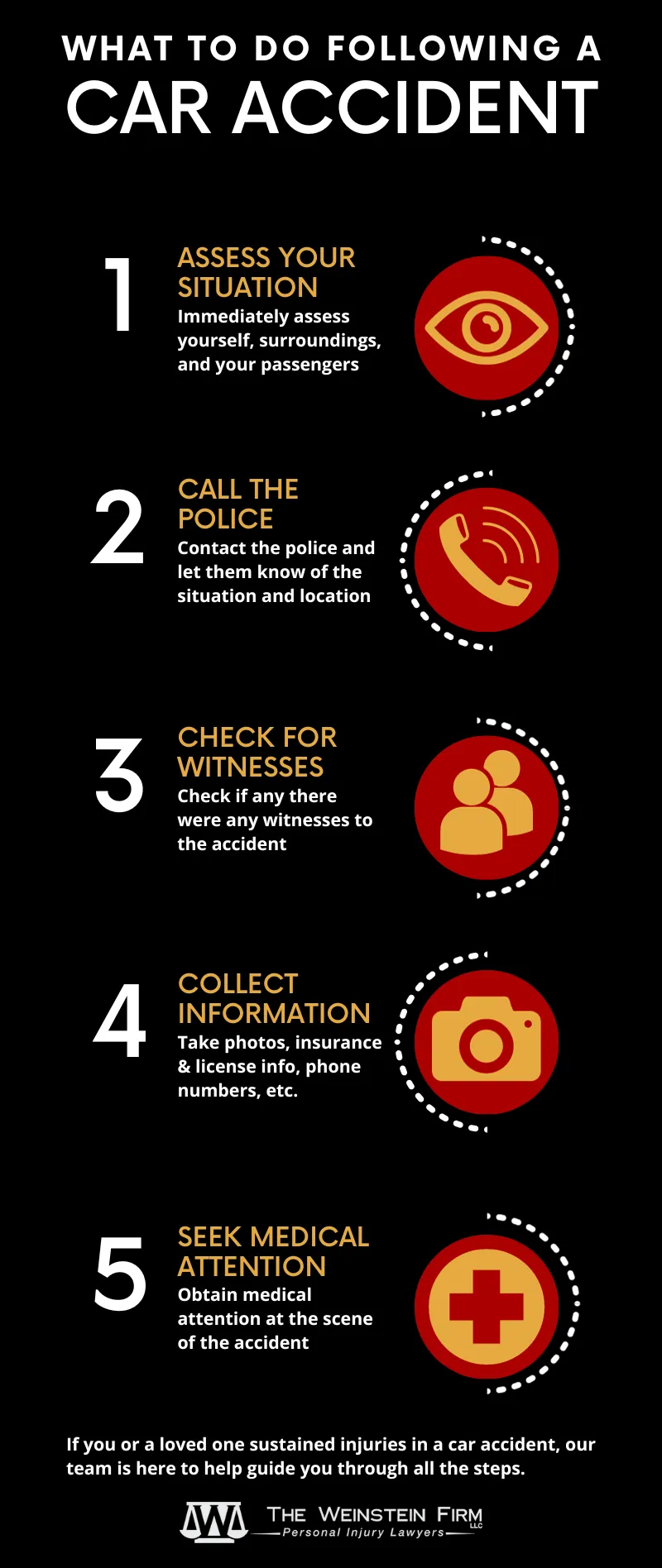 What type of compensation can I get for my accident injuries?
When you speak to your car wreck lawyer, they will tell you that Georgia is an 'at-fault' state when it comes to car accident claims. What this means is that anyone injured in a car accident has three options to seek compensation for damages or personal injuries.
Your first option is to file a compensation claim with your insurance company. They will then be the ones dealing with the other driver's insurance company on your behalf. Your second option is to directly contact the other driver's insurance company and file your claim. Your third and final option is to file a lawsuit against the driver you deem to be at fault.
Car accident lawyers near Johns Creek, GA, will be in a better position to explain to you which option would work best in your particular situation. That is why it is important that you speak to a car accident lawyer soon after the accident. Any delays could result in a financial loss. This is especially true if the compensation amount offered by the insurance company is not sufficient to cover the damages that you have incurred. Remember, you should never agree to sign anything offered to you by the other party without consulting a car accident lawyer. Your car accident attorney needs to know exactly what the insurance company has said to you and what settlement amount they have offered if any.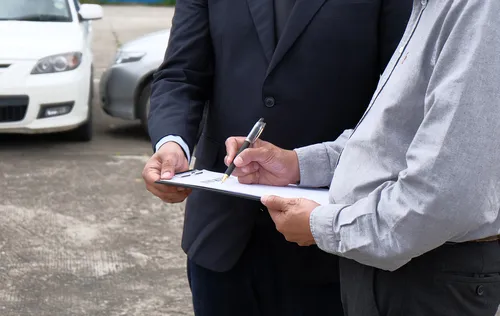 What is the fault system in Georgia?
Georgia follows a 'fault-based' system when it comes to liability and insurance coverage when one is involved in a car accident. Therefore, if you are at fault, you are liable for any property damage or for any personal injuries that occur as a result of the accident. You will not have to pay this money out of your pocket (unless you do not carry the minimum insurance) but it will be your insurance company that will have to bear the cost. However, you should be prepared that if you were at fault and you caused the accident, your insurance premiums will increase after that. If you want to understand how fault determination works in Georgia, speak to a car accident lawyer.
If you were not responsible for causing the accident, the at-fault driver's insurance company would be responsible for covering any damages that you may have incurred. However, don't assume that just because you did not cause the accident, the insurance company will happily hand over the money to you. Insurance companies can be quite difficult to deal with, so make sure you discuss the specifics of your case with a car accident attorney.
A car wreck lawyer can play an important role in situations where the insurance company denies your claim or offers you a settlement amount which is much lower then what you deserve. As a Georgia citizen with no legal background, it will be difficult for you to deal with these insurance companies on your own. Your personal injury lawyer near Johns Creek, on the other hand, will already know how the system works and can negotiate a good settlement on your behalf. That is why it is important to take advantage of your car accident lawyer and capitalize on their negotiation skills.
A car accident attorney can also help you in case there is no agreement with the insurance company. In this situation, you need to speak to a car wreck lawyer serving Johns Creek to find out how you can file a lawsuit. Remember, there is a statute of limitations for filing a motor vehicle accident lawsuit in Georgia. The time limit is 24 months from the day of the accident to file a lawsuit for physical injury and 48 months for property damage. In order to ensure you are able to get the compensation you deserve, you need to make sure you file your lawsuit within the required time-frame. A car accident lawyer will let you know what that time-frame is for your claim and how you should proceed.
You also need to be aware that while Georgia follows the fault system, it also follows the principle of modified comparative negligence. A car wreck lawyer can explain this principle to you in more detail, but in essence, what this means is every party who might have played a role in the accident will be held accountable. For instance, if you were 30 percent at fault while the other driver was 70 percent, you could still file a claim, but the amount of compensation you receive will be reduced by 30%. This might seem like a subjective assessment, but the primary premise behind it is that each party should be held liable for the role they played in the accident. Your car accident lawyer can answer more questions for you in this regard.
Every car accident case is different and needs to be approached as per the specifics of the case, the accident, and the subsequent injuries and damages. Car accident lawyers who specialize in car accident cases will have the necessary information to help you understand how your case should be handled. Nothing is set in stone, and there are many factors at play. That is why it is important to seek the assistance of a car accident lawyer near Johns Creek if you have been involved a wreck.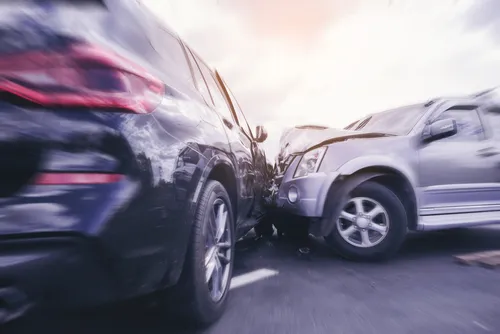 How much money will I get in a car accident settlement?
The amount of money you will get in a settlement depends on the injuries that you have suffered and the amount of financial loss you have had to bear. A minor dent in the bumper will not get you much, but if you suffered severe spinal cord injuries that require lifelong rehabilitation, then you can get a fairly high settlement. Factors that will help determine a settlement can include the severity of the accident, the severity of the injuries, the number of medical bills, any lost wages, the level of property damage and the extent of your pain and suffering. The settlement amount will also be based on the level of fault.
Seek Legal Help from a Car Accident Lawyer Near Johns Creek, GA
It is important that you consult an attorney if you have been hurt in a car accident in Johns Creek, Georgia. At The Weinstein Firm, we have a team of car accident lawyers who are committed to providing you with the best legal representation. Our goal is to make sure that car accident victims get the justice they deserve.
An experienced car accident lawyer understands that dealing with the aftermath of a car accident can be very challenging. Our car accident lawyers also realize that for most people, the emotional and physical consequences of a car accident can have quite an impact on their lives. That is why we are here to help you deal with the legal aspect of your compensation claim. Your car wreck lawyer will listen to the details of your accident, help gather all the important information that may be required to prove your case, present your case in front of a judge and ensure that their argument is valid and strong enough so that the decision is in your favor.
Your car accident attorney will outline their entire case argument with the objective of recovering the damages that you may have incurred. This will include compensation for medical bills, rehabilitation costs, loss of wages, losses associated with long-term disability and property damage. In addition, if there is no settlement with the insurance companies, our car accident lawyers can also help you claim compensation for emotional trauma, pain, and suffering. Call The Weinstein Firm today and speak to our Georgia car accident attorney for more information.
We want to provide each client with the best legal counsel and legal representation. If you believe that you had no role to play in the accident, speak to our car accident lawyer as to how they can prove this in court and what evidence they need to gather to do so. If you do believe that you may have had some role to play in the accident, tell your car wreck lawyer so that they can determine the best course of action. Whatever you do, it is important to speak to a car accident attorney so that you get the justice you deserve. Your priority should be to focus on your recovery. Call and speak to your car accident lawyer today. We will make sure you can focus on your health while we focus on your legal representation.