It may be difficult for passengers who sustain injuries in a crash to seek damages for their losses. This is because most of them are unaware of their rights, with most believing they are not entitled to compensation. If you were injured as a passenger in an auto crash, contact an experienced Atlanta automobile accident attorney immediately to educate you on your rights.
As a passenger, you have the right to pursue financial compensation for your injuries, medical expenses, lost wages, and other related expenses. However, it may be difficult for you to sue them if they are friends or relatives. This article explains a passenger's rights in an auto crash in Atlanta and who you can sue.
What Legal Rights Do Passengers in a Car Accident Have?
After a car accident, passengers have the same legal rights as drivers. If someone else's carelessness led to your injuries, you should receive the appropriate compensation for your losses.
To ensure that the party who caused your vehicle accident is held accountable, your accident attorney must investigate the circumstances surrounding the accident. According to Georgia law, passengers are entitled to economic and non-economic damages.
Types of Compensation Passengers Are Entitled to After a Car Accident
What you are entitled to receive after a car accident is determined by who is at fault. If another car caused the accident and not the driver of the vehicle you traveled in, you could demand damages. Some of the compensation you are entitled to as a passenger involved in a car accident include:
You may need medical attention after an accident, which costs money. To guarantee complete reimbursement, you must record and preserve all medical bills. Costs such as payments for hospital bills, physical therapy, medications, travel expenses for attending medical appointments, and future costs related to the accident must be documented.
You are entitled to compensation for pain and suffering. Your settlement depends on the severity of your injury and the treatment you received.
A suitable compensation for the pain and suffering can be determined with the assistance of your lawyer. You might also be able to seek compensation for the inability to enjoy life, mood changes, fear, anger, and mental illnesses caused by the incident.
After a car crash, you might be unable to work and miss a lot of time off work if you sustained a serious injury. Your lawyer can help you file a claim based on your current and future earnings.
An Atlanta Automobile Accident Attorney Explains How to File a Lawsuit as a Passenger in a Car Accident
Before filing a claim as an accident victim, you must understand the type of case you may have. A smart step in any vehicle accident case is having a knowledgeable attorney evaluate your situation and potential damages. The lawyer will determine the liable party or parties and inform you how much you can recover as compensation.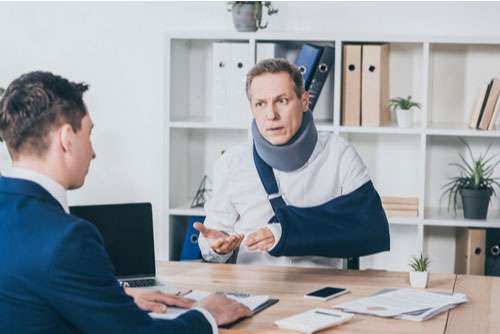 What Are the Steps to Take as a Passenger After a Car Crash?
To win an accident case, you need evidence that outweighs that of the other party. As such, you must do the following to gather proof:
The severity of injuries in an accident depends on the nature of the car crash. Some accidents result in minor wounds, while others result in major injuries that may require hospitalization.
It is important to see a doctor if you are injured in a car accident. While exterior wounds like cuts and scratches are simple to spot, internal ones like concussions can take some time to show symptoms.
Take Pictures of the Accident
It would be best if you took pictures of the accident scene before you leave it to preserve the evidence. For instance, photos of the involved cars, debris, and tire treads taken from various viewpoints will help you make your case.
Find Out About the Drivers' Insurance Information
Get the insurance information of the other vehicle's driver by speaking with them. Make sure you have the details of your driver's insurance as well. The data will help you file a claim against the appropriate party.
Filing a Complaint Against Friends and Family
Most often, it is a friend or member of the family who passengers sue after a car accident. This situation frequently occurs, especially when only one car is involved in the collision. Perhaps the motorist ran into a tree or a barrier.
Most people are reluctant to file a claim in these situations since it could damage their relationship. However, remember that pursuing financial compensation for your injuries is your right.
Also, the claim would be against the driver's insurance provider, so the friend or relative does not have to pay compensation out-of-pocket. Therefore, since the insurance provider covers your expenses, you should feel confident proceeding with your claims against relatives or friends.
Who Could Be Responsible for Your Damages?
As a passenger in an accident, you might be worried about who is responsible for your damages. An at-fault party may be one of the following:
The driver of a vehicle owes you a duty of care if you are a passenger. Therefore, they should drive defensively and obey all traffic rules and regulations. So, you have the right to request compensation if they blatantly disregarded your safety, leading to an accident.
If many vehicles are involved in the collision, and the other driver is to blame, you are entitled to file a claim for damages against their insurance policy. When both drivers are judged to be at fault, you can pursue compensation from them.
Were You Involved in a Crash as a Passenger? Contact an Atlanta Auto Accident Attorney Immediately
Accident injuries do not discriminate against passengers and drivers. In a side-impact crash, a passenger is more likely to suffer wounds if they are on the side of impact. Therefore, you should exercise your right to compensation after such an occurrence.
Our legal team at The Weinstein Firm can help you commence the compensation process. Our lawyers are committed to protecting your rights and helping you get the maximum compensation. In addition, you don't have to worry about legal fees as we work on a contingency fee basis, meaning you do not have to pay us until we win your case.
Also, we offer a free initial consultation, so you can visit our office to discuss your case with our personal injury lawyers in Atlanta, Georgia. Contact us today to book a case review.