According to the Centers for Disease Control and Prevention, nine people in the United States are killed every day in crashes that involve a distracted driver. The statistics show that loss of control is often the most common underlying cause of car accidents. Other causes of auto collisions include drowsy driving, drugged driving, speeding, texting while driving, and reckless driving. Different factors determine the amount you should settle for after a car accident.
Also, it is essential to note that you should only agree to an amount that covers the value of your losses. For example, suppose a car accident leads to personal injuries that require hospitalization. In that case, you should be able to recover enough settlement to cover the medical costs and future expenses. If the accident leads to a disability, factor in your future earnings when determining the compensation.
Consult the best car accident lawyer in Atlanta if you or a loved one suffered an auto crash injury.
What Type of Compensation Can You Recover After a Car Accident
An injured person can recover two kinds of damages after a car accident. These are the special damages and the general damages.
Special Damages
Special damages are also known as economic damages. These are losses that are assigned a monetary value, but you must prove them to get compensated. Examples include:
Loss of Earnings: This occurs when a victim suffers physical or psychological injuries after a car accident. As a result, they would have to be absent from work. Therefore, loss of earnings would be the amount of money the victim would have earned if they had continued working.
Replacement Services: This encompasses the services that a car accident victim cannot perform due to the injuries. They include meal preparation, housekeeping, and transportation.
Other examples include medical bills, damaged properties in the accident, and future medical costs. It is essential to note that you must have special damages after a car accident to get this compensation. Also, you have to prove economic losses using receipts and bills. So, keep such documents after the crash.
General Damages
General damages are also known as non-economic damages and do not have a monetary value. Therefore, they are usually more difficult to calculate than economic damages. They include:
Loss of Enjoyment of Life: A car accident can affect a victim's life considerably. If a victim cannot live their life because of the new circumstances caused by the crash, they will be eligible to receive a settlement for loss of enjoyment of life.
Disfigurement: Disfigurement can affect a car accident victim psychologically. As a result of an altered appearance, they may struggle with body image and self-esteem. The best car accident lawyers in Atlanta can help you get this compensation.
Physical Pain and Mental Suffering: Getting into a car accident can become traumatic for victims physically and mentally. Physical pain can be mild or severe. Thankfully, the law allows victims to receive compensation for the pain and suffering caused by their wounds after a car accident.
Other examples include loss of consortium, mental anguish, and scarring. Since these damages don't have a clear monetary value, you will need an experienced lawyer to attach an amount to them.
Usually, they do this using the multiplier calculation method. It involves picking a number from 1 to 5 and using it to multiply the economic damages awarded.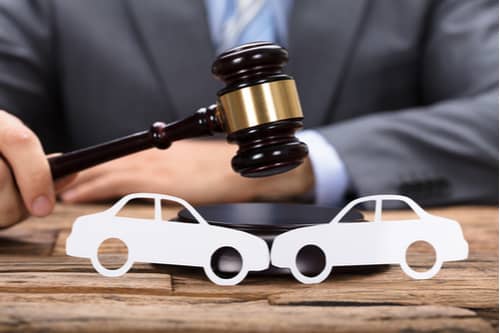 How Will the Best Car Accident Lawyer in Atlanta Help You Get a Fair Settlement?
The degree of fault parties share in a crash determines how much they will receive as compensation. For instance, if the other driver were entirely at fault for the car accident, they would be responsible for all the damages.
If you are partly responsible for the accident, you may be able to recover some compensation, but a lesser amount. This means that if you're partially at fault, the insurance company will put more of the blame on you to reduce your settlement. However, using the services of an experienced lawyer ensures that all the evidence of the other driver's fault is presented correctly.
Your attorney will also review the offer made by the at-fault party's insurer to ensure it benefits you. Remember that no two accidents are the same, so compensation varies from one person to the next. As a result, getting the best settlement for your case depends on the details.
How Much Should You Settle for After a Car Accident?
There is no universal formula to calculate the exact amount to settle for after a car accident. However, it will be helpful to know how much you should expect from a settlement. Generally, insurance companies are inclined to offer you a low compensation.
This is because they are profit-centered organizations and the less they pay you, the more profit they have. So, they will come up with an offer and try to convince you that it is the best. Don't fall for it.
If you don't have a lawyer at this point, get one and let them handle the negotiation. During the discussion, your attorney and the insurance company's team will consider several factors. This includes:
The severity of the injury
The presence of a disability and the need for medical equipment
Days absent from work and your ability to earn as much as you did before the crash
The extent of property damages
The impact on your everyday life
If your car was totaled, the market value at the time of the accident, etc.
The amount they come up with is what your compensation should be after a car accident. Rest assured that your lawyer will not get you anything less. However, note that the at-fault party's insurance coverage may not be enough to cover your losses.
You can accept what they offer and sue to get the rest out-of-pocket in such a case. Alternatively, you can file a claim under an underinsured motorist coverage if you have one. In either of these scenarios, your attorney will consider what is best and advise you accordingly.
Need Help With Your Injury Case? Contact the Best Car Accident Lawyer in Atlanta
Choosing the best car accident lawyer in Atlanta will help you secure the most satisfactory settlement after a car accident. In addition, a good accident lawyer will be able to evaluate the case's facts to understand how much your injuries are worth.
Over the years, we have consistently honed our skills and have handled countless car accident cases in Atlanta. We will bring these years of experience to bear on your case. Contact us today at The Weinstein Firm for a free case review with an injury attorney in Atlanta, Georgia.