Rear-end collisions are among the most common accidents in Atlanta, GA. However, if you sustain an injury from a rear-end crash caused by someone else's negligence, you can sue for financial compensation. A car wreck lawyer in Atlanta will help you sue for a rear-end collision and secure a fair settlement.
With Atlanta's growing population and congested roadways, it's no surprise that rear-end collisions occur daily. When your vehicle gets rammed into, it can impact your life severely. Therefore, it is important to understand your rights and what to do in the circumstance.
Collisions can affect you physically, financially, and emotionally. Thankfully, the at-fault party is legally responsible for the harm caused to you. This article discusses whether you can sue for a rear-end collision.
Common Causes of Rear-end Collisions in Atlanta
The thought of getting struck from behind by another vehicle while driving can be disturbing. Unfortunately, accidents happen quickly and when least expected. No matter how cautious you are, other road users may not be as careful. As a result, there is little you can do to prevent a crash.
Rear-end collisions happen when your vehicle is struck behind by another vehicle. It can result in severe injuries, including head injuries, whiplash, traumatic brain injuries, and sometimes death. The majority of rear-end collisions occur due to:
Tailgating (driving too closely behind)
Aggressive driving/road rage
Distracted driving
Driving while impaired by drugs or alcohol
Mechanical failure
Overspeeding
Poor weather conditions, etc.
A Car Wreck Lawyer in Atlanta Explains if You Can Sue for a Rear-End Collision
Under Georgia law, it is an offense to follow a vehicle too closely. Leave an appropriate distance between your car and all other vehicles. When a driver follows too closely and strikes the car in front, they will be deemed negligent and liable to pay damages. You can sue to get a fair settlement and financial recovery if you are hurt from being struck behind.
However, to recover compensation, you must prove the driver who struck your car was at fault. This is because the rear motorist is not always at fault in rear-end crashes.  After establishing negligence, there are three ways you can pursue compensation. They include:
Filing a claim against the at-fault driver's insurance company
Filing a personal injury lawsuit against the at-fault driver
File an uninsured motorist claim on your insurance policy if the at-fault driver does not have insurance.
You can decide to settle with the insurance company or file a lawsuit against the at-fault driver. If you decide to sue for a rear-end collision, it it is best to involve a car wreck lawyer in Atlanta immediately after the crash. A lawyer will evaluate your case and determine the best cause of action.
Types of Damages You Can Sue for After a Rear-End Collision
We've already established that you can sue for a rear-end collision to recover damages. Damages include any cost or losses associated with the accident. The compensatory damages available to a rear-end collision victim include:
Medical cost
Lost income
Loss of earning capacity
Property damage
Loss of consortium
Loss of enjoyment of life
Pain and suffering
Wrongful death, if applicable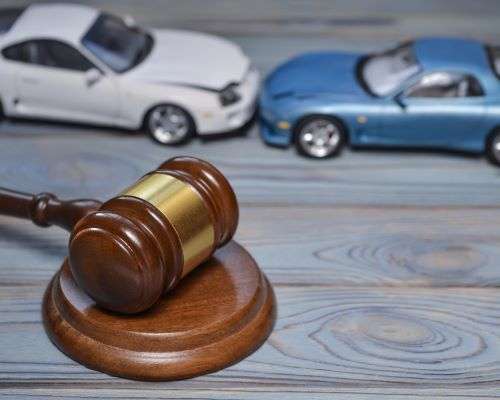 What Should I Do After a Rear-End Collision in Atlanta?
It is not uncommon for accident victims to be confused after a collision. However, you must take the necessary steps to protect your rights following a crash. You have a limited time to file your claim in Atlanta, GA, which is two years from the date of the crash.
Here are steps to take to protect your rights if you are involved in a rear-end crash:
1. File a Police Report
Immediately following the collision, call the police right away. Upon arrival, the responding officer will investigate the crash scene to determine the party at fault. They will also draw up a police report. The report is a valuable piece of evidence for your lawsuit if you sue for a rear-end collision.
2. Seek Immediate Medical Care
It is important to seek medical treatment following a crash. Refusing medical care can adversely impact your health and personal injury claim. Your medical record shows the extent of your injuries. It establishes a connection between your wounds and the collision. So, ensure you see a physician as soon as possible.
3. Exchange Information With the Other Party
Exchange your name, license number, and insurance information with the other driver. Try to avoid talking to them about the crash. Do not discuss blame or apologize.
4. Gather Evidence
Gather as much evidence as possible about the crash. For example, take photos of your injuries, property damage, etc. Also, write down the names of all witnesses and get them to give a statement. Documentation will help in proving liability if you sue for a rear-end collision.
5. Notify the Insurance Company
Notify your insurance company about the collision as soon as possible. Let them know the basics of the crash, such as the parties involved, and where and when it occurred. It is smart to talk to a lawyer before calling the insurance company.
6. Hire an Attorney
If you are hurt from a rear-end collision, speak with a personal injury lawyer. A lawyer will handle all the processes and protect your rights.
Why Should I Hire a Personal Injury Lawyer After a Rear-End Collision in Atlanta?
You are not obligated to hire a lawyer to file an injury claim. However, your chances of recovering full, and fair compensation increase when you hire one. Insurance companies are not your friend. They aim to make profits and limit their liabilities.
If your settlement claim does not work and you decide to sue for a rear-end collision, a lawyer can help you file a lawsuit in court. Also, a lawyer has in-depth knowledge of the laws applicable to your case. They will build a solid case to ensure you win.
Below are the other benefits of getting a lawyer to handle your rear-end injury claim. An attorney will:
Investigate the circumstances of the rear-end crash
Determine the party at fault through available evidence
Seek full and fair compensation on your behalf, while you focus on recovering
Represent you at trial
Negotiate and handle communications with the at-fault party and insurance companies
Build your case and gather all relevant evidence such as photos, police reports, medical records, etc.
Talk to an Experienced Car Wreck Lawyer in Atlanta Today!
There are many ways a rear-end collision can affect your life. So, if you have been hurt, consider filing a lawsuit against the other party. Thankfully, you don't have to go to trial; you can settle with the fault party and their insurance carrier.
At The Weinstein Firm, our lawyers will significantly impact your claim. We will guide you all through the legal process and ensure you get justice if you sue for a rear-end collision. Schedule a consultation with our Atlanta personal injury lawyers today.