According to the Georgia Department of Transportation in 2020, there were a total of 1,477 fatal car accidents in Georgia, resulting in 1,607 deaths. If you've had a car accident in Duluth, GA, you may be full of questions. You might want to understand why your neck and back are hurting, and how much time it will take you to recuperate. You may be anxious to acquire an insurance settlement so you're able to pay your bills. You need to contact a car accident lawyer near Duluth immediately.
Our personal injury lawyers near Duluth at The Weinstein Firm can help you deal with the uncertainties of a vehicle crash, and we know how to get the insurance company to pay you for your own losses. Since its founding, our law team has had just one focus. We help accident victims get money from the people responsible for their injuries. We'd like to talk to you about your car accident and the ways we can assist you. We will consult with you and after that, we will just charge if we are able to get money. Get in touch with us at 770-HELP-NOW or fill out the form to the best of your ability to acquire your free consultation today.
About Duluth
Duluth is positioned inside the northeastern section of the Atlanta metropolitan area. Approximately 25 mi from Downtown Atlanta, the city lies within the west-central part of Gwinnett County, bordered to the north by the Chattahoochee River, which also serves as the county line. The United States Census Bureau estimated the population to be 29,609 as of 2019.
Attractions include the Infinite Energy Center, home to the Georgia Swarm lacrosse team, Red Clay Music Foundry, and the Southeastern Railway Museum. Downtown Duluth has a thriving business district with many shops and dining choices. The agricultural manufacturer AGCO is based in Duluth.
There are many festivals and events to enjoy throughout the year. The Duluth Fall Festival is one of the most successful festivals in the southeast, regularly drawing crowds upwards of 100,000. The festival includes a parade, concert, and race. August is Duluth Art Month with music, theatre, dance, and lots more.
Duluth Accident Statistics 2019-2021
Will Insurance Pay For My Injury?
If the accident wasn't your fault, then you can get the full cost of your injury covered. Georgia drivers should carry car insurance, and that usually means that in most cases, the damage to your automobile along with your injures will be compensated by the other driver's insurer. In some cases, a driver may not be insured. The driver is responsible for the total cost of the crash even if they are uninsured. Sometimes uninsured drivers don't have the money to cover a serious crash.
They may have coverage that would cover your accident, but that's only if you've got uninsured motorist coverage on your insurance policy, or if the driver didn't have sufficient insurance. Motorists get only the quantity of insurance required by law, and this may not be sufficient to cover the entire price of a significant injury. One choice is to try to recover money from your driver directly, and yet another is to make a claim about the underinsured motorist coverage of your insurance policy.
Who is At Fault?
Determining fault can be a tricky process. Georgia follows a rule known as negligence if you are partly to blame for the accident. If you're less than 50% responsible, you are able to recover cash from the driver's insurance company, but the percentage of your fault will lessen your recovery. If you are more than 50% at fault, your insurance company has to pay. And if you are both 50 percent responsible, neither of you can recover money from each other's insurer.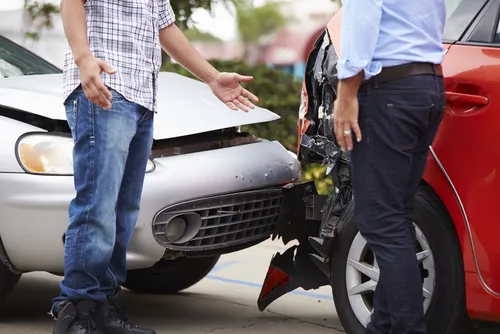 What Kinds of Damages Will the Insurance Company Pay For?
The insurance company should cover you for all your losses, including ones that are not easy to place a dollar value on. Generally, there are two types of damages in car accident claims: particular damages include all of your out of pocket costs, including costs that you expect to have later on. Examples of particular damages include physical therapy, medical bills, automobile repairs and the paychecks you lost if you couldn't work for a period of time following the accident.
General damages include pain and discomfort. That is really a term for the ways your life has been negatively influenced by the accident or caused psychological distress or pain. For instance, the collision may have forced you to change jobs or give up your favorite pastimes. You might have pain that is crippling, flashbacks, or nightmares. In a severe injury, your pain and suffering damages can be much greater than your special damages.
If your accident was caused by someone who drove under the influence, you can also be eligible for punitive damages. Punitive damages punish a motorist for reckless and dangerous behavior, in hopes of discouraging others from putting innocent lives at risk. Punitive damages may boost the value of your car accident claim.
Will I Have to File a Lawsuit?
Most people recover money for their car accident injuries without filing a lawsuit. The insurance carrier sends an adjuster to the case when the accident is reported to insurance. The adjuster determines who was at fault and will look at automobile damage, witness statements, and police reports along with other documentation. At this point, you may be offered money by the insurance company. You will quickly learn that the insurance company's offer is too low after you talk to one of our car accident attorneys near Duluth. Insurance companies are constantly trying to improve their gains at the cost of paying innocent accident victims exactly what they deserve.
The lawyer will open another investigation and collect evidence showing that you aren't responsible, and what your injuries will probably cost. A fantastic attorney will negotiate with the insurance company and will usually arrive at a settlement. Lawsuits are generally filed because negotiations have broken down. This could happen because the insurance carrier attempts to pin the blame, or unfairly underestimates the value of the claim. Your attorney will explain this to you before filing a lawsuit, and it's always your responsibility to select whether you would like to take your claim to court. Should you go to court, your case will be determined by a jury or judge.
Get the compensation
you deserve $$$
Schedule a free initial consultation. We will provide sound legal advice without judgement. Contact us today at 770-HELP-NOW
Contact The Weinstein Firm Today for a Free Consultation
Speak to one of our car accident lawyers near Duluth today. Our attorneys at The Weinstein Firm have solidified their successful reputation through years of experience. We will consult with you for the ways you can be helped by our services for free to explain your rights. We won't charge you a fee unless we recover money for you. Call us at 770-HELP-NOW or fill out the form to the best of your ability today to acquire your free consultation.