Ridesharing has become a big business, and firms like Uber and Lyft are raking in billions of dollars every year. These ride-sharing companies offer a fast-response transportation service for a great price. With their popularity increasing at a rapid pace, Uber and Lyft have both become massive companies with a large network of self-employed drivers. Since the companies are growing rapidly, the number of Uber and Lyft cars on the road has also grown at the same pace. The number of accidents involving an Uber or Lyft vehicle has also increased. If you have been in a ridesharing accident, call to a Kennesaw, Georgia Uber accident lawyer to discuss your case.
Uber Accidents in Kennesaw, Georgia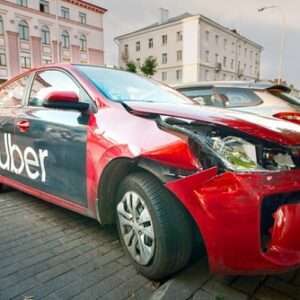 The growth of ridesharing in recent years has attracted the attention of not only the media but also researchers as they evaluate the safety of passengers traveling with Uber and Lyft.
In terms of convenience, ridesharing companies now offer a quick and easy solution for passengers. In addition, easy access to an Uber or Lyft ride has been useful in keeping drunk drivers off the road.
However, it is important to keep in mind that as soon as someone steps into a commercial rideshare car, they are entrusting the driver with their safety. There is no way of knowing who the driver will be or how well-trained he is. Uber and Lyft operate as software providers, and they claim that all their drivers are independent contractors. As such, there is a risk as to who your driver turns out to be when you call a ride from Uber or Lyft.
It's important to hire an experienced Uber accident lawyer should there be an incident on the road that involves an Uber or Lyft vehicle. Since rideshare firms are relatively new to the market, regulations governing these companies are still thin. That is why lawsuits following ridesharing accidents can be complex and may require the special knowledge of Lyft accident lawyers to achieve the best outcomes.
According to Uber accident attorneys, there is another risk element involved in using commercial rideshare cars: intentional misconduct. An Uber accident lawyer will tell you that this can either be from the driver or passenger:
Uber and Lyft drivers are not unfamiliar with having to deal with drunk, obnoxious passengers. There have also been cases where ridesharing drivers have had to face-threatening behavior from passengers. An Uber accident lawyer often has to represent rideshare drivers who have been on the receiving end of abusive and even violent attacks during the course of doing their job.
On the other hand, rideshare drivers can also be the perpetrators of intentional misconduct. Lyft accident lawyers report a rising number of cases relating to sexual misconduct, assault, and even kidnapping as ridesharing becomes more popular with consumers. There have been discussions regarding the driver screening process of these companies, and it is believed that neither Uber nor Lyft have a very comprehensive system for selecting drivers. Thus, the risk of accident and/or mishap increases.
The Differences in Liability for Rideshare Firms vs. Licensed Taxis
Most consumers are unaware of the differences between taking a taxi and using an Uber or Lyft. But you need to know that there is a significant difference as to how an accident involving a taxi is dealt with as compared to an accident involving an Uber. Rideshare drivers are essentially self-employed, even though they have an agreement in place with Lyft or Uber. Your Uber accident lawyer will tell you that although Uber drivers have to meet certain state requirements, they are not required to hold a permit in the same way as a taxi driver. Rideshare drivers use their own personal cars instead of cars provided by a single employer, and so you generally don't have any idea as to how well the vehicle has been maintained.
There are also differences in the way Uber and Lyft cars are hired. Rideshare firms use apps and connect with their customers that way, whereas a standard taxi can be hailed in the street. Taxi drivers are required to abide by the conditions spelled out in their permits. Taxi companies are also legally responsible for ensuring they maintain certain standards. Most of these rules don't apply to ridesharing companies or their drivers. Talk to your Uber wreck lawyer for more information in this regard.
Rideshare Data and Your Uber Accident Lawyer
It's important for rideshare firms to know exactly where their drivers are at any given point in the day so that they can direct them to bookings promptly and efficiently. A Lyft accident attorney knows that these firms keep extensive GPS data on each driver. If there's an incident involving one of their cars, rideshare firms will have electronic records that Lyft accident lawyers find invaluable. This kind of irrefutable data is admissible in a court of law as evidence.
There are regulations in place related to how rideshare firms collect and use their data. Regarding the GPS and electronic records kept by Uber and Lyft, they are required to preserve the data for a set period of time. If you were involved in an Uber-related accident, your Uber accident lawyer would find the legal method to retrieve data from these ridesharing companies.
Uber Wreck Lawyer Advice on Lyft and Uber Insurance
A Lyft accident attorney will be able to explain the complexities of insurance in rideshare accidents to give you a clear idea as to how much compensation you could possibly receive. Your Lyft accident attorney will advise you that all commercial rideshare firms are covered by insurance to protect them in the event of an accident or incident involving one of their drivers. They generally have specific policies that cover them when:
The Uber or Lyft driver was not responsible for the collision or accident
Rideshare firms will offer uninsured/underinsured or UM insurance that protects both the driver and passenger in this eventuality.
The collision was caused by the rideshare driver
Both Uber and Lyft offer liability insurance to protect the passenger as well as the drivers and passengers of any other vehicles involved.
Knowing how Uber drivers are insured is important, but in order to actually receive the compensation you deserve for the accident, you will need to reach out to a car accident lawyer in Kennesaw, Georgia. Your attorney will be able to help you gather evidence to prove who was responsible for causing the accident.
Determining Liability: Contact an Uber Wreck Lawyer
Ridesharing is considered an extremely convenient form of transportation. Nevertheless, it should be remembered that these drivers work with tight deadlines and have to deal with congested roads throughout their day. Lyft accident attorneys say that impatience behind the wheel, complacency because of extensive experience of the routes, or fatigue due to a heavy workload are the main causes of rideshare accidents.
Most passengers do not always have their eye on the road during their rideshare journey.  When you're riding in a taxi, for example, you are normally not vigilant about everyone else on the road be it other vehicles,  pedestrians, or even traffic signs. That's completely natural, but what this means is that when an accident occurs, the passengers are generally shocked and distressed.
If you are ever involved in an Uber-related accident, the first thing you should do is call 911. If you are injured and cannot do so, then the driver or any other person on the road is most likely to call the authorities.
When the medical team and the police arrive, you need to seek medical attention immediately. If you are not that injured, you still need to remain on the scene and give your account of the accident to the police.
When this is done, and when you are free from the doctor as well, you should then speak to an Uber accident lawyer so that you can explain the situation to them, provide details of the accident and determine how you can get compensated for any damages you suffered as a result of the accident.
Nearly all lawsuits involving large rideshare firms are complex, and that is why you need the services of a Georgia Uber accident lawyer. An Uber wreck lawyer will be skilled at assessing and evaluating liability after a rideshare collision, making the process of filing your claim much easier for you at this difficult time.
Understanding the Uber and Lyft Three-Stage Insurance Systems
If you have used Uber or Lyft cars, you may know about their widely-advertised $1m liability insurance. However, these policies do not cover every accident involving one of their drivers. Your Uber wreck lawyer will be familiar with the mandatory three-stage insurance system rideshare drivers must have.
This insurance system works as follows:
STAGE ONE: The Driver has No Ride Request but is Logged-in to the Rideshare App
Rideshare firms are required to provide supplemental insurance coverage for the duration their drivers are logged-in to their centralized system. This generally provides up to $100,000 for personal injury and $25,000 damage to property liability. The problem with this is that rideshare drivers also have their own insurance policies and more often than not, the rideshare company will only pay out if the driver's policy provides insufficient coverage.
STAGE TWO: The Driver has a Customer on Board or in En Route to a Fare
As soon as a customer's request is accepted on a rideshare app, the firm's insurance policy kicks in.
STAGE THREE: The Driver is Not Logged-In to His Firm's App
Ridesharing companies are only held liable if their driver is logged-in to their app. If a driver has a passenger on board and is not logged-in due to negligence or other reasons, the ridesharing company will not take any responsibility. It will be the driver's insurance company that will be held liable in such a case.
Additional Ridesharing Insurance Coverage for Uber and Lyft Drivers
According to Lyft accident lawyers, some rideshare drivers take out additional insurance to make up for any deficiencies in their existing auto policy. In the early days of Uber, most auto insurance firms didn't have any special provisions for rideshare drivers. However, Lyft accident attorneys say that more insurers are now offering specific policies for professional rideshare drivers to cover their liability for both personal and work-related trips.
Injured in a Ridesharing Accident? Here's What You Should Do
An Uber accident lawyer will advise you to take the following steps if you're involved in a rideshare accident in Kennesaw, Georgia:
Call 911 as soon as possible. It is always important to file a police accident report, and you should try and piece together what you think happened. Make sure you get your account of events noted by the police, as this information will be used by your Uber wreck lawyer if you decide to file for compensation.
If you have any injuries, get yourself checked out by medics at the scene, even if you feel they are minor. It is not unusual to be oblivious to pain when you're in a state of shock, but sometimes even the smallest of injuries can go on to develop complications.
Get the other driver's insurance information in addition to their name and contact details. If any witnesses had a clear sight of what happened, try and record brief statements using your smartphone and note their contact details.
Take photos of any injuries you have, damage to property and also debris at the scene.
Contact an Uber, accident lawyer.
In the days and weeks after the accident, you should also keep a record of any expenses related to your injuries and continue to take pictures of your injuries as they visibly change. Your personal injury lawyer will be able to advise you on the post-accident process.
Consult with an Uber Accident Lawyer in Kennesaw, Georgia
Hiring an Uber accident lawyer in Kennesaw, Georgia, is your best defense and will ensure you get the maximum amount of compensation you're legally entitled to if you've been involved in a rideshare accident. Call the accident lawyers at The Weinstein Firm to discuss your legal options.