In 2019, there were 116,458 people injured in motor vehicle crashes in Georgia. (Governor's Office of Highway Safety, 2020) An auto accident can give you many more problems than just bills. You may have chronic pain and you may worry your life will never be the same. You do not have to go at this alone. Consult a car accident lawyer near Douglasville today.
Contact The Weinstein Firm at 770-HELP-NOW or by clicking below if you're carrying the burdens caused by someone else's negligence. injury lawyers near Douglasville are on your own side and have many years of experience getting the money our clients deserve.
About Douglasville
The city of Douglasville is the county seat of Douglas County. It's approximately 20 miles from Atlanta and part of the Atlanta metro area. Sadly, Douglasville sees its fair share of traffic accidents. According to a report by All On Georgia, the stretch of I-20 in Douglasville is among the 57 deadliest roads in Georgia highways.
Douglasville was founded in 1874 as the railroad was constructed in the area and the downtown area has many picturesque historic buildings dating from the mid-19th century. Local attractions include the Douglas County Museum of History and Art and the Arbor Place Mall. Sweetwater Creek State Park is just 7 miles east of Douglasville. This stunning 2,549-acre park is home to a lake, hiking trails, a museum, and the ruins of a textile mill burned during the Civil War.
How Does Fault Work Into a Car Accident In Georgia?
The motorist who is at fault is the one who caused the crash. This is a legal term that only means the motorist wasn't as careful as she or he ought to have been. Georgia is an at fault state in regards to car accident claims. The legislation doesn't care if the driver didn't mean to do such only that carelessness was performed. This carelessness is referred to as negligence. The insurance company for the driver that is at fault, having shown negligence. will be the one that must pay for damages and injuries that happen in the crash.
Negligent behavior might include:
Not adhering to traffic signs
Tailgating
Douglasville Accident Statistics 2019-2021
Will Insurance Cover My Time Out of Work?
Generally, the insurance of the at-fault driver will fully cover your damages including lost time from work. Insurance must cover both vehicle damage and medical bills from injuries up to at least a certain amount. There will still be lost wages and other to cover. In the event the at-fault driver doesn't carry enough insurance, your lawyer will explore possibilities. It may be possible to recover the amount from a different insurance policy (in some cases even your own).
Insurance coverages have maximums, and your attorney will allow you to seek the money directly from the driver if the expenses of your injury go over this amount.
Regardless of whether the insurance should pay, they will do whatever they can to avoid paying. This is why it is so important to talk to a lawyer in the Douglasville area. Our car accident lawyers are here to help you every step of the way.
Should I Visit a Doctor After I File the Car Accident Claim?
Many car accident victims walk away without a scratch to develop soreness, nausea or pain hours, days, or weeks later. You should always take them seriously, and these symptoms may be signs of serious harm. Injuries may get worse if untreated so visiting a doctor as soon as possible after an accident is recommended. This also improves your odds of recovery. If you do not immediately visit a doctor the insurance company may try to say you sustained such injuries after the accident.
What Types of Injuries Are Covered in a Douglasville Car Accident?
The principal requirement for covering an injury is that the injury was a result of the accident.
In other words, every sort of injury from swelling, minor pain, or a life-changing event is covered. We know you're anxious to get money for your injury, but you should know that the insurance provider doesn't care whether you receive sufficient funds to cover all of your costs. Insurance companies want to make a profit and they do it by paying out as little as possible to claims.
Most Common Types of Car Accident Injuries
Brusing
The most frequent injury from a car accident is bruising. It happens when blood vessels beneath the skin rupture, causing discoloration and soreness. Although it can be a minor injury, it can also indicate more severe underlying trauma, and it may take a few days to become apparent.
Scars and disfiguration
Car accidents can result in scarring and disfigurement injuries. Scarring happens due to the body's healing process, leading to permanent changes in the skin's appearance. Disfigurement is a severe and permanent alteration of the face or body.
Broken bones
High-impact collisions are more likely to cause broken bones. It happens when the force of the impact is greater than the bone's strength. Depending on the break's severity, treatment can include immobilization with a cast or brace or even surgery. Recovery time depends on the injury's extent and the individual's health.
Facial Injuries
During car accidents, facial injuries are common, especially when the face strikes the dashboard, steering wheel, or airbag. These injuries can range from minor cuts and bruises to severe ones, including broken bones or disfigurement.
Neck Injuries
Car accidents, particularly rear-end collisions, can cause neck injuries, ranging from minor strains to severe ones like whiplash or spinal cord damage. Treatment can include rest, physical therapy, or even surgery, depending on the injury's severity. Neck injuries can cause pain, stiffness, and limited mobility and may require ongoing medical care.
Whiplash
Whiplash is a neck injury that happens when the head is suddenly and forcefully jerked back and forth, like in a car accident. This quick movement can harm the neck's soft tissues, such as muscles, ligaments, and nerves. Symptoms can include neck pain, stiffness, limited mobility, headaches, dizziness, and fatigue.
Wrist & hand injuries
Car accidents can cause wrist and hand injuries, especially when individuals brace themselves during impact. These injuries can range from minor cuts and bruises to more severe conditions, such as fractures or dislocations.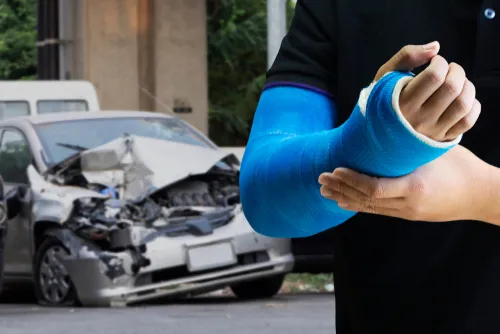 Leg & foot injuries
Car accidents can result in leg and foot injuries, ranging from minor cuts and bruises to severe conditions like fractures or amputations. Treatment can include immobilization with a cast or brace, physical therapy, or surgery, depending on the injury's severity.
Brain Injuries
Car accidents can cause brain injuries, particularly in high-speed collisions or rollovers. These injuries can range from mild concussions to severe traumatic brain injuries (TBI), resulting in long-term disabilities or even death.
Burns
Car accidents, especially those involving fires or explosions, can result in burns. These injuries can range from minor burns to severe ones that cause permanent scarring or disfigurement.
PTSD
Post-traumatic stress is a psychological condition that can develop after experiencing or witnessing a traumatic event like a car accident. Symptoms can include anxiety, depression, flashbacks, nightmares, and avoidance of places or situations that trigger memories of the event.
Back Injuries
Car accidents can cause back injuries, ranging from minor strains and sprains to severe conditions such as herniated discs or spinal cord damage. Symptoms can include pain, stiffness, and limited mobility, and treatment may involve rest, physical therapy, or surgery.
Paralysis
In car accidents, paralysis can occur, especially in accidents involving severe impact or spinal cord damage. It results in the loss of muscle function and sensation in a part of the body, which can be partial or complete.
Internal Bleeding
Internal bleeding is when blood vessels inside the body are damaged, causing blood to leak into surrounding tissues or organs. Symptoms can include pain, swelling, dizziness, and weakness.
Pain & distress
Car accidents can cause pain and distress, irrespective of the type or severity of the injury. Physical pain can result from cuts, bruises, fractures, and other injuries sustained in the accident. Emotional distress can result from the shock of the accident, fear, anxiety, depression, and post-traumatic stress.
How Can a Lawyer Help if I Have an Offer From the Insurance Company?
The offer they made is almost certainly much less than your claim is actually worth. However in the event that it is taken by you, you will not be able to receive more cash if you require it. A lawyer can advocate for you and be certain that the insurance carrier doesn't take advantage of you. Our car accident lawyers near Atlanta Georgia are well aware of the way insurance companies operate and know how to get you the money you're eligible for and not a cent less!
and your goal is to secure your rights. An attorney does this by constructing a solid case showing your accidents, their estimated cost, which you were not to blame at the accident. This evidence convinces the insurance company to pay thousands of dollars more than it would have.
After My Claim Is Paid, Will I Be Left With Costs?
No, you shouldn't be. Car accident victims in Georgia are entitled to recover 100 percent of damages including ongoing costs. This means that if the accident wasn't your fault, that you not only can get cash to pay for items such as immediate medical bills, car repair, but ongoing medical treatment and lost wages. If you're facing severe or life-altering disabilities, then you might regain much more.
Family members may also be able to recoup money for losing a loved one. We feel that cash can never reverse the effects of such a tragic accident. However, it can hopefully in some way relieve some stress allowing you to enjoy time with your family and not be worried about the cost of your care or your burden on them.
You Pay Zero Unless We Win!
Millions recovered for injured victims
Contact a Car Accident Lawyer Near Douglasville at The Weinstein Firm
Talk to a car accident lawyer from The Weinstein Firm near Douglasville for Free by calling 770-HELP-NOW or clicking FREE Consultation below. Our attorneys know what it takes to get you the money you need, and we won't cost you anything unless we win money for you!