According to the US Department of Justice, only 3% of personal injury cases are settled through a trial verdict. But not all cases settle out of court, some proceed to court. If you're wondering if you will win if your auto crash case goes to court, you're not alone. So, if you've been in an auto crash and want to sue the at-fault driver for compensation, you might be looking for the best car accident lawyer near me.
A car accident is usually a life-altering experience. In addition, they come with financial and legal consequences. In this article, we'll explore your chances of winning if your auto crash case goes to court and the damages you can recover if you win the case.
What Causes an Auto Crash Case to Go to Court? 
Most car accident cases don't proceed to court. When you hire the best car accident lawyers in Georgia, they will investigate your case and gather enough evidence to help you recover damages. If the at-fault driver and their insurance company can come to a fair settlement, then you will not go to trial.
However, there are times when you might need to proceed to court. Some of them include the following:
The insurance company isn't offering a fair settlement
They won't pay you more money for your damages despite negotiations with your lawyer
Both parties find it difficult to agree on who's at fault for the auto crash
The insurance company denies you suffered damages due to the accident
Will I Win If My Auto Crash Case Goes to Court?
You can win your auto crash case with enough evidence if it goes to court. However, there's no sure way to determine if you will win your car accident case if it goes to trial. The factors below play an essential role in winning your case in court.
Liability
You must establish that the other driver's negligence resulted in your injury to get compensation. There are many ways negligence can present itself. It could be a driver choosing to drive in a drunken state or disregarding traffic laws. Working with the best car accident near me can help you prove the at-fault party's liability.
Evidence
To win an auto crash case in court, you must provide various pieces of evidence. First, you must provide evidence that the at-fault party caused your injuries. This evidence includes:
Photographs
Video footage
Eyewitness testimony
If you also have a dash cam that recorded the events leading to the car accident, it can clarify what happened. The clear testimony of witnesses can also establish the at-fault party's liability quickly. Finally, if you can also present evidence of the person's past negligence, it could help establish your claim.
Proof of Loss
Apart from the evidence of liability, you also need to provide evidence of your injury and prove the injury occurred due to the accident. Evidence you can present to prove your injury includes medical records that shows the extent of your injuries and details of complications you have experienced.
You can also present a record of medical bills for ongoing medical treatment. These medical bills could be the foundation of the compensation your lawyer demands for your injuries. In addition, proof of lost wages when you had to miss work due to your injuries could also come in handy at trial.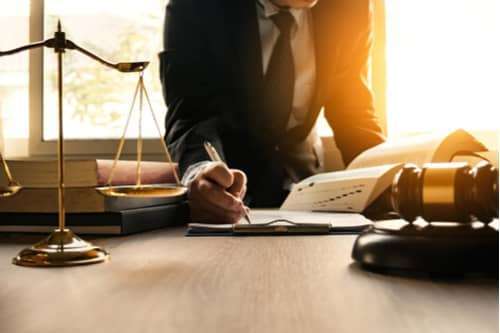 Professional Legal Support
Handling your case independently because of the cost of hiring a car accident lawyer will negatively affect your chances of winning your auto crash case. Apart from your auto crash lawyer estimating how much compensation you deserve, they'll fight for you in court.
The best car accident lawyers in Atlanta can help you gather the evidence to establish liability and your injuries. A lawyer can also help you avoid several pitfalls during the trial process.
Will I Recover More Compensation If I Go to Court?
In some auto crash cases, the injured party and insurance company prefer to settle out-of-court because of the stress and complexity of court cases. Additionally, going to court could increase legal costs, even for the insurance company. Therefore, going to court doesn't necessarily increase your odds of winning.
However, if you have evidence of liability but the insurance company refuses to negotiate, a lawsuit ensures you get the compensation you deserve. Furthermore, if you have solid evidence, you can get more money than you can ever get from an insurance settlement. You can also get several more types of damages if you win in court.
For example, you can recover punitive damages against the at-fault party. This type of damage punishes the at-fault party for their conduct. So, you can only get such damages in court. Essentially, an excellent lawyer will know if you can get more money from a lawsuit and then tell you the best move for your case.
Damages You Can Recover in an Auto Crash Lawsuit or Claim
You can recover several types of damages if you take your auto crash case to trial and win. Fair compensation will cover your economic and non-economic damages. While economic damages have a set cost, non-economic damages are less tangible impacts of the accident, like emotional distress.
The compensation you recover will cover the following.
Medical Costs: You shouldn't have to pay your medical bills when someone else's negligence resulted in your injuries. Therefore, the compensation you recover should cover existing and future medical bills.
Lost Wages: If your injuries from the auto accident prevented you from going to work, the compensation would include lost wages.
Vehicle Repair or Replacement: If your vehicle was damaged during the accident and you had to repair or replace parts of the car. Then you should keep records of all costs as they will be included in your compensation.
Pain and Suffering: Some car accident victims experience psychological and emotional challenges after crashes. The accident could result in PTSD and lingering nightmares. In addition, some victims experience anxiety about riding in a car or driving. A settlement could compensate for these types of harm.
Let Our Car Accident Lawyers Help You Today
A car accident can be traumatic for victims. However, the at-fault party's insurance company could refuse to offer a fair settlement. You might need to proceed to court to fight for fair compensation in such a case. Your chances of winning increase when you have a good personal injury attorney fighting for you.
At The Weinstein Firm, we've been representing auto accident victims for years and can help you win your case if you proceed to court. Most times, we can reach a fair settlement with the at-fault party's insurance company before a need for trial. However, if going to court becomes the best option, we'll take it on for you. So contact us today to speak to a top personal injury attorney.