Atlanta side-impact collisions, called T-bone accidents, can result in severe and catastrophic injuries. This type of accident typically happens when one of two drivers fails to yield the right of way, leading to a vehicle striking another vehicle in the side. If you were involved in a T-bone accident, find an Atlanta auto accident lawyer to explain your legal options.
T-bone collisions can alter the course of one's life in a matter of seconds. A reckless, drunk, or distracted driver can hit your vehicle from the side while driving, leaving you with excessive medical bills, lost wages, property damage, etc. But you shouldn't have to bear the expenses alone; you can claim against the negligent party.
There are usually disputes between the involved parties on who was at fault in a side-impact collision. Usually, most of these accidents happen at intersections where the vehicles are traveling at right angles. 
If you were T-boned in a traffic collision, you must determine fault to pursue compensation for your damages. This article discusses how to determine fault in an Atlanta side-impact collision.
Common Causes of Side-Impact Collisions
A side-impact collision can occur if one driver does not follow Atlanta, Georgia's traffic laws. Two examples of where this type of accident happens are:
Running a red light and colliding with another vehicle at intersections on a green light.

Making an illegal left turn and getting hit by a vehicle traveling in the opposing traffic lane.
There are plenty of reasons why this nature of side-impact collision occurs. They include:
Illegal speeding 

Failure to yield

Distracted driving

Driving under the influence of drugs and alcohol

Reckless and aggressive driving

Poor weather conditions

Failure to stop at the red light or stop sign

Illegal passing, etc.
Common Injuries Sustained in a T-Bone Auto Accident
T-bone crashes increase the risk of fatalities or death. Some common injuries sustained include:
Traumatic brain injuries (TBI)

Spinal cord injuries

Burns

Fractures and broken bones

Loss of limbs

Internal bleeding

Paralysis, etc.
If you have sustained any of these injuries in a T-bone auto accident, ensure to get medical treatment immediately. Your medical records will be valuable evidence for your compensation claim. 
Atlanta Automobile Accident Lawyer Explains What to Do After a Side-Impact Collision
If you are involved in a side-impact collision, you must protect your rights to compensatory damages. The process of dealing with this traumatic event begins at the crash scene. These critical steps will guide you on what to do.
Take your vehicle off the road and move to a safe spot. 

Contact the police and emergency responders. The police will file their initial crash report, which will be valuable in proving the at-fault driver's liability.

Seek immediate medical care to treat and know the extent of your injuries.

Gather evidence and document the accident scene by taking photos and videos of everything.

Obtain the contact and insurance information of the other driver.

Don't say more than your identifying information. Don't assign blames or apologize.

Get the information of eyewitnesses who saw the accident happen. Their statement can back up your version of events.

Contact an Atlanta automobile accident lawyer immediately.
Proving Liability for Side-Impact Collisions
Atlanta laws allow victims of side-impact collisions to file a personal injury claim to recover damages. These damages compensate them financially for the medical expenses, loss of wages, property damage, pain, and suffering. 
However, to successfully protect your right to compensation, you must prove the negligent driver's fault. When you are in a car crash, the insurance company will first ask which driver was at fault. T-bone crashes raise the issue of liability that other kinds of collisions don't.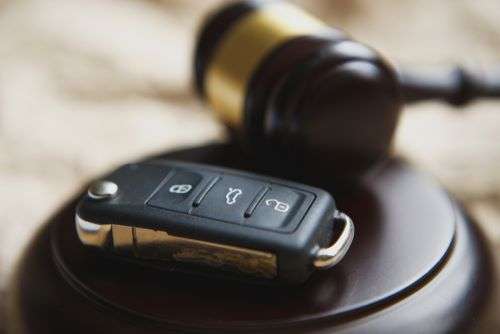 Hence, it can be difficult for insurance adjusters and the court to determine fault. It's easy to assume that the driver who struck the side of the receiving vehicle is to blame. However, this may not always be the case. 
Also, the insurance company may try to hold you partially at fault for what happened. Therefore, hire an experienced lawyer to investigate the fact of the case and gather all relevant evidence to determine fault.
How Can I Prove the Other Driver Was at Fault for a Side-Impact Collision?
There is no formula to prove who is to blame for a side-impact collision. Unless the at-fault driver admits to the responding police officer that they caused the crash, proving fault comes down to gathering strong evidence. You will need to prove your claims to the at-fault driver's insurance company before they make any settlement offers.
So, you will need documentary evidence to show that the other driver was negligent in their actions. In proving liability, the evidence you gather must establish these key elements of negligence:
That the at-fault driver had a legal duty of care to drive safely

That the driver breached their duty of care

The driver's violation of duty was the direct cause of your injuries, and

You suffered measurable damages as a result.
Your auto accident lawyer can help you gather and preserve evidence and paperwork such as:
Police crash report

Medical records of the treatment of your injuries

Eyewitness statements

Surveillance camera footage

Expert opinions and testimony

Photos and videos of all angles of the crash scene, injuries, and property damages
What if I Am Partially at Fault for the Atlanta Side-Impact Collision?
If you were partially at fault for the side-impact collision, don't give up on your rights to compensation. Georgia has modified comparative negligence laws. So, if you were less than 50% at fault, you still file a claim against the other driver. 
However, your compensatory damages will be reduced according to your percentage of fault. So if you institute a claim for $100,000 and are found to be 30% at fault, your damages will be reduced by $30,000. This brings your total claim down to $70,000.
If you are found to be more than 51% at fault, your case will be dismissed, and you will get nothing. However, depending on the fact of your case, an experienced attorney will help you prove that the other party is totally to blame for the crash.
Let an Atlanta Auto Accident Lawyer Help You Prove Liability in a Side-Impact Collision!
Recovering compensation for a side-impact collision can be complicated. The negligent driver may refuse to accept responsibility for the crash, and insurance adjusters will try to blame you. But with the help of a lawyer, you can use all valuable evidence that places complete fault on the at-fault party. 
At The Weinstein Firm, we will help you gather and preserve evidence to prove liability. Additionally, we will work tirelessly to get you the compensation you deserve. So begin your injury claim by speaking with our personal injury lawyers in Atlanta, Georgia.