It's one thing to file suit against the person who caused your car accident. It's quite another for your Tucker accident lawyer to actually prove that they were responsible. Your lawyer also needs to prove your damages.
Here, we'll discuss how your auto accident lawyer can prove you deserve compensation for lost future income.
Not Everyone Who Gets Into a Car Accident Is Entitled to Damages
Some people think that, just because they were involved in a car accident, they're automatically entitled to compensation. However, the only way you can recover damages is if you actually suffer a loss.
Typically, this requires that your car accident attorney prove that you suffered a physical injury. Your lawyer will need documentation of your financial losses and expenses to demand money for them.
Your Accident Lawyer Must Prove Fault
Before you can demand damages, your auto accident lawyer will have to prove fault. This means that they'll need to prove negligence on the part of the defendant.
When it comes to a motor vehicle accident, your attorney will have to prove the following four things.
The defendant owed you a duty of care. Everyone has a responsibility to follow traffic laws and drive safely.
They breached this duty by being careless or reckless.
You were injured in the crash.
Your injuries were caused by the defendant's behavior.
As long as your personal injury attorney can prove all four elements of negligence, there's no reason to think you won't recover damages.
Your Attorney Must Provide Evidence for the Damages You're Claiming
In addition to proving fault, your lawyer also has to prove the damages listed in your complaint. In most car accident cases, our attorneys demand some or all of the following:
Medical bills and future medical bills
Lost wages
Property damages
Lost future income
Your lawyer will need to submit evidence of your financial losses and expenses. For example, your lawyer will submit copies of your medical bills and copies of your explanation of benefit forms showing much your health insurance paid for your care. The defendant, or their insurance company, should reimburse you and your health insurance provider.
If you missed time from work in the weeks after the accident, you should be paid for it. Your attorney will use pay stubs and similar documents to prove the wages you would have earned while you were recovering.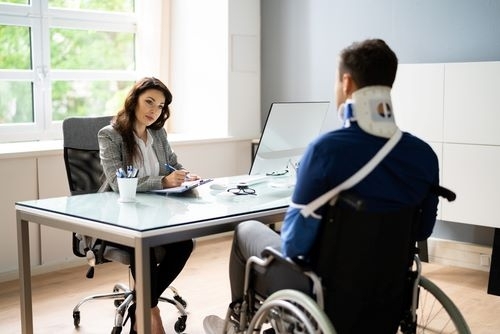 How Will Your Car Accident Attorney Prove Lost Future Income?
How can you demand compensation for income you haven't earned yet?
Your car accident attorney needs to convince the court that you're making significantly less now than you should be making. They also have to prove that the reason for this is the injuries you sustained in your car accident.
After demonstrating that you can no longer do the same work as before, your attorney must then prove how much income you'll lose over your life because of your accident. There is no simple formula for doing this. If your case settles or goes to trial within months or even a year of your accident, not much time has passed.
You'll Need to Prove What You Would've Earned Had the Crash Never Happened
Your car accident lawyer must show how much you would've earned had you not been injured. This will be difficult. Your attorney will submit copies of your past tax returns. This will show what your average income had been prior to the crash.
Your lawyer will hire a forensic accountant to determine how much you would've earned between the time of the accident and the average retirement age, which is 65.
They will have to account for things like interest and inflation. That's the only way they can attempt to determine the present-day value of your lost future income.
Your Lawyer Must Show You'll Make Less Because of the Accident
One of the strongest cases your lawyer can make is that you are now on disability. If you were left permanently disabled due to the crash, your income will be reduced.
If you had to change to a less physically demanding job that pays less, your lawyer will demand compensation for the difference between what you would have earned and your projected earnings in your new career.
Reach Out to an Experienced Tucker Car Accident Attorney Today
After you start to recover from your car accident, you're going to want to consider talking to a Tucker accident lawyer. It's understandable that, in the days and weeks following your wreck, you'll want to focus on your physical injuries. However, at some point, you need to start thinking about your legal rights.
This is why we recommend that anybody injured in a motor vehicle accident reach out to our Georgia accident attorneys. Let our team review whatever information and evidence you have. If we believe you have a valid claim for damages, we'll let you know.
All you have to do is call our office at (770) HELP-NOW and schedule your free, initial consultation.