There were more than 44,000 DUI convictions in 2008 in Georgia. Though the number has come down significantly to just over 19,000 in 2019, it shows that there are a lot of dangerous drivers on the road. On average, more than 350 people lose their lives each year in traffic-related accidents in Georgia. A lot more are severely injured and for some, it can be a life-changing event.
If you are the victim of an accident caused by a drunk driver, you shouldn't have to bear the burden of medical expenses and loss of earning capacity due to their recklessness. You might be legally entitled to recover compensatory damages for your injuries caused by a drunk driver. You need a Statesboro DUI accident lawyer on your side.
Here at The Weinstein Firm, our car accident attorneys in Statesboro have decades of experience in helping victims of drunk driving accidents recover fair compensatory damages for their injuries and/or loss of property. Georgia has strict DUI laws and we believe in vigorous enforcement of these strict laws.
Give us a call at 770-HELP-NOW today to schedule a free initial consultation and to ask any questions you might have regarding your potential case.
What Are The BAC Limits In Georgia?
It is a crime in the state of Georgia to drive when the blood alcohol content is above a certain limit. There are 3 different BAC limits in Georgia as outlined below:
For an individual who drives commercial vehicles and is above the age of 21, their blood alcohol content should be below 0.04% for it to be considered legal
For a driver below the age of 21, their blood alcohol content level should be below 0.02%
For a driver above the age of 21, they should always have their blood alcohol content level below 0.08%
If the driver breaches the above-mentioned blood alcohol content level limits, they will be prosecuted under Georgia's strict DUI laws. The determination of blood alcohol content levels of a driver is done through either a breathalyzer, blood test, or urine test. If the blood alcohol content of a driver is within the legal limit but they cause an accident leading to injuries or property damage, they are still liable for those injuries and property damage.
What to Do After an Accident With A Drunk Driver?
You shouldn't leave the accident scene in case you're involved in an accident caused by a drunk driver. You shouldn't leave even if you haven't sustained any visible injuries. Keep in mind that anything you do after the accident is going to impact your claim. Here are a few suggestions for steps to take after being involved in an accident with a drunk driver:
Make Sure You're Okay
The first thing you need to do is to ensure that you are fine. Check yourself for injuries. Sometimes, the adrenaline rush prevents you from realizing that you have been injured. If you need an ambulance, call 911 and ask for medical assistance. If you are fine, check others to make sure they are fine. If they need any kind of medical assistance, try to do whatever you can to help them.
Call The Police
It's important that you always call the cops whenever you are involved in an accident. Do not listen to anyone trying to convince you otherwise. You should always call the police and report the accident. Not reporting the accident to the police might go against you in case you need to file a claim. The police officers will arrive at the scene and note down everything related to the case in order to prepare a police report. You should ask for a copy of the police report after a few days.
Collect Information
Try to get all the information you can about others involved in the accident. Ask for the name, license number as well as contact information of the other drivers. If there are any witnesses, ask them for their contact information and names. You should also try to record everything related to the accident, immediately after the accident. Don't think that you will be able to recall the details at a later date. If you have a camera or a smartphone, record a video capturing all the details of the accident.
Take Photographs and Videos
Use your smartphone to capture the accident scene from as many angles as possible. Record the relative position of the vehicles, skid-marks on the road, traffic lights, weather conditions, any debris on the road, and other such things. Anything related to the accident should be captured on your camera.
Get Medical Attention
It's important to get medical attention even when you are feeling completely fine. Some injuries might not be visible right away and some injuries require specific tests or checks to be done by trained medical professionals. You should also make sure to follow the doctor's orders and always attend the follow-up appointments. Not following the doctor's orders could go against you.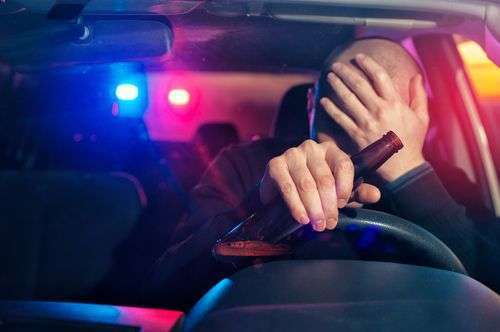 Never Admit Fault
Do not make the mistake of admitting fault as you're not aware of all the details of the case. Let the investigators do their job and arrive at a conclusion.
Call An Experienced DUI Accident Lawyer
Insurance companies are not looking out for you. They will try everything to convince you to accept a lowball settlement. If you're serious about getting fair compensation for your injuries, you should get in touch with an experienced Statesboro DUI accident lawyer at The Weinstein Firm. Give us a call today to schedule your free initial consultation.
What Damages Can Be Recovered After a Drunk Driving Accident In Georgia?
As far as the amount of damages that can be recovered is concerned, it will depend on the exact circumstances of your case. Here are the types of damages that can be recovered in a DUI accident case in Georgia:
Economic Damages
This category of compensatory damages includes everything for which a dollar figure can be easily calculated. It typically includes medical bills as well as loss of wages and loss of future earning capacity, among other things.
Non-Economic Damages
This category of compensatory damages includes things that are more subjective in nature. It typically includes compensation for loss of consortium, loss of quality of life, pain-and-suffering, mental anguish, anxiety, and other such things.
Punitive Damages
If the courts decide that the defendant's actions were reckless, they might choose to apply punitive damages. The upper limit for such damages in Georgia is $275,000 and most of this money goes to the state treasury. But the limit doesn't apply if the defendant's judgment was "substantially impaired" by alcohol or drugs. 
How Much Time Do I Have To File A Claim In Georgia?
You have up to 2 years from the date of the accident to file a claim in Georgia. Exceptions apply in certain situations. Give us a call today to know more about specific deadlines in DUI accident cases.
What Is The Cost Of Hiring An Attorney?
Many people do not want to use the services of a lawyer fearing the legal costs. However, you do not need to worry about legal costs in such cases. Here at The Weinstein Firm, we work on a contingency fee basis. You don't have to pay anything out of your own pocket. Our legal costs are recovered from the settlement or judgment we win for you.
Call Our Statesboro DUI Accident Lawyers Now
Accidents can happen to anyone and at any time. However, you should not have to carry the burden of paying for injuries caused by the recklessness of a drunk driver. You have the legal right to recover fair compensation for your injuries caused by a drunk driver. Insurance companies will try to get out of paying fair compensation and this is why you need an experienced Statesboro DUI accident lawyer by your side to protect your legal rights and to help you recover the compensation you deserve.
Don't worry about the legal fees as we work on a contingency fee basis. Give The Weinstein Firm a call today at 770-HELP-NOW to schedule a free initial consultation.