Accidents are often unexpected events. It is hard to pinpoint when, where, and how they will occur. Most accidents will leave the victims dealing with injuries, property damages, and losses. Research shows that many accidents are due to another person's intentional, reckless, or negligent conduct. As the victim, you might be eligible to pursue legal action against those responsible. While accepting the losses, pain, and suffering the accident inflict can be challenging, you can find some solace in the fact that the law grants you the right to seek compensation.
Deciding to hire a seasoned Milledgeville personal injury lawyer will be your prerogative, but one that is worth considering if you want to improve your odds of getting maximum compensation for your injuries, losses, pain, and suffering. It is a decision that will have a significant impact on your quest to seek justice.
At Weinstein Firm, we are law experts committed to ensuring every client gets the best legal counsel and representation, knowing they have the best personal injury attorney in Milledgeville, Georgia, on their side. The team handling your case will dedicate their knowledge, time, and expertise to ensuring you get full compensation for your losses, injuries, and suffering. Call us today at 770-HELP-NOW to book a free initial consultation and learn more about how we can help.
What Should I Do After An Injury?
Accident victims are often left in a state of confusion, feeling scared, and in pain. It is a situation that can cause you to panic. However, you should try to be calm and consider taking the following steps, which will help secure your rights and interests in your compensation case.
Get medical treatment soon after the incident, even if you believe the injuries are minor. Take note of all the medical bills and treatment records because they might be used as evidence in your case.
Use your phone to take pictures or videos of the scene, focusing more on any vital details that will help prove liability.
Talk to the witnesses to get their names and contacts as you also find out if they are willing to testify on your behalf.
Inform the relevant authorities about the incident. If the accident happened at work, inform your supervisor; if a road accident, you alter the police or on someone's premises, you inform the owner.
Try your best to limit your conversations, taming your words to avoid saying something that can be used to discredit your claim. Most importantly, never admit fault.
Call a personal injury attorney to get the legal processes going and ensure your lawsuit is filed in time.
Why Do I Need A Lawyer?
You should consider working with an experienced personal injury lawyer if you want reliable legal counsel and representation in your compensation case. You will find such a law professional at Weinstein Firm, and the benefits of enlisting our services include:
Case Preparation / Filing a Lawsuit
We are a law firm with professionals that understand the different legal requirements and the preparation processes that will help us win the case. Your attorney will work closely with other experts in various specialties to investigate the incident and gather the evidence needed to compile the necessary documents for files the lawsuit. We shall work with haste to ensure we adhere to the Georgia State statute of limitations for personal injury cases.
Settlement Negotiation
At times, it is wise to consider handling these cases outside the court. This means that negotiations will govern much of the proceedings, which outlines the need to consider working with an accomplished lawyer. Your attorney will handle any negotiations so that you do not have to answer to the insurance companies and their legal team. We shall be committed to holding lengthy talks as we fight for your right to receive a fair settlement.
Trial Preparation & Representation
We shall be glad to take the matter before the judge or jury if the negotiations do not provide a favorable outcome. The lawyer will prepare adequately for trial, ensuring you get the best legal representation that fights for your rights and interests.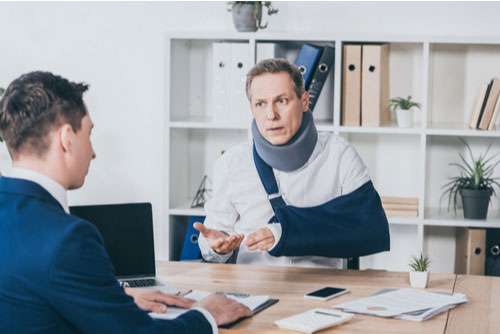 What Type Of Damages Can I Recover?
At Weinstein Firm, we know that you have the right to self-representation in some lawsuits. It is an option you can consider if you are confident about your understanding of what is legally required or expected. But the risk of facing challenges is high, especially when the defendant has legal counsel. It is a situation that will make it harder for you to recover your losses and damages. But your chances of getting full compensation are better when you come to us for help. We shall be committed to helping you recover the following damages:
Economic Damages
These are compensation that will help you recover your financial losses such as medical bills, prescription costs, home care, therapy, and others.
Non-Economic Damages
This shall go towards covering the losses without a particular monetary value. They include physical and emotional pain and suffering, lost companionship, disfigurement, paralysis, and others.
Punitive Damages
We shall consider this if our investigations show the accused's actions that led to the accident were intentionally malicious. We will request the judge or jury to hand down the punishment as an added stiffer penalty.
How Do You Determine Liability?
Our job will be helping you walk away with full compensation for your injuries, loss, pain, and suffering, dependent on proving liability. You are more likely to have an outcome if you work with the best Milledgeville personal injury lawyer. The attorney will focus on four crucial elements that help determine who is to blame for the incident. The four are:
Duty of Care: To show that the defendant owed you a duty of care, a responsibility they broke by their reckless, malicious, or negligent actions.
Breach of Duty of Care: Proving that the defendant breached their responsibility (duty of care) they owed you.
Causation: Making the court understand how your injuries are directly linked to the accident occurred because the accused breached duty of care.
Damages: Your lawyer will fight hard for your rights and interests to ensure the damages recovered will cover all your current and future financial expenses, pain, and suffering attributed to the accident.
How Much Time Do I Have To File A Personal Injury Claim In Georgia?
The deadline for filing a personal injury claim in Milledgeville abides by the Georgia State statute of limitations, which is two years from the date of the injury. However, the allotted time can vary depending on the circumstances. Sometimes, you can have a few months to file your case, and in some scenarios, the deadline can be pushed to more than two years. But it would be best to consider working with an experienced lawyer that understands the various factors that govern the statute of limitations for a personal injury lawsuit in Georgia. Also, remember that the sooner you have an attorney handling matters, the better your chance of securing your rights and interests in the case.
Personal Injury Claims Process
Taking on your personal injury compensation claim case will be a process that undergoes several vital stages. Your attorney will cover the following:
Investigate the circumstances surrounding your case to determine who was at fault while gathering crucial evidence.
Assess your injuries and assist in arranging for your medical care or rehab.
Work out your settlement amount and oversee the settlement negotiations if the matter is handled out of court.
Provide the best legal counsel, representation, and other support.
How Much Will a Milledgeville Personal Injury Lawyer Cost?
While legal services might not come cheap, you need not worry about the service fees when you need our help in handling your personal injury case. We shall listen to you and evaluate your case to determine if it is worth pursuing and advise you accordingly on the best steps to take. We can offer our services on a contingency fee basis, meaning you will pay us after we help you get full compensation. We shall outline the terms of the contingency fee agreement for you to read and understand before taking on your case.
Types Of Personal Injury Cases We Handle At Weinstein Firm
We are confident that we are the law professional to consider if you want dependable representation. We know we can deliver because we have handled personal injury claims associated with different incidents. The incidents include car accidents, workplace accidents, motorcycle accidents, hit-and-run, speeding, DUI driving accidents, premises liability, product liability, truck accidents, and medical malpractice.
Hiring The Best Milledgeville Personal Injury Lawyer
If you want to have a winning team representing you and fighting for your rights and interests, then consider working with a seasoned, reputable, and reliable personal injury lawyer in Milledgeville, Georgia. At Weinstein Firm, we are experienced and accomplished law professionals with a vast understanding of personal injury laws. Therefore, we are confident that you shall not be disappointed when you come to us for help. Call our law offices today at 770-HELP-NOW to speak to our Milledgeville personal injury lawyer, scheduling a free initial case review, and discover how we can help.