In this age of mobile technology, most of us are trying our best to stay connected all day long. When traffic delays your commute to work for a couple of hours, what else can you do but use that time to check your phone, posting Instagram story videos, eat your breakfast, or live-stream the news of your phone, right? Wrong. Distracted driving accidents are on the rise in Milledgeville and across Georgia. A Milledgeville distracted driving accident lawyer is the best way to recover a maximum settlement. Unfortunately, mobile phones are not the only distractions faced by drivers in Milledgeville today. Georgia's law states that drivers cannot engage in any activities that distract them from operating their vehicles safely. All drivers must exercise due care when operating a vehicle.
If you or your loved one is injured in a crash involving a distracted driver, you are entitled to seek adequate compensation from the responsible party according to Georgia's law. The most important thing is to prove that the defendant was distracted and careless while operating his/her vehicle. Proving the negligence of the at-fault party is quite a complex process that involves working with a professional car accident lawyer in Milledgeville GA.
When you are searching for a reliable personal injury lawyer in Milledgeville, GA, there are so many factors to consider. Doing your homework is crucial to selecting the right candidate for the job. The Weinstein Firm is one of the best personal injury law firms in Milledgeville, GA with many years of experience in handling distracted driving accident cases. Our lawyers have represented hundreds of personal injury victims and won millions of dollars in compensation on behalf of these clients. We treat every client as a person and not a mere number because we know how important it's to obtain rightful compensation for your damages. Call The Weinstein Firm in Milledgeville today at 770-HELP-NOW to handle your texting and driving accident case and obtain your rightful compensation.
What is Distracted Driving?
Distracted driving is exactly what it sounds like – driving while engaged in some other activity that distracts the attention of the driver. Taking your attention off the road for whatever reason could dramatically impair your reaction times in dangerous situations. Even though texting while driving is one of the most common ways of distracting ourselves while operating a vehicle, there are hundreds of other ways to distract oneself while operating a vehicle.
Types of Distractions When Driving
Even the safest drivers get distracted now and then. In fact, there are hundreds of distractions when driving a vehicle. Some of these distractions are more obvious than others. There are three types of distracted driving including:
Manual
Manual distractions are anything that makes you take your hands off the steering wheel while operating a vehicle. They may include adjusting the radio or CD, picking an object from the vehicle, eating or drinking while driving, and more.
Visual
Visual distractions are actions that involve taking your eyes off the road while driving. Some of these distractions include looking at a passenger while talking to him/her, texting on the mobile, watching a video while driving, rubbernecking, reading billboards, and more.
Cognitive
A cognitive distraction is something that makes you lose your concentration or focus while driving. Talking on a mobile phone even hands-free on is considered a cognitive distraction. An MIT study showed equally poor performance whether a driver used hands-free or hand-held phones. In fact, dialing a phone or texting combine visual and cognitive distractions and are dangerous while operating a vehicle. Focusing on a new report, conversing with a passenger, and road rage are some of the other cognitive distractions.
Laws Regarding Distracted Driving in Georgia
Georgia passed new laws that make it illegal to text on a mobile phone while operating a vehicle. The law states that a driver can be convicted for using a mobile phone for writing a text, reading or sending text messages, or any other distraction that can cause the driver to take his/her focus off the road. The fine for texting while driving is approximately $150 but carries one point on your driving record – which can result in higher insurance premiums or cancellation of your policy. Here is the main feature of the distracted driving law in GA:
Code Section 40-6-241 states that no individual shall physically support/hold with any part of his/her body a wireless telecommunication device while operating a vehicle.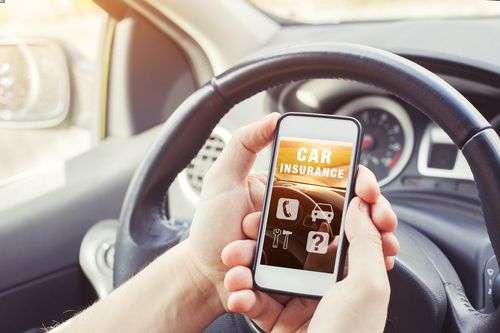 What Compensation Could You Get From a Distracted Driving Accident Claim in Georgia?
You are entitled to claim two basic types of damages including non-economic & economic damages. Economic damages have a precise monetary value and may include medical bills both past & future and loss of wages due to the injuries suffered in the accident. Non-economic damages can't be assigned a monetary value and may include mental distress, pain, emotional issues, suffering, and loss of companionship. The courts may award punitive damages to the victim if the defendant has behaved recklessly. They are meant to punish the at-fault driver and deter other drivers from similar behavior.
How Long Do You Have to File a Case in Georgia?
GA's statute of limitations gives you 2 years from the date of the accident to file the case.
Why Should You Hire a Lawyer?
An experienced distracted driving accident lawyer from The Weinstein Firm can help:
Interview witnesses and experts, collect evidence, and file a strong case on your behalf. They will prepare the case in such a way that you win maximum compensation for your injuries.
Negotiate with insurance companies to obtain your rightful dues. We have extensive experience in negotiating with insurance providers.
Take your case to trial if by any chance the insurance company denies your claim.
Contact Our Distracted Driving Accident Lawyers in Milledgeville Today!
When you have been injured in a car crash in Milledgeville due to a distracted driver, you are entitled to claim compensation from the defendant. You need to work with a reliable distracted driving accident lawyer in Milledgeville GA to file a strong case and win maximum compensation in the process. Call The Weinstein Firm to speak with an experienced Milledgeville distracted driving accident lawyer today at 770-HELP-NOW to handle your case today.